From the Open-Publishing Calendar
From the Open-Publishing Newswire
Indybay Feature
Reports from around California (and the world) - The UC Walkout
On Thursday, September 24, 2009, protests shook all 10 campuses of the University of California. Prompted by a walk-out letter signed by over 1,200 faculty, and a strike by 12,000 union researchers, students and labor allies organized a massive day of action to re-prioritize the budget of the UC system and push back against privatization. UC Berkeley, in particular, saw thousands attend rallies and marches reminiscent of previous generations, while activists at 3 other UCs occupied campus buildings (one of which is still ongoing). Politicians all over the state were forced to respond, with UC admins blaming state legislators and vis-versa. Schwarzenegger dismissed the protesters as a "screaming special interest group," while Gavin Newsom insinuated his support of the walkout, injecting the UC crisis into the 2010 Governor's race. Seeing how this was the very first day of class for most UCs, it looks to be a very long school year.. especially if you're on the wrong side of the bullhorn.

Here's a collection up of some of the reports from today. There's many more - please feel free to comment.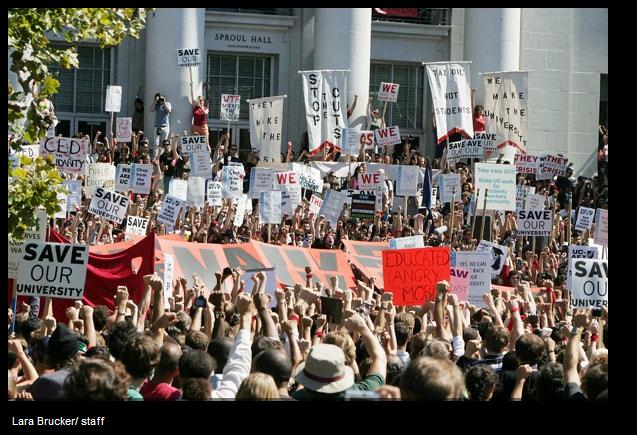 UC Wide
http://www.guardian.co.uk/world/2009/sep/24/california-university-berkeley-budget-protest
http://www.sacbee.com/108/story/2204365.html
http://studentactivism.net/2009/09/24/reports-from-the-uc-walkout/
http://www.sfgate.com/cgi-bin/article.cgi?f=/c/a/2009/09/25/MNVU19SBEV.DTL
http://www.indybay.org/newsitems/2009/09/20/18622513.php
http://socialistworker.org/2009/09/25/thousands-join-uc-walkout
http://abclocal.go.com/kabc/video?id=7030684
http://extras.mercurynews.com/slideshows/news/2009/09/0925walkout/
http://news.google.com/news/search?aq=0z&pz=1&cf=all&ned=us&hl=en&q=uc+walkout&oq=uc
background info:
http://labornotes.org/node/2459
UC BERKELEY
* Huge rally. Police estimate 5,000. March through streets of Berkeley, sit-down civil disobedience in front of campus, shutting down three main streets.
* All day picketing
* Over a half-dozen teach-ins (see titles:
http://www.saveuc.org/teachout-sched.pdf
)
http://www.sfgate.com/cgi-bin/article.cgi?f=/c/a/2009/09/24/MN2Q19S3FS.DTL
http://www.dailycal.org/article/106776/walkouts_vary_across_uc_campuses
http://www.insidebayarea.com/twitter/ci_13411072
http://www.berkeleydailyplanet.com/issue/2009-09-24/article/33824
http://twitpic.com/iyy8d
http://www.youtube.com/watch?v=APuKukByoQA
http://www.youtube.com/watch?v=-pERb1G0-UA
http://www.youtube.com/watch?v=4_w0CToZjCc
UC DAVIS
* All day picketing
* Teamsters electricians and others honored the strike and went home
* Rally/March with estimates from several hundred to over a thousand + bikes w/ sound systems
* Brief occupation of admin building
http://twitpic.com/iz6i9
http://www.news10.net/video/default.aspx?aid=82555
http://www.fox40.com/news/headlines/ktxl-news-ucbudget0924
,0,6713606.story
UC IRVINE
* Faculty-Student Improv Show
* Rally (w/ estimates between 500 and 1000) outside admin building
http://www.upte.org/photogallery/index.html#original/05
http://twitpic.com/iz10h
UC LOS ANGELES
* Noon Rally (LA Times estimate 700 people)
* March to Chancellor's office
* Occupation of Chancellor's office results in forcing Chancellor to set a meeting.
http://www.latimes.com/news/local/la-me-ucprotests25-2009sep25
,0,3895472.story
http://media.dailybruin.com/dailybruin/img/2009/sep/24/walkoutcrowd_-_derek_liu.jpg
http://media.sacbee.com/smedia/2009/09/24/14/CaliforniaUniversity5.standalone.prod_affiliate.4.jpg
UC SANTA CRUZ
* City buses (UTU), UPS (Teamsters) and construction crews refused to cross picket lines.
* All Day Picketing
* Noon Rally with 300+ people
* 3:30pm second rally and march
* Ongoing occupation of building in the center of campus, with rally outside
http://occupyCA.wordpress.com
and
http://wewanteverything.wordpress.com/
http://www.indybay.org/newsitems/2009/09/24/18623088.php
http://www.flickr.com/photos/melissarachelblack/sets/72157622449721648/
http://www.mercurynews.com/centralcoast/ci_13412921?nclick_check=1
UC SAN DIEGO
* All day picketing, joined by UNITE-HERE Local 30 members who've been boycotting the Manchester Grand Hyatt over similar issues.
* Rally w/ about 350 attendees
http://www.youtube.com/watch?v=VjPJO2zwmkM
UC SAN FRANCISCO
* All day picketing
* Rally w/ about ~75 people
UC SANTA BARBARA
Rally with ~400 people
http://www.independent.com/news/2009/sep/24/protesters-target-uc-regents/
http://twitpic.com/iyz2p
UC RIVERSIDE
Rally (w/ widely ranging estimates – from 150 to 500 to 1000) followed by a teach-in.
http://www.insidehighered.com/news/2009/09/25/qt/walkouts_across_u_of_california
http://www.sbsun.com/news/ci_13414178
UC MERCED
A small rally, but notable since Merced is the newest and smallest UC!
http://www.ksee24.com/news/local/61292127.html
LAWRENCE BERKELEY NATIONAL LAB (UC-managed)
UPTE Strike/Picketing/Protest
http://cbs5.com/local/UC.walkout.strike.2.1206109.html
TAIWAN
UC Education abroad students assembled and took a group picture.
http://tinyurl.com/yecgbxa
"The words we are holding up say, "Protect the UC, prevent fee increases" in traditional Chinese characters. We took the picture at the front gate of National Taiwan University, where we are all studying and have students from all the UC campuses except for San Francisco and Merced (we even have a student from CSU East Bay and a student from SF State)."
–
SOLIDARITY:
UNIV. of ARIZONA:
Rally w/ ~100 people against cuts and costs in the UA system, staged on 9/24 in solidarity w/ UC.
http://www.kold.com/Global/story.asp?S=11195684
SF STATE:
~75 students held a rally against cuts, costs, and the elimination of hundreds of classes in the Cal State system, and in solidarity w/ UC.
SF City College:
Rally against budget cuts and in solidarity with other educational institutions.
UNIV. of MICHIGAN:
Members of Michigan GEO, AFT Local #3550 took a group picture, with signs in solidarity.
http://tinyurl.com/y8ho329
–
QUOTES OF THE DAY:
"Walkout, Rally Hailed as Rebirth of UC Activism" (as if it ever died – Front Page story from the Berkeley Daily Planet)
"I've been here since 1972, and I've never seen anything like it." - George Lakoff
"For most of UC, today was THE FIRST DAY OF CLASSES, so there was essentially no time to organize. That makes #UCwalkout even more amazing." - @studentactivism
"Faculty, students and unions from the University of California's 10 campuses including its two most prestigious, UCLA and Berkeley, joined forces in what was the biggest student protest for more than a generation... The scale of the protests has come as a shock to state authorities." - The Guardian (UK)
"being president of the University of California is like being manager of a cemetery" - UC President Mark Yudof. (The whole interview is shockingly appalling.) See:
http://www.nytimes.com/2009/09/27/magazine/27fob-q4-t.html?_r=1
We are 100% volunteer and depend on your participation to sustain our efforts!
Get Involved
If you'd like to help with maintaining or developing the website, contact us.