From the Open-Publishing Calendar
From the Open-Publishing Newswire
Indybay Feature
Faculty Rally at UC Santa Cruz in Support of Firebombed Colleagues
On August 4th, at the main entrance to UC Santa Cruz, faculty members held a demonstration in support of their colleagues who were
targeted with firebombs on August 2nd
in what authorities are calling attacks by animal liberationists. Corporate news reporters, and their flock of more than ten white vans, were all over the scene to quickly sensationalize the story.
I spoke with numerous people to listen to their feelings, document why they chose to attend the demonstration, and in some cases to inquire about potential consequences to student privacy when organizing future events. The people I spoke with included researchers, a lecturer, professors, UCSC students, a Santa Cruz High School student that lives in faculty housing, UCSC's Executive Communications Coordinator, Guy Lasnier, and finally with UCSC Chancellor George Blumenthal.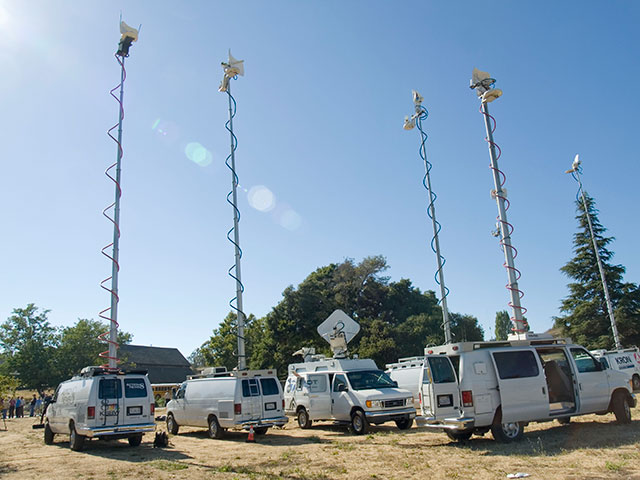 An email sent by a UCSC faculty member calling for the demonstration, which was organized in less than 24 hours, states, "Regardless of one's personal views on research involving animals, this has now become a very different kind of discourse, about more fundamental aspects of society."


A full online announcement for the demonstration states:

"On Monday, 4th August, at 5pm at UCSC main entrance, there will be a gathering of people in demonstration for the support of the fire-bombed faculty and against terrorist tactics.

The demonstration is not about whether or not research on animals is good, bad, etc. This demonstration is about fundamental aspects of society, about peaceful tactics towards things/situations we do not like.

Violence is not the solution.

Please come to the base of UCSC campus on Monday 4th August at 5pm to show your support for peace and to show that terrorism needs to be put to a stop, no matter where it occurs and for what cause it is."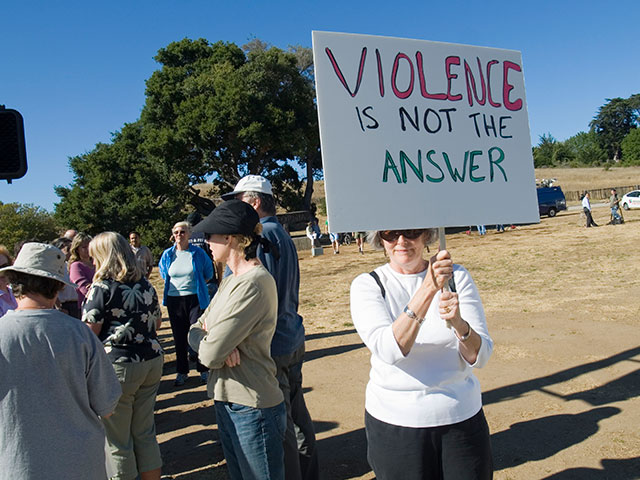 Barbara Chemers, a Psychologist at UCSC, said, "We have to stand behind our faculty and scientists. We need the research they are doing. It's a complicated issue not to be solved with violence."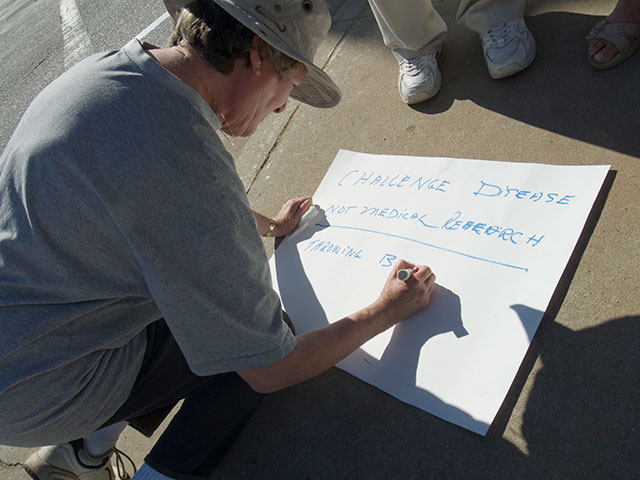 Diane Gifford-Gonzalez, a Professor of Anthropology at UCSC, said, "Using violence shuts down active debate instead of opening it up. I can't condone the use of violence to advance a cause."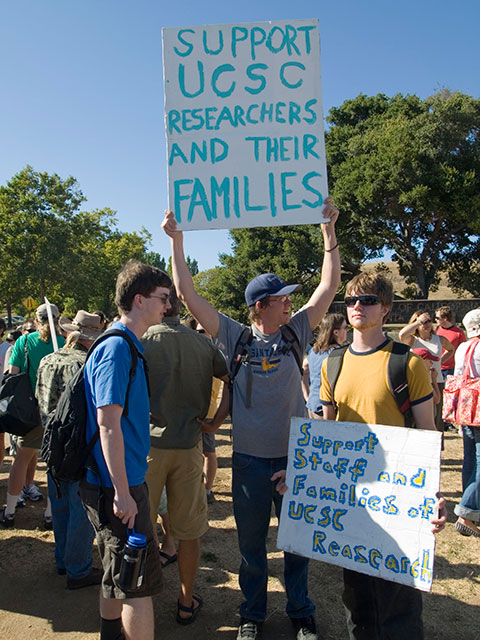 Brothers Rob and Brian Heffern hold signs in support of UCSC researchers and their families. Brian, right, is double majoring in Politics and History. He said that this was his and his brother's third time demonstrating with signs at the base of campus over the past two days and was happy to learn about the faculty demonstration. Brian said, "We're all a community, one campus.. [this is] a case of domestic terrorism. We need to come together as a community and support our fellow slugs."

Rob Heffern went to high school in the East Bay and is now finishing up his major in Applied Physics at UCSC. Rob said, "We should support the community and researchers."

With hesitation, I asked Rob his opinion on research using animals and he replied, "My opinion on animal research is not important. The people who did that did not try all options. They did not come out here and picket and rally."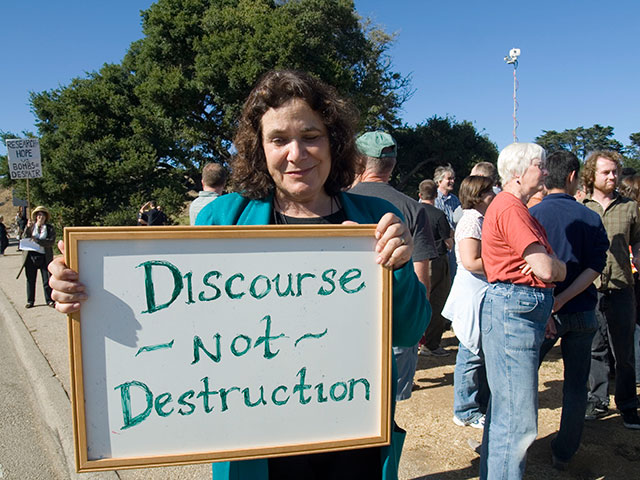 Catherine Cooper came to UCSC in 1987 and she is a Professor of Developmental Psychology. Catherine said, "As a working scientist and parent, I hope this tragedy, this act of terrorism, can motivate us all to establish dialogue, rather than firebomb homes and property of families in our community."

Catherine continued, "Freedom of speech issues are effected. It's a challenge to creative expression for everyone. This is about all society. I feel this event threatens all our opportunities at expression, including the media."

As an example, Catherine wonders if people will be safe to speak in support peoples' work choices.

Lastly, Catherine says, "Young people interested in medical research should pursue work in AIDS, cancer and malaria. We need all the young to do this work and not be intimidated by this act."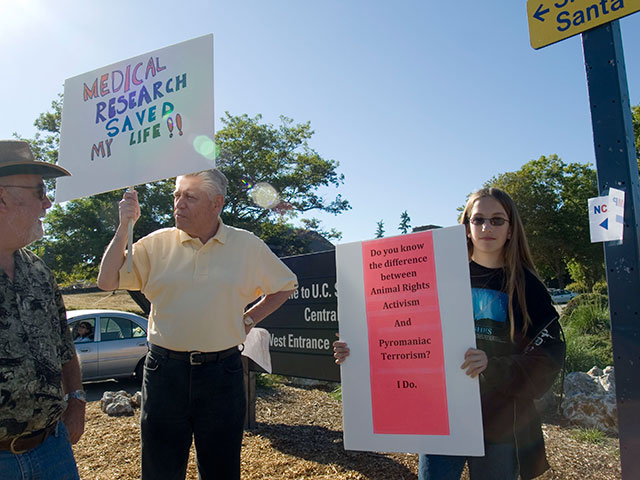 Riley Mallory is a 14 year old student at Santa Cruz High School who lives in Faculty Housing and his mom is a professor at UCSC. Riley said, "This is unacceptable we're trying to prevent terrorism abroad and we can't even prevent it here. How can they say support animal rights when they are doing things that could kill people."

Martin Chemers, center, is a Professor of Psychology at UCSC and the Department Chair. He said, "No animals are used in the [Psychology] Department. We decided we should have a rally and in less than 24 hours there are 300 to 400 hundred people."

He then clarified that his initial crowd estimate was lower and that organizers usually have higher estimates than the actual number of people present at a given event. In my estimation, there seemed to be a couple hundred people, and I agreed with him that it is difficult to estimate accurate numbers of people in a crowd.
Mike Rotkin is a Lecturer in Community Studies at UCSC and a member of the Santa Cruz City Council. Mike said that he could speak to me from the perspective of an academic or a politician, but that he preferred to speak, "From the perspective of someone that has been arrested over 30 times for civil disobedience and peace and justice issues. These folks are counterproductive for their message and issue. Because it is debatable if their should be animal research and they could make headway against stupid research like cosmetics and they could win support in a place like Santa Cruz for strict controls on animal research. But we are going to have a complete backlash out here."

Mike explained, "For example, a forum on ending animal research will be a lot harder after this act. It will be hard to have a discussion because the focus will be on violence instead of the issues you would think they want to talk about. When The Weatherman did blow things up, instead of serious debates about the war in Vietnam.. [i think Mike said the discussion was about the use of violent tactics.] Instead there is a backlash. That wasn't the only thing, but that played a big role in getting Nixon elected."

With hesitation, I asked Mike his feelings on who may have done the bombing and if he thought it could possibly have been done by the government, for example. He did not think it was the government and that he has spoken with people who think that violence is acceptable. He has never spoken with anyone about firebombing a house with people in it, but has spoken with animal rights activists who defend property destruction which Mike also feels is counterproductive, though not completely illogical.

Mike continued that it will be, "Harder for people to be taken seriously when they argue an animal rights perspective."

I asked Mike a final question as the demonstrators across the street were begining to hold their rally with a few speakers using a bullhorn. I asked him his thoughts on the political climate for student activists at UCSC. Mike said he, "Hopes the administration does not use this to overreact against demonstrators for a variety of important issues."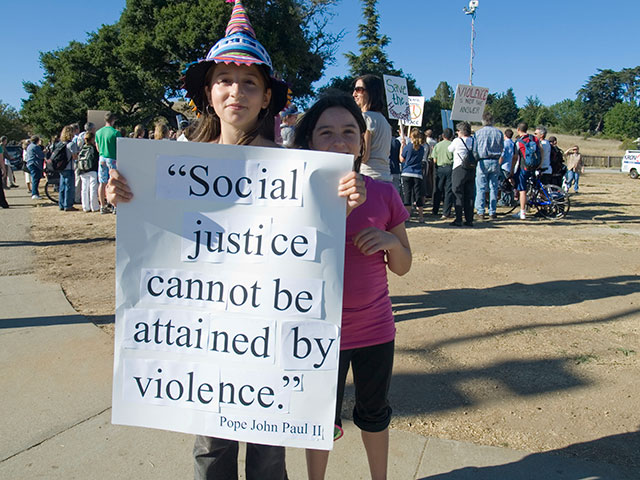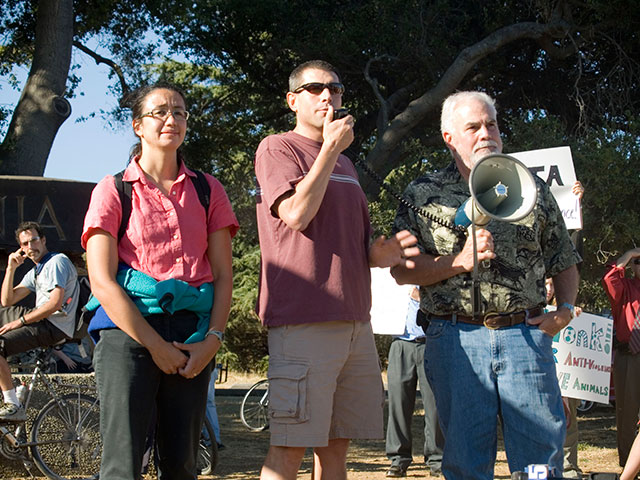 David Feldheim is a Professor in the Department of Molecular, Cell & Developmental Biology. His home off High Street across from UCSC was targeted with a firebomb in the early morning of Saturday, August 2nd. He and his family were home when the firebomb went off on their front porch.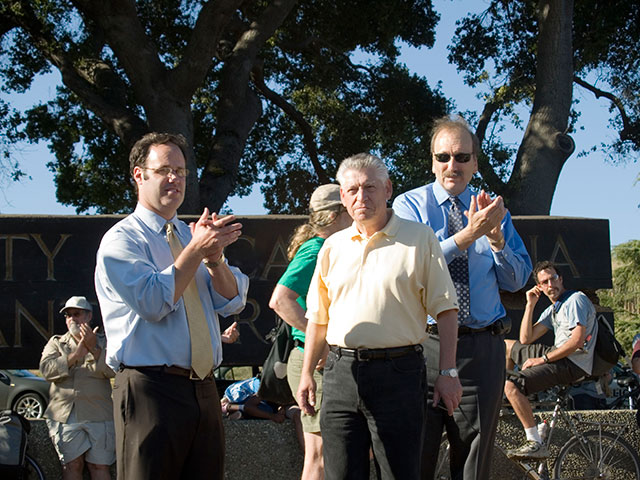 Santa Cruz Mayor Ryan Coonerty, left, Martin Chemers, center, and UCSC Chancellor George Blumenthal.

I spoke with UCSC's Executive Communications Coordinator, Guy Lasnier, though he is not in the photo above.

Guy told me that Chancellor Blumenthal issued a statement on Saturday, but I said I had a question. I asked Guy how students may be impacted and if they had reason to be concerned about FBI infiltration, or other kinds of infiltration, when organizing events in the future.

Guy said, "Firebombing houses creates a climate of fear. Police don't take it lightly, but this should not effect students."

I then asked Guy if UCSC was going to do anything to prevent FBI infiltration into student groups. I also asked if FBI infiltration into student groups was a concern of UCSC. Guy said, "I don't know."

Guy clarified that there is no policy at UCSC that he knows of regarding infiltration into student groups, "but that is not the issue."

I then spoke with UCSC Chancellor George Blumenthal and asked him the questions I asked Guy, including: If students had reason to be concerned about FBI infiltration, or other kinds of infiltration, when organizing events in the future.

George replied, "It shouldn't affect students even if their views are against mine."

George stated that there are FBI agents and police on campus and that they are, "Not interested in groups that are involved in peaceful nonviolent expression. We welcome that. We've always tried to provide an environment to expression and potentially prevail in the court of public opinion."

I then asked George if UCSC had a policy to protect students from FBI or other kinds of infiltration.

George said, "I don't believe there is a policy. It could be appropriate to infiltrate if there is a potential for violence."

I then asked how UCSC determines when it would be appropriate to infiltrate a particular group. How does UCSC determine when there is a potential for violence.

George said that there is no interest in infiltrating student groups, but he does not know of a policy against infiltration.

George asked me who I was and who I was writing for. I said, "I'm Bradley and I'm writing for Indymedia."
We are 100% volunteer and depend on your participation to sustain our efforts!
Get Involved
If you'd like to help with maintaining or developing the website, contact us.