From the Open-Publishing Calendar
From the Open-Publishing Newswire
Indybay Feature
cop watch: Brian Hughes at LRDP Protest
UCSC Police Officer Brian Hughes was photographed acting overly violent in yet another UCSC protest. Seen here, in a photo by Phil Carter (City on a Hill Press), Hughes has his arm around the neck of a protester.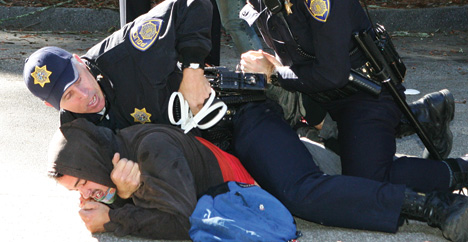 Brian Hughes' conduct was called into question most recently by the defense campaign for students arrested at the UC Regents protest. The demand called for, "The immediate resignation of UCPD Officer Brian Hughes, who has a long history of violent and hateful behavior against students and workers." (see:
http://www.ucactivistdefense.org/what-you-can-do/sign-the-letter/
)
Brian Hughes' questionable/violent activities include:
April 5, 2005: Brian Hughes, as a 'plain clothed police officer' assaulted at least two students at the first of a series of big counter military recruitment protests at UCSC. A photo of him grabbing a student was on the cover of the next day's Santa Cruz Sentinel. see:
http://santacruz.indymedia.org/newswire/display/17474/index.php
April 14, 2005: Brian Hughes acted as a police infiltrator engaged in surveillance of students and workers participating in a march to support the strike by AFSCME at UCSC. He crossed the line from 'plain clothed officer' to 'infiltrator' by his wearing of a green armband - the same armbands worn by strike supporters. He was confronted for videotaping the crowd as they marched to the base of campus.
see:
http://santacruz.indymedia.org/newswire/display/17474/index.php
April 18, 2005: Brian Hughes, again "plain-clothed", was photographed taking video footage of students brutally arrested at the first night of Tent University at UCSC. It was later admitted by a senior member of the UCSC Faculty Senate that a student had been commissioned by the administration to infiltrate a Tent U. training workshop as well.
see:
http://santacruz.indymedia.org/newswire/display/17474/index.php
and
http://www.indybay.org/newsitems/2006/02/09/42132.php
October 18, 2006: Brian Hughes, this time in his uniform, brutally assaulted student activist Alette Kendrick at a protest of the UC Regents' visit to UCSC. He was photographed dragging her by the arms. It is believed that he was one of the primary police involved in her targetting.
see:
http://www.indybay.org/newsitems/2006/10/20/18321715.php
April 24, 2007: Brian Hughes was seen by a UCSC staffer tearing down an approved display outside the college 9/10 dining hall. The display showed print outs of various laws and policies relating to military recruitment at UCSC. Recruiters were originally scheduled to attend a job fair that day, but backed out after years of counter-recruitment protests. When Hughes was asked by the staffer why he was tearing down the approved display, he responded in a highly abusive manner. Later that day, to the same staffer, he tried to play off that it wasn't him involved.
November 7, 2007: This Wednesday, Brian Hughes violently put his arm around a protester's neck as he arrested him at a protest against the expansion of UCSC.
Hughes has also been seen in his uniform at a anti-Nuclear Weapons protest (primarily by UCSC students) of the UC Regents at UC San Francisco.
+++++++++
GOT MORE STORIES ABOUT BRIAN HUGHES? ADD A COMMENT!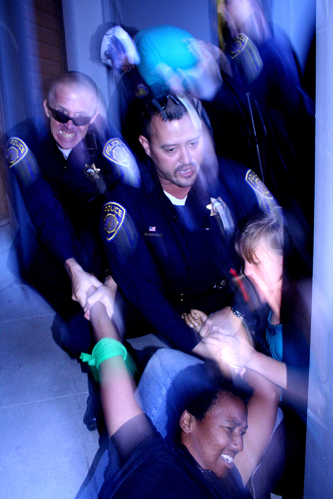 We are 100% volunteer and depend on your participation to sustain our efforts!
Get Involved
If you'd like to help with maintaining or developing the website, contact us.