From the Open-Publishing Calendar
From the Open-Publishing Newswire
Indybay Feature
NICHOLS: More lies from Livermore nuclear weapons lab
"A group of citizens of the Bay Area are seeking a lawyer to take legal action to stop the open air explosions set off by Livermore Lab in Tracy, California...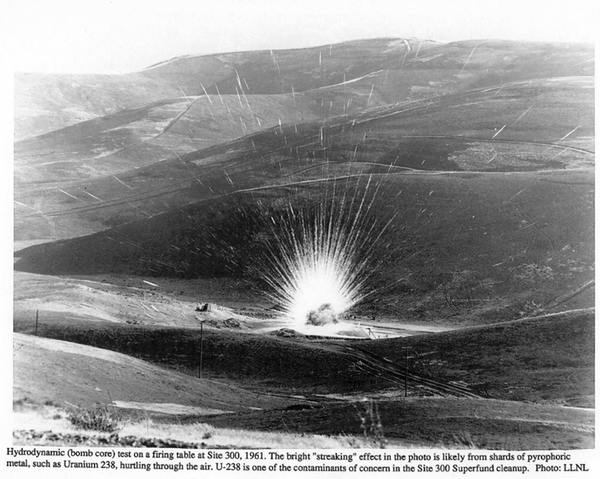 San Francisco – "Hundreds of thousands of additional deaths and maimings is the Bay Area's thanks for being good neighbors to these the 'good Germans,' the desk murderers, who are just following orders," stated Pat Gray, long time San Francisco Bay Area resident and former Green candidate for Congress.
"A group of citizens of the Bay Area are seeking a lawyer to take legal action to stop the open air explosions set off by Livermore Lab in Tracy, California," she announced. "These open air explosions are sending clouds of depleted uranium oxide gas all over the Bay Area. It is well know that depleted uranium gas is a carcinogen and causes serious birth defects.
"Our nation has signed a treaty to stop doing nuclear explosions in the open air – but this is what Livermore Lab is doing and has been for the last 46 years. Now they have the hubris to request permission to increase the number of explosions. We hope that with legal assistance we can force the testing to be done underground."
Pat Gray concluded: "Mr. Nichols, put my telephone number in the article so that people can contact me if they are concerned and would like to establish control over the activities of Livermore Lab. My number is (650) 344-2912."
Students and alumni at three UC campuses will begin a fast this Wednesday to demand that the University of California stop designing, engineering and manufacturing nuclear bombs. When contacted Tuesday, the hunger striking students were aware of the nuclear material detonations by Livermore. They've now decided to protest them strongly – along with the bomb-making – at the UC regents' meeting next week.
Lawrence Livermore National Laboratory, a multi-billion dollar federal government H-bomb factory dedicated to death and destruction of unimaginable Holocaust proportions, just can't quite seem to get it right. So they try and try and lie again.
Livermore recently refiled a previously botched application from Nov. 12, 2006, to continue and expand open air uranium bomb explosions that release poisonous uranium gas into the densely populated San Francisco Bay Area. The Bay Area is home to about 7 million people.
According to its own statements, Livermore has already detonated and dispersed 23 tons of radioactive and deadly uranium gas at its Site 300 in Tracy, California, which is near Livermore and not far from San Francisco in the densely populated region.
Uranium gas is produced when uranium bombs explode and the uranium catches on fire, producing very fine uranium aerosol or gas smoke from the fire.
It's been well known since the 1943 Manhattan Project to build an atomic bomb that there are only two reasons to use radioactive uranium gas: One reason is to kill people. The other is to contaminate their land, forever.
The declassified "General Leslie Groves Memo" establishes that. It is widely available on the Internet. Gen. Groves headed the secretive Manhattan Project.
Livermore's new and expanded San Francisco Bay Area bombing plan is to release, by bombs, 200 tons of deadly uranium gas over the next 50 years. Possible increases in the amount and kinds of poisons are not ruled out.
To learn more about his topic, read "Livermore to Poison San Francisco Area – On Purpose,"
http://tinyurl.com/wq8c6
; "Livermore Nuclear Weapons Lab's 200 Executioners Ready,"
http://tinyurl.com/24x7xv
; and "San Francisco: Nuclear Weapons Lab Backs Down,"
http://tinyurl.com/2xmq7j
.
Contact Bob Nichols at
bob.bobnichols [at] gmail.com
This e-mail address is being protected from spam bots, you need JavaScript enabled to view it to book distinguished speakers for lectures, commencements and rallies. Speakers include Pat Gray, Leuren Moret, Dr. Doug Rokke, Dennis Kyne, Karen Parker, J.D., and Bob Nichols. Topics include building a positive culture in the midst of a militarized society and radiological warfare. What you can't see does hurt and kill you. Nichols, a Project Censored Award-winning writer, is a former employee of an Army ammunition plant.
We are 100% volunteer and depend on your participation to sustain our efforts!
Get Involved
If you'd like to help with maintaining or developing the website, contact us.