From the Open-Publishing Calendar
From the Open-Publishing Newswire
Indybay Feature
¡Ni un paso atrás! Not one step back!
Seven audio pieces, with translation to English, are attached, all from October 12th. Five are from the CIPO-RFM march documented in an earlier post, except for two which relate to the opening of a Forum in Oaxaca City.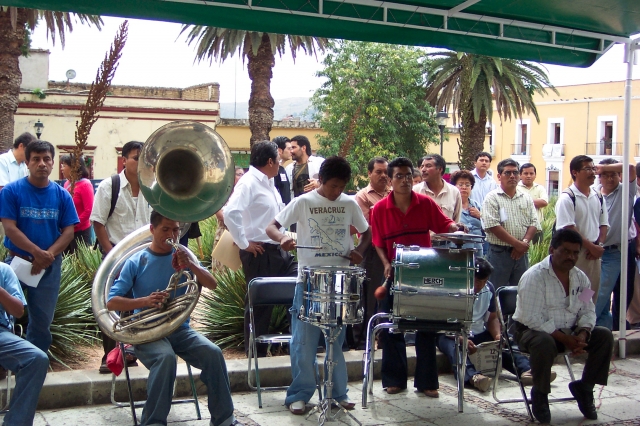 Saturday, October 14th
The 1er Foro de Solidaridad Nacional e Internacional con el Pueblo de Oaxaca [First Forum on National and International Solidarity with the People of Oaxaca] has just begun at the UNABJO [National Autonamous University of Benito Juarez] in Oaxaca City. Some await the results of the talks in Mexico City, slated to be finished early next week (Monday or Tuesday), others are moving ahead with alternatives methods of education, democracy, and governance with the intention of following through no matter what the Senators say.

A delegation of three senators (one each from the PRI, the PAN, and the PRD) has come and gone, several forums are open with the purpose of opening a greater dialogue into the future of Oaxaca, the ruling PRI party has stated that the people of Oaxaca are perfectly governable and under control and should get back to work, and the PAN has its own worries, trying to legitimate a tenuous election and unsure a smooth transition of power between two rich white business men.

Teachers are still in the Zòcalo all day every day; and in the streets blockading neighborhoods and protecting radio antennae and main entries to the city center.

The truth is, this has already moved beyond a congressional settlement: The methods have been the solutions. Neighborhoods organizing to patrol and protect in place of police, teachers in control of the schools, reclaimed public space, media in the hands of the community, popular control of government... This is a new democracy, a new social organization. There is no turning back, or as the saying (stenciled on every wall, on the lips of every marcher, in the mind of the negotiators) NI UN PASO ATRAS!!

Listen below to hear how the forums are being organized, what a business owner thinks of the marchers, the case against (ex)governor URO, messages to Oaxacans (and everyone else!) living in Oaxacalifornia, and the chants of marchers in the streets.
We are 100% volunteer and depend on your participation to sustain our efforts!
Get Involved
If you'd like to help with maintaining or developing the website, contact us.