From the Open-Publishing Calendar
From the Open-Publishing Newswire
Indybay Feature
Video of Bonanza THP and Treesit Spooner
We Save Trees Video of THP 05-097 "Bonanza" and the New Treesit in Nanning Creek Near Scotia! Your Help Is Vital To The Survival of theis Headwaters-esque Virgin Oldgrowth Redwood Forest!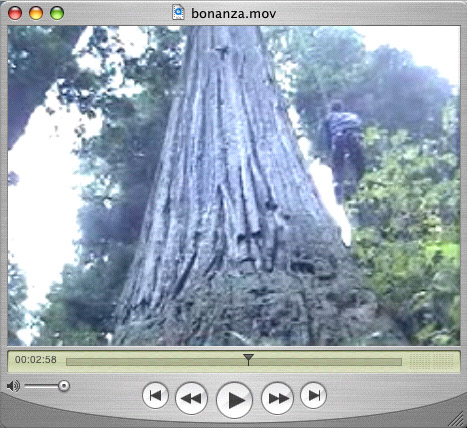 VIEW MOVIE BY CLICKING LINK!!!
http://www.wesavetrees.org/movies/bonanza.mov
Pacific Lumber Climbers visited the treesit "Spooner" on Tuesday. Oct.18th. It appeared as though they were scoping out the sit, presumabally for extraction. The tree is Huge, and probally not climbable which means the climbers will have to toss lines in. If so, The treesitter can maneuver to these lines and cut them or toss them out before the climbers are using them to swing in. There is a window of opportunity in this way. We need to set traverses, as climbers have not extracted anyone from a long traverse. Friendly climbers Are NEEDED to help assist in the Traverses and defense of this Amazing tree and surrounding grove! The Time is NOW!!!! if not too late Call NOW 707-834-2561.
Also, an Action Alert is being called as of now to occupy the front gate in Scotia. The gate is located right by the exit on the scotia side of the freeway, between the big green bridge to Rio Dell, and the Scotia Freeway onramp. Its possible that Palco can access the THP from Shively Road as well. We need to be montoring these roads Every Morn (especially tomorrow, Wed.) to watch for climbers. Direct action at the gate or at the Mill IS HIGHLY NEEDED!!! Again CALL NOW!!! 707-834-2561
There is alot of info about the THP "Bonanza" the Environment Page of Indymedia! Also, the movie is viewable at wesavetrees.org!
MAY THE FOREST BE WITH US!!!
If so...its up too us...ACT NOW!!!
We are 100% volunteer and depend on your participation to sustain our efforts!
Get Involved
If you'd like to help with maintaining or developing the website, contact us.