From the Open-Publishing Calendar
From the Open-Publishing Newswire
Indybay Feature
Indymedia & Diebold Cross Paths
A recent visit to Diebold's corporate headquarters near Green, Ohio by an IMCista.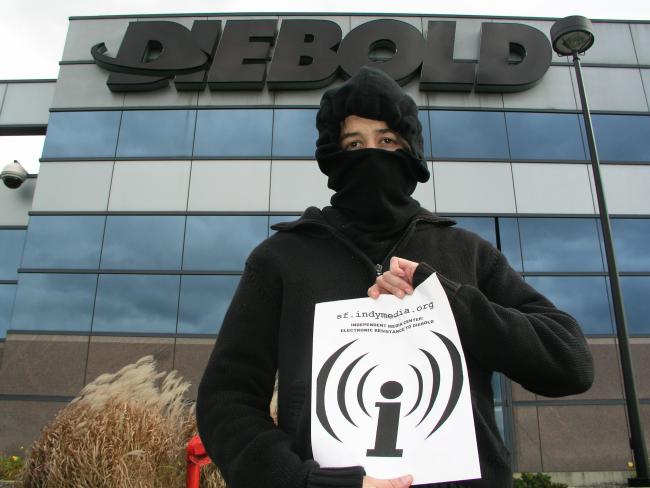 Indymedia fights Diebold's legal attempt to silence discussions about e-voting
Documents are publicly available that detail vulnerabilities in electronic voting machines manufactured by the Diebold Corporation. Diebold has been sending cease and desist letters to internet service providers (ISPs) that host the documents or links to them. Numerous Indymedia servers have been targeted by Diebold in its campaign to suppress this critical information.
Indymedia will defend its right to post internal memos and documents detailing vulnerabilities in electronic voting machines manufactured by the Diebold Corporation. The documents were made publicly available, and subsequently reported by writer Bev Harris on her websites
blackboxvoting.com
and
blackboxvoting.org
.
The vast information contained in these documents is still being investigated by top computer scientists and researchers, but a set of widely circulated internal memos detail Diebold's flippant disregard of test runs, accuracy audits, and security for its voting machines. System tests (much like a dress rehearsal) are often required by local election laws--Diebold
memos
mention how they simply changed the name "memory test" to "***System Test Passed***" as if the machine performed a self audit. The memos also say how Diebold installed new versions of the voting software that were left untested.
Their election results are not secure, as evidenced by this comment in one
email
regarding the "contents" (i.e. the votes) of the e-voting machines: "Now, where the perception comes in is that its right now very *easy* to change the contents. Double click the .mdb file." Diebold's Republican executives have touted e-voting as a solution to the punchcard voting systems that scandalized Florida in 2000. In fact, this evidence and recent
breaking news
of security and reliability flaws raises serious questions about this "solution" to election woes in the US. More links:
Read Entire Feature
|
earlier feature, August 2003
|
Madison IMC
Students Sue Electronic Voting Company
Two
Swarthmore College
students and a
nonprofit ISP
are seeking a court order on
Election Day
to stop electronic voting machine manufacturer
Diebold Systems, Inc.
, from issuing specious legal threats. The
Electronic Frontier Foundation (EFF)
and the
Center for Internet and Society Cyberlaw Clinic at Stanford Law School
are providing legal representation to Nelson Pavlosky and Luke Smith in this important case to prevent abusive copyright claims from silencing public debate about voting.
Diebold has delivered dozens of cease-and-desist notices to website publishers and ISPs, including
Indymedia
, demanding that they take down corporate documents revealing flaws in the company's electronic voting systems as well as difficulties with certifying the systems for actual elections. Pavlovsky and Smith have published an
email archive of the Diebold documents
which contain descriptions of these flaws written by the company's own employees. Swarthmore student groups
Why War?
and the
Swarthmore Coalition for the Digital Commons
have launched an
electronic civil disobedience campaign
, using file-sharing to ensure constant public access to the documents.