From the Open-Publishing Calendar
From the Open-Publishing Newswire
Indybay Feature
"GayPEC" Pinkwashing APEC afterparty met with unpleasant protestor surprise
Reportback on 11/15/23 Protest at BEAUX SF Bar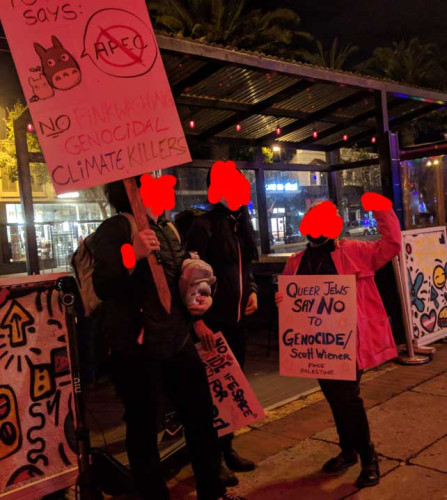 While the San Francisco 2023 APEC conference promotes the image of a country club for CEOs, billionaires, heads of state, and sellout diplomats alike, protestors have had other plans.
It seems no matter where attendees go there are angry, defiant protestors to greet them. What's a corrupt climate killing crony to do?
Wednesday afternoon, after a thousand people blockaded the heart of the conference in downtown SF, thousands marched for a ceasefire in Palestine beginning at Embarcadero and blocking the financial center of Market Street. How annoying!
After that, the President was surely hoping to have a calm evening. Instead, protesters learned of his whereabouts at the Palace Hotel and demonstrated there as well.
At that same time, some APEC-goers thought they could pinkwash their way into the historically queer district of the Castro with an event they dubbed "GayPEC." It was hosted by the gentrifying yuppie bar BEAUX SF
https://www.beauxsf.com
, which was formerly the much beloved Street Light Records.
Shameless APEC attendees were easy to spot by their blue blazer suits that looked nothing like the communities they spent the day exploiting. Protesters yelled chants such as "Street Sweeps Kill Queers, APEC, APEC outta here!" as well as "APEC conference not so fine, we support Palestine!"
The small but lively crowd engaged attendees 1:1 in heated dialogue while onlookers read picket signs and asked questions. One little girl stopped in her tracks for a couple minutes to stare at an image from the beloved Studio Ghibli movie My Neighbor Totoro, which depicted the eponymous forest guardian. The sign read:
"Totoro says: No to Pinkwashing Genocidal Climate Killers!"
Many of the APEC attendees seemed to want to "convince" No2APEC protestors that they (APEC goers) were "the good guys" doing the right thing. One person announced "I'm a diplomat, and some conversation is better than none!" To which a protestor replied "And who is the conversation with? Is China Labor Watch there? Were workers and climate activists invited? NO!"
One protestor commented, "this is literally the definition of Pinkwashing" while another schooled an attendee on the corrupt track record of Scott Weiner and the genocidal policies of a certain Joe Biden.
After increasing frustration, an APEC sympathizer called a protestor "a retard in a wheelchair" while another complimented the "large vocabulary" of activists in a troll-y, sarcastic tone. When trying to "just ask questions" though, they were shouted down with chants for climate safety, ceasefire in Gaza, and the queer community of San Francisco. It was clearly a damper on their festivities and a reminder that San Francisco is not for sale, no matter who you think you are.
Learn more and get involved with the demonstrations all this week at:
https://linktr.ee/no2apec
https://nitter.net/no2apec
We are 100% volunteer and depend on your participation to sustain our efforts!
Get Involved
If you'd like to help with maintaining or developing the website, contact us.