From the Open-Publishing Calendar
From the Open-Publishing Newswire
Indybay Feature
Jam the phone lines for Palestine on Friday, Nov. 17 at 12 noon ET / 9 am PT
Join USCPR on Friday, November 17 to mobilize our masses to take action to contribute to SHUT IT DOWN FOR PALESTINE.

Let's kick off the day with a strategic mobilization: Jamming Congress's phone lines together at 12pm ET / 9am PT, Friday, November 17. While activists across the country are protesting for Palestine, make sure the phones are ringing off the hook in the halls of Congress.

We want to make sure that Members of Congress hear our demands before they leave to head home for their extended holiday recess. Now, more than ever, as Israel is limiting fuel to almost none in Gaza, and arresting journalists to silence any accurate reporting on what's happening, we must stand up and keep the attention on Gaza. More than 11,000+ Palestinians have been killed by Israel.

Keep up the pressure on Congress to call for a CEASEFIRE NOW and to stop arming Israel.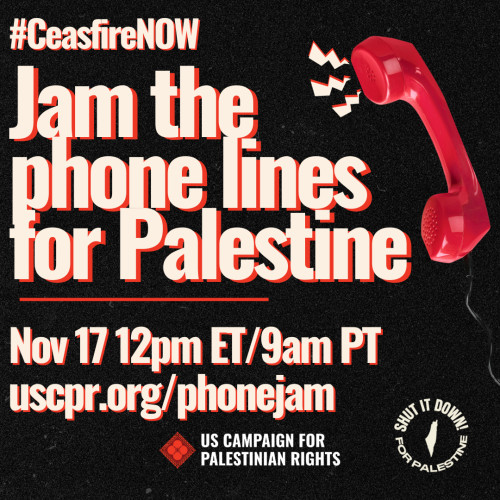 The pressure is working. Congress members are inundated with phone calls and emails demanding that they push for a ceasefire—and their offices are filled with protesters who insist on being heard. We must keep it up. No business as usual!

NOW is the time to raise the pressure on Congress to listen to the people. Our protests have won over the public, and 100+ staffers in Congress who recently held a walkout to demand a ceasefire.

We can force Congress to support #CeasefireNOW. We can #StopArmingIsrael.

Join us! Take action during the next 30-minute USCPR Power Hour on Friday, November 17 at 12 PM ET / 9 AM PT, for the SHUT IT DOWN 4 PALESTINE Day of Action.

Jam Congress's phone lines on Friday for a CEASEFIRE NOW!

I WANT TO JAM THE PHONE LINES IN CONGRESS

This Power Hour will be an opportunity to mobilize our masses for Palestinian liberation, building the pressure on Congress until they can't ignore us any longer. That means making sure the phone is ringing off the hook on Friday, at the same time that activists are protesting around the country.

Join the Power Hour to call Congress at this key moment, and learn more ways you can keep taking action.

Why participate?

1. You can increase the impact of your calls to Congress by taking action collectively during this strategically timed power hour.

2. You can help move Congress, using a tactic that staffers acknowledge as having a major impact.

CALL CONGRESS NOW and keep calling every day until we achieve a ceasefire.

Join us weekly, starting this Friday, November 17, for a Power Hour to collectively call and email our representatives.

Take these three steps:

➡️ CALL NOW: uscpr.org/GazaCall

➡️ Join USCPR's phone jam power hour this Friday November 17 at 12 PM ET / 9 AM PT: uscpr.org/PhoneJam

➡️ Organize your own phone jam power hour: bit.ly/ShutItDownPhoneZap
We are 100% volunteer and depend on your participation to sustain our efforts!
Get Involved
If you'd like to help with maintaining or developing the website, contact us.