From the Open-Publishing Calendar
From the Open-Publishing Newswire
Indybay Feature
Police Transport (Spit) Hoods May Cause Injury or Death
The use of transport (spit) hoods by police increases the likelihood of breathing difficulties and suffocation. These hoods are particularly dangerous when a person is already in distress. When used in conjunction with other restraints (such as handcuffs and hobbles) hoods are highly likely to reduce a person's ability to breathe.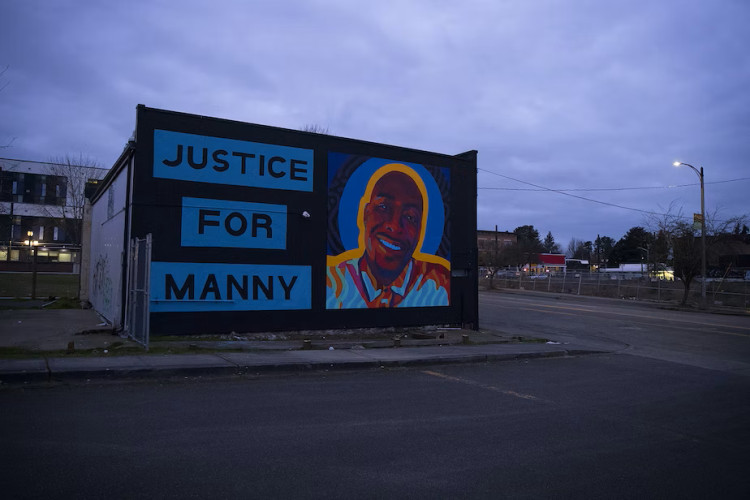 The trial of three Tacoma [WA] Police Department (TPD) officers charged with the death of a 33-year-old Black man begins Monday. The officers are accused of killing Manuel "Manny" Ellis in March 2020. Officers Christopher Burbank and Matthew Collins have been charged with second-degree murder, and Officer Timothy Rankine faces first-degree manslaughter charges.

The Tacoma Police Officers tackled, punched, shocked with a Taser and held Mr. Ellis face down on a sidewalk in March 2020, two months before George Floyd met a similar fate. Mr. Ellis was then handcuffed, hog-tied, and had a hood placed over his head. Mr. Ellis had complained to officers while being restrained that he could not breathe. Ellis' final words, "I can't breathe, sir!," were captured by a home security camera, as was the retort from one of the officers: "Shut the (expletive) up, man."

Whether the Tacoma Police Officers are guilty of murdering Mr. Ellis is a matter for the courts. However, as street medics we must clearly understand that police restraints that place a handcuffed person face-down on the ground can restrict breathing (positional asphyxia). If that person is hog-tied their ability to breathe may be (will likely be) further compromised. And placing a transport hood over someone's head reduces their ability to breathe even further.

Warnings on the transport hood clearly state that it should not be used on anyone who is having difficulty breathing (as Mr. Ellis was), and the warnings further state that "IMPROPER USE OF THE TRANSPORT HOOD MAY CAUSE INJURY OR DEATH".

Another suffocation and death of an individual placed in a hood by police was reported by the Associated Press in September 2020, saying: "Not five minutes after police slipped a "spit hood" over Daniel Prude's head, the 41-year-old Black man went limp. A week later, he was taken off life support."

Just three weeks after Prude's death at the hands of police in New York, a similar one happened in Tucson, Arizona. Police handcuffed and placed a spit hood on the head of a man also in distress. Carlos Ingram Lopez died after gasping for air and pleading for water.

In November 2019, Black military veteran Gregory Edwards died alone in a Florida jail cell after being pepper sprayed, hooded, and strapped to a restraining chair.

And on February 4, 2021, Jose Albert Lizarraga Garcia died in a grocery store parking lot after being wrestled to the ground and put in a spit hood by police in Indio, California. Like Eric Garner, George Floyd, and others before him, Garcia cried out "I can't breathe" before he suffocated to death.

Amnesty International has condemned the use of spit hoods, saying that the hoods are particularly dangerous when a person is already in distress.
We are 100% volunteer and depend on your participation to sustain our efforts!
Get Involved
If you'd like to help with maintaining or developing the website, contact us.