From the Open-Publishing Calendar
From the Open-Publishing Newswire
Indybay Feature
Teach-In on the 50th Anniversary of the Brutal Chilean Coup & The AFL-CIO
At and educational conference sponsored by the Labor Education Project on The AFL-CIO International Operations reports were made about the US AFL-CIO supported and organized coup in Chile on 9/11/73.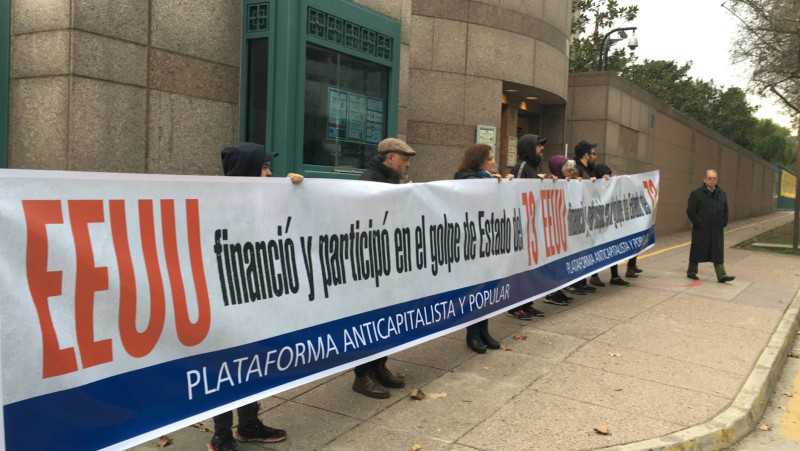 Teach-In on the 50th Anniversary of the Brutal Chilean Coup & The AFL-CIO
in World — by Phil Pasquini
— 11/09/2023
September 11 is an ominous day for Americans who well remember the horrific events that unfolded in New York in 2001 and what eventually became the War on Terror. But for Chileans, it is a day that is well remembered as the beginning of a US supported military coup that overthrew the democratically elected President Salvador Allende and ushered in 17 years of a brutal military dictatorship under the watchful eye of General and later President Augusto Pinochet. Allende, who died during the coup, was said to have committed suicide rather than be taken captive by Pinochet and his forces.
This year marks the 50th anniversary of the coup that brought Pinochet to power and threw the country into a backward spiral from which it is still extracting itself all these many decades later. Its legacy can still be found there in the privatization of public pensions, public ser­vices and continued repression with attacks on activists, journal­ists and the people of Chile.
During Pinochet's dictatorship opponents to his regime were jailed, tortured, murdered or disappeared as he employed any brutal means at his disposal to support the fascist autocratic rule he had imposed on the country. An important reference to those events can be viewed in Costa-Gavras's Academy Award winning political thriller, "Missing" which admirably portrays the circumstances surrounding the disappearance of American Charles Horman who was caught up in the coup and was disappeared.
To acknowledge the coup and its lingering legacy, an educational conference was held at the Martin Luther King Memorial Library in Washington on September 10 sponsored by the international labor group LEPAIO (Labor Education Project on AFL-CIO International Operations) along with their Chilean counterparts.
Organizers affirmed US involvement in the Chilean coup by acknowledging that "the AFL-CIO used US government funds" through the American Institute of Free Labor Development (AIFLD) "to support anti-government strikes and to help organize and support the coup against democratically elected President Salvador Allende" for his having nationalized the country's copper mines that directly threatened the lucrative source of wealth of American interests, an action that meant he clearly had to go.
In 1997, the AIFLD morphed into the "Solidarity Center" by combining the unions four pre-existing labor institutes into one entity. Today the Solidarity Center operates in 62 countries that according to their web site "assists workers across the globe as, together, they fight discrimination, exploitation and the systems that entrench poverty—to achieve shared prosperity in the global economy."
To this day the AFL-CIO has not taken responsibility for their complicity and remain stubbornly entrenched in their silence for their involvement. Nor for that matter has the union in its more than 100-year history ever consulted or ratified its American foreign policy support with its membership, which speaker Dr. Kim Scipes of Purdue University labeled as "Labor imperialism." He went on to note that the AFT founded by Samuel Gompers strongly opposed all antiwar labor groups, a tradition that remains part of its fabric to this day.
Professor Ruth Needleman who lived in Chile at the time of the coup, in a video interview conducted by union activist Steve Zeltzer delineated "the plan and strategy" the CIA employed in socially engineering conditions to turn public sentiment and hatred towards Allende. These included labor action in concert with the AFL-CIO, consumer goods shortages, political operatives trained in the US who created friendly unions to "fight Communism," CIA financed copper strikes and street violence that fragmented society and polarized the population. The lack of consumer goods in the marketplace affected the middle class that resulted for calls to "nationalize everything." She sadly noted too that "in order to continue exploiting workers and resources in Chile they destroyed the most stable government in South America."
She went on to say that control of the media was possible in which El Mercurio, the newspaper of record, was penetrated through "the placement of CIA members on its staff and in the office." In furtherance of their objective to vilify and minimize Allende's importance to the public, the paper by "only published his photograph three times with one in an altered state to show him as the devil."
Ernesto Rojas reporting from Chile on Zoom describing a day of remembrance memorials held today in a seaside town public square for all those killed and who survived, noting that police for the first time told organizers they needed to gain permission in order to demonstrate. He also stated that another upheaval is likely to occur "due to high unemployment and high inflation" while also revealing that "Fascists in Chile are becoming more powerful. Democracy is the only solution for problems in society."
The organizers of today's teach-in are making three demands calling for the "Opening of books and report to all US workers and unionists on AFL-CIO operations in Chile and around the world." To "Apologize to Chilean workers and people and compensate the families for the jailing and the murder of their family members." And finally, to "End all funding of the 'Solidarity Center' by the US government and to build real and direct solidar­ity with workers in Chile and around the world." To that end, activists are planning to present a petition to the AFL-CIO at their headquarters tomorrow listing their demands. They remain hopeful that they will be allowed to enter the building to do so in person but are prepared to rally outside in an effort to draw attention to the issue.
A related thematic event at the library is the recent placement of a temporary five-part mural titled "Todas Las Manos: Commemorating 50 years Since the Military Coup in Chile" by artist Francisco Letelier, son of Orlando Letelier along with artists from the Latin American Youth Center. The mural celebrates "…the pursuit of human rights and global justice and commemorates the 1976 assassination in Washington of former Chilean Ambassador Orlando Letelier and Ronni K. Moffitt.
It had been reported that when Letelier, who was a leading Pinochet opponent, was released in 1974 after being held in a Chilean prison for a year, that "DINA (Dirección de Inteligencia Nacional ) has long arms" and that "General Pinochet will not and does not tolerate activities against his government."
On September 21, 1976, while driving through Sheridan Circle in Washington, DC Letelier along with his co-worker Ronni Moffitt at the Institute of Policy Studies were both killed when a remote-controlled bomb placed under their car exploded. Letelier's assassination was the first international terrorist incident to take place on US soil.
Moffett's husband, who was also in the car, survived the bombing. A memorial ceremony is held annually at Sheridan Circle where a permanent granite and bronze plaque resides next to the curb where the bombing took place.
Photo by Phil Pasquini
(This article has appeared in Nuzeink)
Phil Pasquini is a freelance journalist and photographer. His reports and photographs appear in the Washington Report on Middle East Affairs, Pakistan Link and Nuze.ink. He is the author of Domes, Arches and Minarets: A History of Islamic-Inspired Buildings in America.
Additional Media:
PRESS RELEASE
The Labor Education Project on AFL-CIO International Operations (LEPAIO), an international group of labor activists, scholars, and journalists will hold two actions to commemorate the 50th Anniversary of the horrific 1973 military coup in Chile. September 11, 2023 marks the 50th anniversary of the coup that overthrew the duly elected coalition government of Salvador Allende and ushered in a military dictatorship led by Army General Augusto Pinochet.
The coup and subsequent brutal dictatorship were aided and supported by the U.S. government of Richard Nixon and the AFL-CIO of George Meany. The legacy of that regime remains today in Chile through the brutal privatization of public pensions and services as well as continuing repression of Chilean unionists, workers, activists, and journalists.
The coup was actively supported by the American Institute of Free Labor Development (AIFLD) an AFL-CIO office funded and partially staffed by the CIA. Today, the AFL-CIO leadership remains silent about the Chilean coup and continues to cover up its role. They refuse to open their records or admit their responsibility in the jailing, torture, and murder of thousands of trade unionists and their families.
The AFL-CIO leadership continues to collaborate and accept $75 million from the US Agency for International Development's (US AID) National Endowment for Democracy (NED) for the operation of AFL-CIO's Solidarity Center, the revamped incarnation of its international operations office that effectively serves as a US government appendage in 62 countries.
LEPAIO demands the following:
n AFL-CIO must open its books to the scrutiny of all US workers, unionists, and labor researchers and truth diggers.
n AFL-CIO must apologize to Chilean workers and people for its role in the coup and subsequent political nightmare in Chile and compensate the families of murdered and imprisoned workers.
n AFL-CIO must immediately stop taking US Government funding, including its annual $75 million dollar appropriation to fund its "Solidarity Center" the new incarnation of its international affairs bureau and begin to build real direct solidarity with workers in Chile and around the world.
To further these demands LEPAIO is holding an educational conference at the M. L. King Jr. Memorial Library (9th and G Sts, NW) in Washington DC on September 10 (1:30 – 4:30PM, Conference Room 401). The following day (Sept 11 at 12 Noon) a public rally in front of the AFL-CIO headquarters (16th St, NW between H and I) to make these demands will be held. All are welcome. For more info go to
http://aflcio-int.education
or email
info [at] aflcio-int.education
or call Thomas 202/365-7297.
This September 11th is the 50th anniversary of the 1973 coup in Chile where the Chilean military WITH THE HELP OF THE AFL-CIO overthrew the democratically-elected government of Salvador Allende, killing tens of thousands and effecting the country in ways that continue 50 years later.
LEPAIO (Labor Education Project on AFL-CIO International Operations)--a mostly US group of labor activists, scholars, and union members who are working with some brothers and sisters in Chile to commemorate the victims of the coup and to condemn AFL-CIO's involvement through AIFLD, the American Institute for Free Labor Development--will be having an educational conference about labor's involvement in the coup in Washington, DC on September 10 and will follow with a protest on September 11 at the AFL-CIO headquarters in that city. For more information, please see our press release on-line on the LEPAIO website: Press Release-Washington DC Events Commemorating 50th Anniversary Of US AFL-CIO Supported Chile Coup | AFL-CIO Education International Project (aflcio-int.education) .
We have assembled some sources that might be of your interest regarding the coup and the AFL-CIO's foreign operations.
Re the 1973 coup in Chile:
"Chile 50 Years After 1,000 Days That Shook The Backyard Of Imperialism":
https://youtu.be/BkNX8_d5fqQ
Fifty years ago this year, an AFL-CIO supported coup took place in Chile that cost the lives of tens of thousands of workers and people in the country. The country is still suffering the consequences of that coup today. A main reason for the coup was to crush the workers councils that had been established. This film looks at these councils in Chile's industrial zone and how they organized and the role they played in the country.
Following, Ernesto Rojas of the Committee for Human and Union Rights (CODESH) in Chile talks about that struggle that he and thousands of other trade unionists and workers were involved in. For additional information, please visit the LEPAIO website at
https://aflcio-int.education
; this film is a production of the Labor Video Project:
http://www.labormedia.net
For additional information on Chile 1973, please see:
The Workers Do Not Participate In The Government, They Are The Government Los Trabajadores No Participan En El Gobierno, Son El Gobierno
https://www.youtube.com/watch?v=I1gk0c1WwJQ
The US, CIA, AFL-CIO, AIFLD & The 1973 Chilean Coup With Professor Ruth Needleman
https://youtu.be/Kw2NQbZgH-o
Chile's 9/11 & The Rise Of US Fascism
https://youtu.be/FMRrZWbaIOk
Memories of Chile On The 49th Anniversary Of The US AFL-CIO Supported Coup
https://portside.org/2017-07-03/memories-chili
1962-1979: The AFL-CIO and Trade Union Counterinsurgency US INTERFERENCE. PART II (FINAL)
https://www.voltairenet.org/article30046.html
U.S. Labor Reps. Conspired to Overthrow Elected Governments in Latin America
http://www.laboreducator.org/darkpast4.htm
"If the health workers of Chile collapse, the entire population will suffer"
https://publicservices.international/resources/news/carolina-espinoza-if-the-health-workers-of-chile-collapse-the-entire-population-will-suffer?id=11809&lang=en
U.S. Responsibility for the Coup in Chile
http://www.namebase.net:82/chile.html
For more information on AFL-CIO operations around the world, with many references, see:
Kim Scipes, AFL-CIO's Secret War on Developing Country Workers: Solidarity or Sabotage? (Lexington Books, 2010, 2011 in paperback)
Kim Scipes, "The AFL-CIO's Foreign Policy Program: Where Historians Now Stand," on-line for free at
https://digitalcommons.fiu.edu/classracecorporatepower/vol8/iss2/5/
.
For a video interview about his 2010 book, see Steve Zeltzer's 2012 interview with Scipes at
https://www.youtube.com/watch?v=WzUsLrlie_Q&t=22s
.
For a video interview by Steve Zeltzer, see "AFL-CIO, NED, Solidarity Center and US Labor Imperialism with Kim Scipes" (2021) at The AFL-CIO, NED, Solidarity Center & US Labor Imperialism With Kim Scipes - YouTube.
For a range of videos since 1982 on labor, go to the Labor Video Project at laborvideo - YouTube.
We are 100% volunteer and depend on your participation to sustain our efforts!
Get Involved
If you'd like to help with maintaining or developing the website, contact us.