From the Open-Publishing Calendar
From the Open-Publishing Newswire
Indybay Feature
KPFA Journalist Frank Sterling, , Elections, Pacifica & The Fight Against The Racist Anti
KPFA journalist Frank Sterling and KPFA LSB candidate Steve Zeltzer speak out about the refusal of the KPFA Local Station Board group "The Protectors" to support a resolution calling for the dropping of Antioch police charges against journalist Frank Sterling. The KPFA Local station board and the past manager have refused to also call for the freedom of journalist s Mumia Abu-jamal and Julian Assange. KPFA also put on programmer Ian Masters who has said he is for keeping Mumia in jail and the supporters of Mumia are dupes.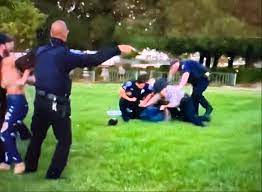 KPFA and Pacifica is the largest independent broadcast media platform in the United States and
there are now elections going on for the Local Station Boards from throughout the 5 stations.
KPFA journalist Frank Sterling who produces the program Full Circle and KPFA Local Station
Board candidate Steve Zeltzer spoke out on issues at the station and network.
The Local
Station Board which is controlled by a group called "The Protectors" opposed supporting a
resolution calling on the Antioch District Attorney to drop the charges by the racist Antioch
police against Frank Sterling. The police department was recently raided by the FBI for
targeting Black and Brown community members and having racist texts among each other.
One member of the KPFA LSB "Protectors" Sharon Adams who is also was appointed
Treasurer by "The Protectors" defended the police and charges against Frank Sterling.
"The Protectors" voted against defending Frank from police charges and also have
opposed calling for the freedom of Mumia Abu-jamal and Julian Assange.
Also speaking was KPFA LSB candidate Steve Zeltzer who produces WorkWeek. He reported
on the refusal of the KPFA station management to let the listeners and members know
about a KPFA panel of the candidates and the refusal to have candidate carts on the air.
WBAI in New York and KPFK in Los Angeles are providing the candidate the right to
have their voices on the air so the members can hear directly from the candidates.
Additional Media:
KPFA & Pacifica Radio Network Struggle For Democracy & Transparency In LSB Elections
https://youtu.be/_-uuWZpFwpU
Ian Masters CIA Operative Protested At KPFA Pacifica In Berkeley
https://youtu.be/DzzoEnzvJPE
Shut Up Or Speak Out! KPFA Press Conference For Democracy & Transparency
https://youtu.be/hbHUrLR9Wy0
The KPFA Local Station Candidate Debates On the Air! Youtube Won't Do & Stop Rigging Elections!
https://youtu.be/95PHBEWymrQ
KPFA Business Maria Negret Report To Staff On Failure to Pay Property Taxes
https://www.youtube.com/watch?v=_AhKXQZPFLk&t=322s
KPFA Bylaw Referendum Debate July 2, 2021
https://kpfa.org/archives/2021/7/2/
KPFA Pacifica Local Station Board/Public Discuss On Financial Crisis, Bankruptcy & Governance
https://youtu.be/WsN9lZPQrJs
Rescue Pacifica
https://rescuepacifica.net
Production Of Labor Video Project
http://www.labormedia.net
Plaintiffs in Antioch racist texts case head to court
Frank Sterling Jr. will be one of them. He says he had an encounter with Antioch police in 2009.
"He violently attacked me, kicked me in the face, beat me with a flashlight, did a choke hold on me until I passed out. Then, when I woke up, he used some expletives. This is what you get when you eff with the cops," Sterling said.
https://www.cbsnews.com/sanfrancisco/news/plaintiffs-antioch-racist-texts-case-court-friday/
BY ANDREA NAKANO UPDATED ON:
JULY 21, 2023 / 6:17 AM / CBS SAN FRANCISCO
ANTIOCH -- The plaintiffs in police texting scandal that has rocked the community of Antioch and its police department will appear in court Friday.
The same week chief Steven Ford was expected to testify, he announced his retirement after just a few months on the job. The plaintiffs say they are not deterred from seeing this case through.
A group of Antioch officers have been asked to testify in on heavily redacted text messages made public in April by the Contra Costa County District Attorney's office that also used derogatory, homophobic and sexually explicit language, with officers bragging about falsifying evidence and beating up suspects.
Defense attorneys who subpoenaed the officers represent four men charged with murder and attempted murder in a March 2021 drive-by shooting that prosecutors say was gang-related.
Two of the defendants, Trent Allen and Terryon Pugh, were the subjects of some of the released messages. Officers joked about kicking their heads and shooting them in the neck and buttocks. They also shared photos of Allen and Pugh injured in their hospital beds.
"I just want to see justice. That's really it," said Joshua Hawkins Butler, one of the plaintiffs. "I had been harassed, I had been abused, I had been put in situations where I felt my life was going to be taken away," Butler said.
Mathew Martinez, a lawyer for one of the defendants, said the officers were issued subpoenas so they could explain in court why they sent the texts. But "they're all unavailable, indefinitely," he said.
Five of the subpoenaed officers who traded texts are not expected to attend Friday because they are injured and out on leave, the East Bay Times reported Thursday. The news outlet obtained declarations signed by Antioch Police Chief Steven Ford swearing the officers have not been cleared by their doctors to attend the court hearing.
Butler says life has changed since the officers involved in the texting scandal have been placed on leave. He has had numerous run-ins with the law and admits he has been in and out of jail since he was a teenager.
"This is my first time being on the other side," Butler added. "Always been the one in the courtroom, not on the other side, so it's going to be different for me."
The plaintiffs, their families and community members are expected to pack the courtroom.
Frank Sterling Jr. will be one of them. He says he had an encounter with Antioch police in 2009.
"He violently attacked me, kicked me in the face, beat me with a flashlight, did a choke hold on me until I passed out. Then, when I woke up, he used some expletives. This is what you get when you eff with the cops," Sterling said.
Sterling is now part of Reimagine Antioch, a group fighting for systemic change in the police department. The group insists that a couple things are necessary to implement real change.
"For one thing, we want all the officers that are involved in the text message scandal fired. It doesn't matter if they just received the text. If they didn't turn it in to a superior immediately and questioned this behavior, they got to go," Sterling said.
Francisco Torres is also with Reimagine Antioch.
"What Reimagine wants is a police-oversight commission that has power, that can make change and be part of the whole process," Torres said.
Reimagine Antioch and plaintiffs like Joshua Hawkins Butler hoped that police chief Steven Ford would be part of that process before he announced his retirement.
"Ever since he came through the door, there's been a whole lot of light. Hhe's been taking actions. I feel like he's doing what's right," Butler said.
Now, Butler is doing what he feels is right -- to create positive change and be the father his son can look up to.
"The system be fighting me all my life. So, when you get a chance to stand up for yourself, why not?"
We are 100% volunteer and depend on your participation to sustain our efforts!
Get Involved
If you'd like to help with maintaining or developing the website, contact us.