From the Open-Publishing Calendar
From the Open-Publishing Newswire
Indybay Feature
Paiute Shoshone Defending Massacre Site ask Court to Dismiss Charges by Lithium Americas
A group of seven water protectors sued by a mining company for peacefully protesting the Thacker Pass lithium mine in Nevada have asked a State Court to dismiss their case. Their brief, filed on Friday, argues that the protesters were exercising their First Amendment rights to peaceful assembly.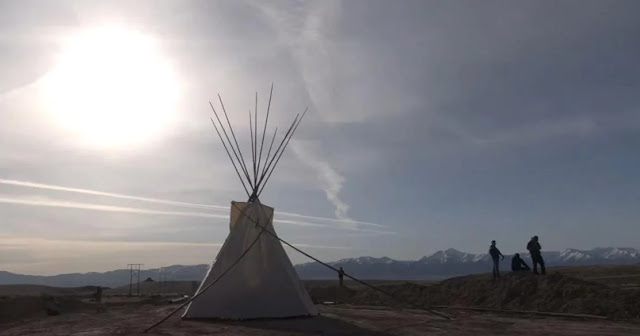 The protectors, including descendants of survivors of the 1865 Thacker Pass massacre, were sued by Lithium Nevada Corporation for defending a sacred site

By Protect Thacker Pass
August 21, 2023

WINNEMUCCA, Nevada — A group of seven water protectors sued by a mining company for peacefully protesting the Thacker Pass lithium mine in Nevada have asked a State Court to dismiss their case.

Their brief, filed on Friday, argues that the protesters were exercising their First Amendment rights to peaceful assembly.


"As a sacred site is being bulldozed, non-violent protestors are being criminalized by a foreign mining company," says attorney Terry Lodge, who is representing the defendants. "My clients were engaged in protest that is clearly protected by the U.S. Constitution. This is corporate greed and bullying."

Analysts say the lawsuit is similar to what is called a "Strategic Lawsuit Against Public Participation," or SLAPP suit, aimed at shutting down Constitutionally-protected free speech and protest. It aims to ban the water protectors from the area and force them to pay monetary damages.

The suit was filed in late May following a month of non-violent protests on the site of the lithium mine in northern Nevada. Thacker Pass is known as Peehee Mu'huh in Paiute, and is a sacred site to regional Native American tribes. It's also habitat for threatened and endangered wildlife.

"Our ancestors fought and died for the land at Peehee Mu'huh," says Dean Barlese, an elder and spiritual leader from the Pyramid Lake Paiute Tribe who is one of the defendants in the case. "We've acted for the coming generations to protect Mother Earth."

On September 12th, 1865, federal soldiers murdered at least 31 Paiute men, women, and children in Thacker Pass during "The Snake War."

Several of the defendants in the case are descended from people who were killed in 1865, including Dorece Sam, whose ancestor Ox Sam escaped the calvary raid by riding his horse though Thacker Pass.

"We took action to protect the land, air, and water for our future generations," says Sam, who is a member of the Fort McDermitt Paiute-Shoshone Tribe, and the leader of the Native American Church of the State of Nevada. "Peehee Mu'huh is part of the history and future of our people. But what will that future look like now?"

This massacre and other culturally important factors have made the Thacker Pass mine extremely controversial in the Native American community. Dozens of tribes have spoken out against the project, with four going to court. One lawsuit, filed by the Reno-Sparks Indian Colony, Summit Lake Paiute Tribe, and Burns Paiute Tribe early this year, is still battling in court to stop the Thacker Pass mine. The National Congress of American Indians has also passed several resolutions opposing the protect.

But despite ongoing criticism, lawsuits, and lobbying from tribes as well as environmental groups, ranchers, the Nevada State Historic Preservation Society, and the Advisory Council on Historic Preservation, both Lithium Nevada Corporation and the Bureau of Land Management have refused to stop construction or change any aspect of the Thacker Pass mine.

In February, the Bureau of Land Management recognized Thacker Pass as eligible for the National Register of Historic Places as a "Traditional Cultural District," or a landscape that's very important to tribes.

But the very day before, they issued Lithium Nevada's final bond, allowing the Canadian multinational to begin full-scale mining operations.

With mine construction beginning, protestors were left with no option other than to exercise their right to petition the government by protesting peacefully, which led to the lawsuit.

The defendants in the lawsuit are charged with Civil Conspiracy, Nuisance, Trespass, Tortious Interference with Contractual Relations, Tortious Interference with Prospective Economic Advantage, and Unjust Enrichment. These allegations are alarming to the Great Basin Native American communities who believe their religious practices are protected by the American Indian Religious Freedom Act of 1978. The lawsuit's language places fear in the hearts of Native American people who want to pray and visit their ancestors' gravesites, and in those of the ecologists, naturalists, and environmentalists who hope to protect the critical habitat at Thacker Pass from destruction.

The Motion filed on Friday argues that Lithium Nevada Corporation failed to provide any evidence of their claims that the protestors' actions included "violence" and constituted "conspiracy." It also states that the defendants are "outcome-oriented" and protested at Thacker Pass with the intention to "influence government law and regulation."

"Lithium Nevada, a mining corporation benefiting from the violence used to conquer Native peoples, is trying to bully peaceful protestors opposing the destruction of that massacre site," said Will Falk, an attorney and one of the defendants in the case. "People need to understand that lithium mining companies—like coal or gold mining companies—use racist and violent tactics to intimidate opposition."

"It is truly outrageous that we live in a society where our Supreme Court has granted constitutional rights to resource extraction corporations, making their destructive activities fully legal and virtually immune from oversight by We the People. Even their right to sue us is a corporate personhood right," said defendant Paul Cienfuegos, founding director of Community Rights US.

Max Wilbert, another defendant in the case, says "Lithium mining for electric vehicles and batteries isn't green, it's greenwashing. It's not green, it's greed."

Terry Lodge said: "The protestors took a moral stand in the form of civil disobedience. They are being unjustly targeted with sweeping charges that have little relationship to the truth, and we will vigorously defend them."
We are 100% volunteer and depend on your participation to sustain our efforts!
Get Involved
If you'd like to help with maintaining or developing the website, contact us.