From the Open-Publishing Calendar
From the Open-Publishing Newswire
Indybay Feature
Lawsuit Challenges EPA's 2023-2025 Renewable Fuels Standard
WASHINGTON, July 13, 2023 — The Center for Biological Diversity filed a lawsuit in the D.C. Circuit Court of Appeals today challenging the Environmental Protection Agency's fuel volume requirements for corn ethanol and other biofuels for 2023-2025. Last month the EPA set the 2022 required minimum volume for transportation sector use at roughly 15 billion gallons of corn ethanol and 5.63 billion gallons of advanced biofuels.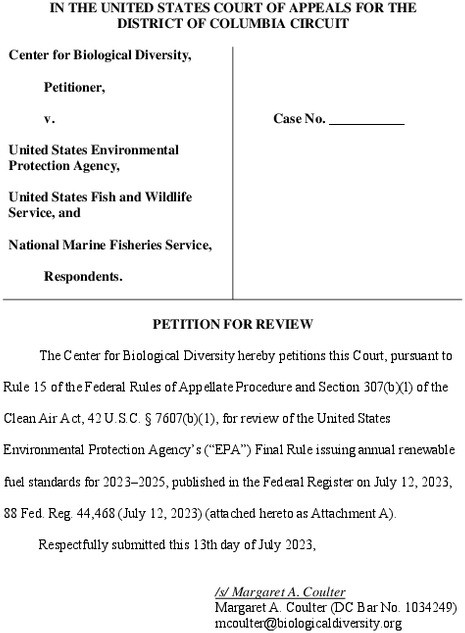 "It's distressing the EPA has used every dirty trick in the book to avoid an honest assessment of the massive environmental harms caused by its renewable fuel program," said Brett Hartl, government affairs director at the Center for Biological Diversity. "These renewable fuels requirements mean millions more acres of land will be lost, our streams and rivers will choke with more pollution and coastal dead zones will continue to expand. The Biden administration failed to even modestly reform this boondoggle and crumbled again in the face of political pressure from powerful special interests."
Today's lawsuit challenges the EPA's failure to fully comply with the Endangered Species Act. The agency failed to complete consultations with the U.S. Fish and Wildlife Service and National Marine Fisheries Service to address harm to endangered species from land conversion, as well as pesticide and fertilizer use that harms water quality and exacerbates ocean dead zones.
Despite two prior rulings from the D.C. Circuit that the EPA failed to properly consider harm to endangered species, the EPA only requested consultations with the agencies on May 19, 2023 — four days after it had completed its work and sent the final rule to the White House for review. The final rule was announced 30 days later. Not surprisingly, the agencies were not able to complete their analyses in such a short time frame.
Under the Clean Air Act, this was the first year the EPA could set biofuel targets at any level it deemed appropriate because congressionally set minimum requirements ended in 2022. Despite this flexibility, the agency ignored the serious environmental harm from ever-growing biofuel requirements. It mandated 15 billion gallons of conventional corn ethanol for each of the next three years, plus 5.9 billion gallons of advanced biofuels in 2023, 6.5 billion gallons of advanced biofuels in 2024, and 7.3 billion gallons in 2025.
In its 2018 report to Congress on the renewable fuel program, the EPA concluded that 4 million to 7.8 million acres of land had been converted to growing corn and soybeans since the program's enactment in 2005. The rate of land conversion was higher in areas closer to ethanol biorefineries.
When corn is grown for fuel, there are fewer restrictions on the use of pesticides and fertilizers, which run off into nearby streams and rivers. This pollution harms endangered species such as the pallid sturgeon in the Mississippi River. It also worsens ocean dead zones, harming endangered sea turtles and other species.
The Center for Biological Diversity is a national, nonprofit conservation organization with more than 1.7 million members and online activists dedicated to the protection of endangered species and wild places.
https://biologicaldiversity.org/w/news/press-releases/lawsuit-challenges-epas-2023-2025-renewable-fuels-standard-2023-07-13/
We are 100% volunteer and depend on your participation to sustain our efforts!
Get Involved
If you'd like to help with maintaining or developing the website, contact us.