From the Open-Publishing Calendar
From the Open-Publishing Newswire
Indybay Feature
Big Oil's outsize influence on CA and US politics expands to journalism dinners and awards
The following is a speech I gave at a climate rally at the State Capitol in Sacramento on June 10 sponsored by the Sacramento Climate Coalition, Sacramento 350, Third Act Sacramento, Oil and Gas Network and other climate groups. The event was part of a national week of action June 8 to 11 sponsored by People vs Fossil Fuels, Fridays For Future U.S., and more. The organizations demanded that President Biden use his executive powers to end the era of fossil fuels and declare a climate emergency: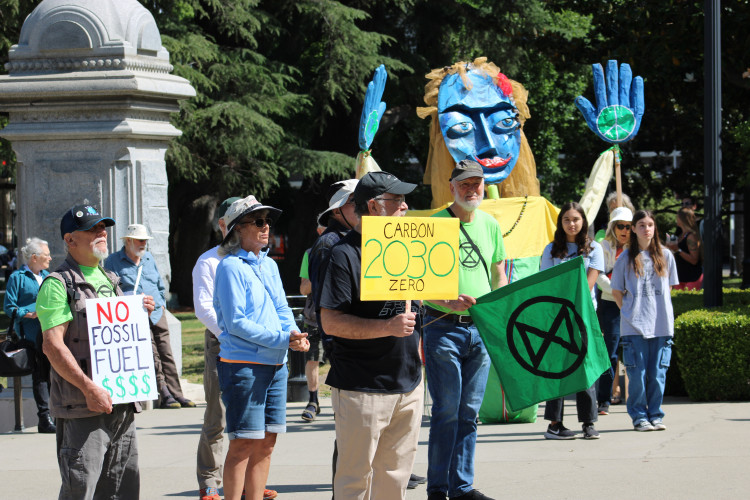 The Western States Petroleum Association (WSPA), the largest corporate lobbying group in California, and big oil companies exercise their influence and power through a very sophisticated public relations machine in California and the U.S.

WSPA describes itself as "non-profit trade association" that represents companies that account for the bulk of petroleum exploration, production, refining, transportation and marketing in Arizona, California, Nevada, Oregon, and Washington. WSPA's headquarters is located right here on L Street in Sacramento.

Since 2009 I have documented how WSPA and the oil companies wield their power in 8 major ways: through (1) lobbying; (2) campaign spending; (3) serving on and putting shills on regulatory panels; (4) creating Astroturf groups; (5) working in collaboration with media; (6) sponsoring awards ceremonies and dinners, including those for legislators and journalists; (7) contributing to non profit organizations; and (8) creating alliances with labor unions, mainly construction trades.

Today, I'll focus on two of these methods of influence.

Lobbying: The oil and gas industry spent over $34.2 million in the 2021-22 Legislative Session lobbying against SB 1137, legislation to mandate 3200 foot buffer zones around oil and gas wells, and other bills they were opposed to: cal-access.sos.ca.gov/…

For the oil companies, this was just pocket change when you consider that combined profits of California oil refiners, including PBF Energy, Chevron, Marathon Petroleum, Valero, and Phillips 66, were $75.4 billion in 2022.

The two biggest spenders were WSPA and Chevron. WSPA spent $11.7 million in the 2021-22 session, while Chevron spent a total of $8.6 million lobbying California officials.

In the first quarter of this year, Big Oil spent $9.4 million attempting to influence the California Legislature, Governor's Office and agencies, according to lobbying disclosures posted on the California Secretary of State's website.

Chevron came in first with over $4.9 million spent in the first quarter, while the WSPA finished second with over $2.3 million and Aera Energy finished third with nearly $628,000.

Sponsoring Media Dinners and Awards for Journalists: In recent months, Big Oil has launched a chilling campaign to sponsor dinners, awards ceremonies and conferences for journalists and the media. WPSA sponsored a "media dinner" on Tuesday, February 28 in Sacramento as part of #BizFedSactoDays.

The flyer for the event stated, "Journalists who play an outsize role in shaping narratives about state politics and holding lawmakers accountable will join business leaders to pull back the curtain on how they select and tell stories about California policies, policy and power."

Speakers at the program included Coleen Nelson of the Sacramento Bee, Laurel Rosenhall of the Los Angeles Times, Kaitlyn Schallhorn of the Orange County Register and Dan Walters of Cal Matters.

More recently, the Sacramento Press Club announced that WSPA was a new "Lede Sponsor" of the Sacramento Press Club's Journalism Awards Reception that was held on March 29. Sadly, only two journalists, myself and Aaron Cantu of Capital and Main, publicly challenged the funding of journalist awards by Big Oil.

In addition to sponsoring journalism events in California, the Western States Petroleum Association has expanded its campaign to influence journalists nationally. WSPA and the controversial waste management firm Veolia North America sponsored events at this year's Society of Environmental Journalists (SEJ) conference in Boise, Idaho, according to a report from DeSmog: scq.io/...

The agenda for the conference, hosted in Boise, Idaho, revealed that WSPA and the waste management company Veolia North America sponsored two of the "beat dinners" hosted on April 21, the article by Sam Bright reported.

The results: In a major display of Big Oil's continuing political power in California, a total of 897 oil drilling permits have been approved since the start of the year by CalGEM, the state's oil and gas regulator. Of those, 556 permits (62%) were issued inside the 3200 foot health protection zones that would have been created by Senate Bill 1137, according to an analysis by Kyle Ferrar of the Fractracker Alliance.

Download a map of permit approvals within the 3,200' health protective zone.

This brings the total number of permits to an astounding 14,622 new and reworked oil drilling permits approved by CalGEM since Jan. 2019, when Newsom took office.

When #BigOil teams up with journalists, columnists and editors at events and only a couple of writers thinks there's something wrong with this, you know we must be in deep trouble.

Photo: Climate rally at the State Capitol in Sacramento on June 10. Photo by Dan Bacher.

We are 100% volunteer and depend on your participation to sustain our efforts!
Get Involved
If you'd like to help with maintaining or developing the website, contact us.