From the Open-Publishing Calendar
From the Open-Publishing Newswire
Indybay Feature
Three Atlanta Activists Arrested, Home Raided Over Bail Fund
Around 9 a.m. on Wednesday, three members of the Atlanta Solidarity Fund were arrested during a raid by the Georgia Bureau of Investigation (GBI) and the Atlanta Police Department and charged with money laundering and charity fraud.
Marlon Kautz, Savannah Patterson, and Adele Maclean were arrested at The Teardown Community, a hub for mutual aid and activism as well as a residence where the three lived. All three have been booked into the notorious DeKalb County Jail, according to the GBI.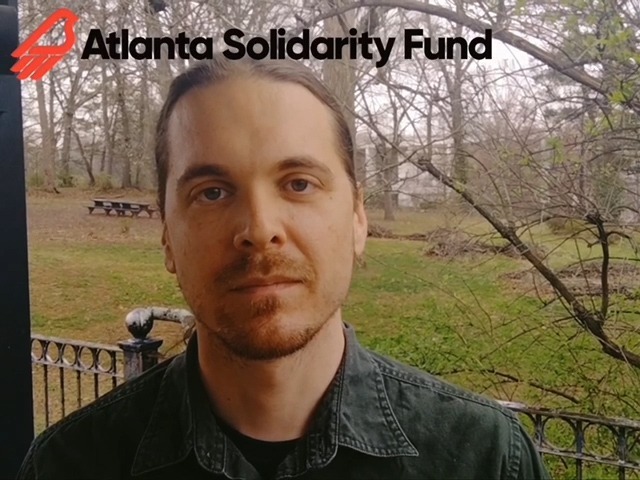 Marlon Kautz was arrested Wednesday during a multi-jurisdictional raid on his home. (Source: Atlanta Solidarity Fund).
"The Atlanta Solidarity Fund has existed for seven years with the sole purpose of providing resources to protestors experiencing repression," said Atlanta Solidarity Fund members in a press release. "We ensure their rights are respected through the criminal justice system and we provide access to representation to assist them with navigating the legal system."
The raid comes about three months after members of the organization, including Kautz, announced publicly that they had received information that the Georgia Bureau of Investigation and state prosecutors were planning on charging them under Georgia's state-level RICO statute. 
The raid also comes just days before the Atlanta City Council is set to vote on the fate of the massive police training facility which community journalists recently revealed will be far more costly than initially announced, as well as a major upcoming mobilization for Stop Cop City activists, scheduled for June 24 through July 1.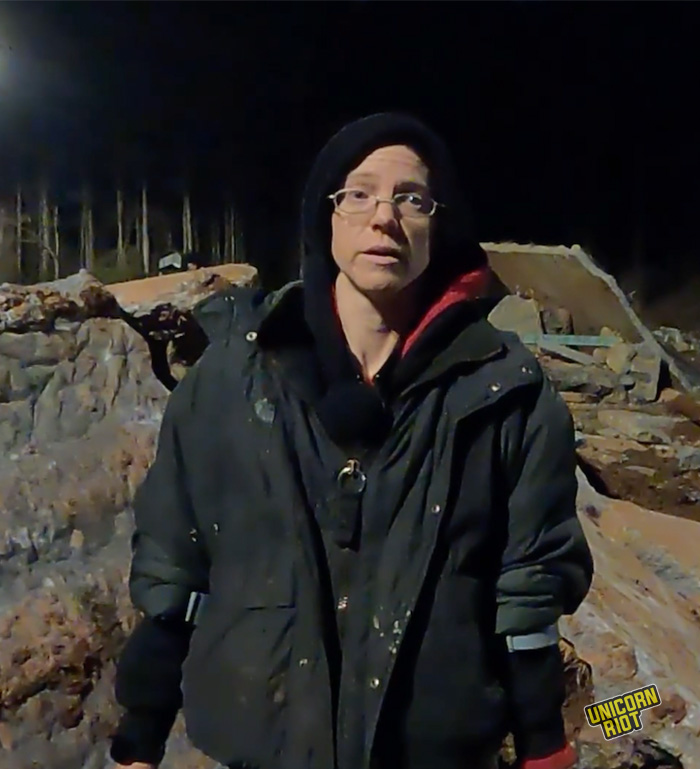 Adele MacLean, an outspoken community activist and advocate for Atlanta's houseless population, was arrested today during a raid in Atlanta.
"Agents and officers executed a search warrant and found evidence linking the three suspects to the financial crimes," said the GBI in a statement released on Twitter. "All three charged will be booked into a local jail and will have a bond hearing scheduled soon. This case is being jointly prosecuted by the Georgia Attorney General's Office and the DeKalb County District Attorney's Office."
According to arrest warrants first obtained by The Atlanta Objective, the activists involved with the Atlanta Solidarity Fund were allegedly "misleading contributors by using funds collected through a state of Georgia registered 501c(3) Network For Strong Communities (NFSC) to fund the actions in part of Defend the Atlanta Forest (DTAF), a group classified by the United States Department of Homeland Security as Domestic Violent Extremists."
However, a Department of Homeland Security spokesman told journalist Spencer Ackerman earlier this year that the agency "does not classify or designate any groups as domestic violent extremists."
Reimbursed expenses cited as proof of "money laundering" in the warrants include payments from April 2021 to March 2023 totaling less than $7,000 for expenses such as "forest clean-up," "covid rapid-tests," "media" and "yard signs."
The raid is only the most recent attack on Stop Cop City activists and those adjacent to the movement by Atlanta area law enforcement agencies. Since December 2022, 42 people have been charged under a rarely used Georgia domestic terrorism statute for their alleged participation in the movement, often with little to no individualized evidence presented against them in court. At the time of this writing, three other movement participants are also in jail awaiting trial. 
On January 18, Georgia State Troopers shot and killed Manuel Esteban Paez Terán, a 26-year-old forest defender who went by the name Tortuguita. Subsequent autopsy reports revealed that Terán's body suffered 57 bullet wounds and that they may have been sitting in a cross-legged position with their hands in the air when they were shot. 
"This is the targeting of organizers and movements by the police and the State," said Kamau Franklin, an organizer with Community Movement Builders in a press release.
"Bail funds have been a part of organizing the Civil Rights movement and labor movement. We will continue to fight back against Cop City and the political arrest of our friends and comrades."

Kamau Franklin, an organizer with Community Movement Builders in a press release
Atlanta Solidarity Fund offers jail support for those in Atlanta who are arrested during protests, bails activists out of jail, and helps provide legal representation for activists charged with crimes. It is one of many such organizations currently doing this work around the country.
The Atlanta Solidarity Fund is a project of the Network For Strong Communities, a 501(c)(3) non-profit. In 2020, the most recent year about which information is available, the Network for Strong Communities reported $3,614,028 in income from all its activities and fiscally sponsored organizations.
"The three are the first known people associated with a bail fund to be criminally charged," said Stop Cop City activists in a separate press release. 
"Attacking the Solidarity Fund for charity fraud should concern all bail funds, all abortion funds, all travel funds for migrants, watchdog groups, all organized material support for people criminalized by the government," said Defend the Atlanta Forest activists on Twitter. 
The Network for Strong Communities engages in a variety of work in the Atlanta area, including food distribution, mutual aid disaster relief, and leadership development, according to the group's website.
With the Atlanta Solidarity Fund potentially offline, activists with the National Bail Fund Network have stepped up to fill the gap by raising funds for those arrested for protesting in Atlanta. "The National Bail Fund Network is made up of over 90 local community-based bail and bond funds that free people from local jails and immigration detention centers," according to the fundraising post.
"This is an extreme provocation by Atlanta Police Department and the State of Georgia," said Lauren Regan, executive director of the Civil Liberties Defense Center, a legal nonprofit that is supporting the activists. "Providing mutual aid to protestors who exercise their constitutionally protected rights is simply not a crime. In fact, it is a historically grounded tradition in the very same social and political movements that the city of Atlanta prides itself on. Someone had to bail out civil rights activists in the 60's — I think we can all agree that community support isn't a crime."
Activists with Community Movement Builders and other local groups will be hosting a press conference today at 6:30 p.m. at the DeKalb County Jail. A rally and vigil are expected to follow with a free food distribution.
Atlanta – rally today at the DeKalb County Jail at 6:30pm.

The Atlanta Solidarity Fund has continually shown up for people criminalized for protesting – now it's our turn to show up for them. #StopCopCity pic.twitter.com/peWlq1ODye

— #StopCopCity (@micahinATL) May 31, 2023
---
Alex Binder and Chris Schiano provided additional reporting.
We are 100% volunteer and depend on your participation to sustain our efforts!
Get Involved
If you'd like to help with maintaining or developing the website, contact us.