From the Open-Publishing Calendar
From the Open-Publishing Newswire
Indybay Feature
Banned books or banned author recommendations
In Opposition To The Banning Of Books By Dangerous Fascist Right-Wing Extremists: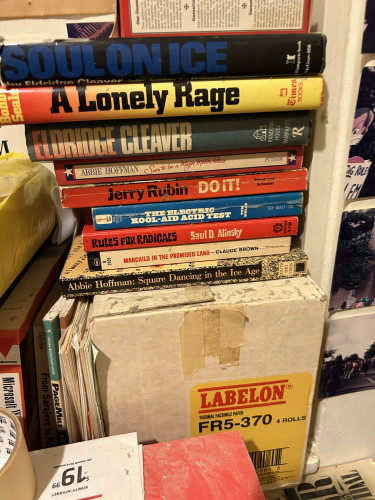 Banned books or banned author recommendations
By Lynda Carson - May, 26, 2023
Oakland - These are some grim times we find ourselves in with the extreme right-wing fascists who may be in or out of office, or may be running for office while avoiding alligators, who may be election deniers, and attacking "critical race theory" teachings in school in an effort to conceal the brutal history of this nation from students. They are terrifying people with the tyranny of their culture wars, and are suppressing our voting rights, banning of books, and are attacking the LGBTQ plus community, and are busy taking away a woman's reproductive rights… what a world.
Indeed, wherever you may be, if it happens that you are looking for something great to read when you are taking a break from being attacked by the fascists,
I suggest that you may try reading "Soul On Ice" by Eldridge Cleaver,
or the classic book titled "Eldridge Cleaver", by Eldridge Cleaver.
Or, how about an enjoyable reading moment with
"A Lonely Rage" by Bobby Seale, co-founder of the Black Panthers,
while the pigs are busy somewhere else eating some donuts, and drinking coffee this co-called Memorial holiday weekend.
Perhaps you may enjoy, and get
excited by reading "Do It" by Jerry Rubin.
Manchild In A Promised Land, by Claude Brown,
may be of interest to some people more than others, however it has definitely received a lot of attention through the years.
A book by Abbie Hoffman titled,
"Soon To Be A Major Motion Picture,"
which has been out of print for around 10 years, has been given a new title and is called "The Autobiography of Abbie Hoffman", which may be an interesting read. Or,
"Square Dancing In The Ice Age" by Abbie Hoffman,
may be an interesting read for those of you who may be unfamiliar with Abbie Hoffman.
Abbie Hoffman's book titled "Steal This Book",
is a classic from 1971, that has been banned in many locations.
Or, perhaps you may be interested in reading the
"Electric Kool-Aid Acid Test" by Tom Wolfe,
which is a trippy cult classic from the 60's, about the tales of Ken Kesey and his band of Merry Pranksters truckin (keep on truckin) around the country in a psychedelic painted bus, and having a lot of fun. However,
some people felt that this book was offensive,
and it may have banned or
challenged in some locations.
Rules For Radicals, by Saul D. Alinsky,
may be an interesting read for some folks who may feel helpless about the on-going attacks by the extreme right-wing fascists and election deniers presently destroying our nation, though some feel that the tactics described in the book as being outdated.
It should be noted that Bobby Seale of the Black Panthers was bound and gagged at times while he was on trial in
Chicago as part of the Chicago 8 conspiracy trial
including Abbie Hoffman, Jerry Rubin, and others in 1969.
Reportedly, Bobby Seale who was bound and gagged during the Chicago 8 conspiracy trial, he went to Chicago as a replacement for Eldridge Cleaver,
during the
Vietnam anti-war protests against the 1968 Democratic Convention.
Presiding Judge Julius Hoffman, was not related to Abbie Hoffman.
Meanwhile, the extreme fascist right-wing Republican pigs of the so-called Freedom Caucus are presently getting away with holding the federal government hostage over the debt ceiling negotiations, while
demanding extreme budget cuts to programs assisting the poor, blind, elderly, and those with disabilities,
as they are scheming to make the 2017 Trump multi-trillion dollar tax cuts to become permanent.
Lynda Carson may be reached at
newzland2 [at] gmail.com
>>>>>>>
>>>>>>>
We are 100% volunteer and depend on your participation to sustain our efforts!
Get Involved
If you'd like to help with maintaining or developing the website, contact us.