From the Open-Publishing Calendar
From the Open-Publishing Newswire
Indybay Feature
French Museum Treats World's Art Lovers With Contempt
Visually ravages iconic impressionist masterpieces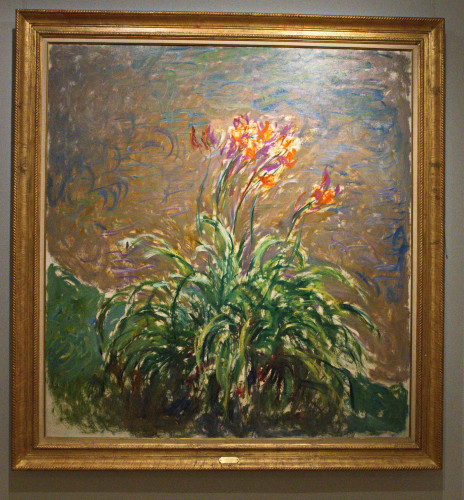 Photos: Leon Kunstenaar / Pro Bono Photo
In the late 19th century, the art world and peoples' visual perceptions were transformed by a painting movement called Impressionism. Stimulated by the invention of the squeezable paint tube, it became much easier for painters to take their paints and easels outdoors. No longer committed to studio created and photographically accurate depictions of historic and religious events, instead they looked at the effects of light and color found in nature.
Foremost among French painters of this movement, now acclaimed as emblematic of the glories of French culture, was Claude Monet. His works hang in museums throughout Paris and his estate at
Giverny
whose gardens inspired many paintings and is visited by thousands through the year.
He painted huge views of water lilies called "Les Nymphéas." Housing and illuminating these enormous works was a challenge and a special building, called the Orangerie" (because it was originally built in 1852 to protect fruits from the winter) was built for the purpose. Only real daylight would do, so the building had huge skylights to diffuse and transmit daylight. It remains one of the must-see places to see in Paris. See
Orangerie
The Orangerie's builders knew that only daylight or, in current times, color correct lighting, does justice to Monet's paintings. In the Paris museum, called the Marmottan, site of one of the world's major Monet collections, either they forgot, or simply don't care. About a hundred Monet painting are relegated to a basement, devoid of daylight, where the paintings are lit by ordinary incandescent yellow spotlights. The beautiful blues in the paintings are replaced by muddy grays. An aesthetic crime.
As anyone who has not flunked a Junior High School physics class knows, the color that an object appears is the color of the light that an object bounces back into the eyes of the viewer. Also, some colors absorb other other colors. Shine a yellow light on a blue object and the "blueness" of the object will be very diminished. Monet's paintings, much about water and sky, contain a lot of blue.
In museum gift shops throughout Paris you can buy endless books about Monet as well as cups, cards, place-mats, scarves, tote bags, wrapping paper, etc. containing his imagery. Full disclosure, I bought my wife a pair of Monet enhanced socks. Marketing Monet is big business in France.
Some years ago the Monet collection came to the De Young museum in San Francisco. They committed the same egregious lighting error. I sent them a letter with a link to the Amazon page where they could get color correct bulbs for about $3.50 each. I received no answer.
We are 100% volunteer and depend on your participation to sustain our efforts!
Get Involved
If you'd like to help with maintaining or developing the website, contact us.