From the Open-Publishing Calendar
From the Open-Publishing Newswire
Indybay Feature
Thacker Pass: Second Tipi Goes Up to Protect Paiute Massacre Site from Lithium Mine
Ox Sam Camp at Thacker Pass put up a second tipi today to halt the destruction of the Paiute Massacre Site by a foreign mining company, Lithium Americas of Vancouver, Canada. The camp is named after one of the only survivors of the massacre, Ox Sam, in northern Nevada.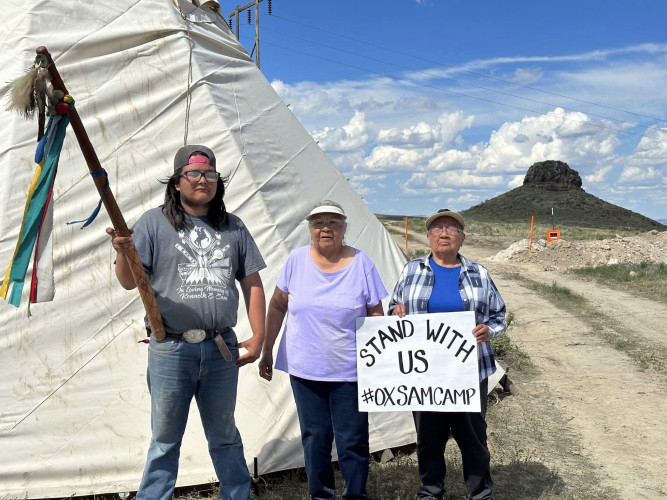 By Ox Sam Camp
Thacker Pass, Nevada
May 18, 2023
After a week of peaceful, prayerful resistance at PeeHee Mu'huh, the Fort McDermitt Paiute Shoshone elders and their relatives are erecting another tipi at their traditional cultural property, Pee'zuh (Nipple Rock). This comes a day after Lithium Americas tore open land adjacent to Pee'zuh for their water pipeline.
The Fort McDermitt Paiute Shoshone Tribal elders/members were never consulted about the requirements of the National Environmental Policy Act, National Historic Preservation Act, and more about destroying PeeHee Muhah and Pee'zuh for the world's largest open pit lithium mine. Lithium Nevada is adversely affecting this land irreversibly!
This second tipi is being erected in order to continue ceremonial prayers for the ongoing destruction of Paiute and Shoshone homelands.
Protect Thacker Pass said:
For two years, Native American tribes have been fighting to protect a sacred site in Nevada threatened by a massive open-pit mining project approved in the last days of the Trump Administration.
Thacker Pass, known as "Peehee Mu'huh" in Paiute, has been a gathering place, village site, hunting ground, and spiritually important location for thousands of years. On September 12, 1865, the U.S. Army massacred dozens of Paiute men, women, and children who were camped there.
It's also a biodiversity hot spot and watershed for local communities.
The permit for the Thacker Pass lithium mine project was "fast tracked" under the Trump administration. Public involvement in the process was severely restricted due to COVID. The Federal government claims permitting was done correctly — despite all the tribes which were supposedly consulted saying "that never happened."
Environmentalists, tribes, and local ranchers and farmers have been fighting to Protect Thacker Pass, Protect Peehee Muhuh, for 28 months, but legal approaches have failed. Now people are putting their bodies between the land and the bulldozers. Direct action began on April 25th with a day-long construction stoppage.
Then, one week ago, a group of Paiute spiritual leaders and elders set up a ceremonial tipi directly in the path of ongoing water pipeline construction at Thacker Pass and have been blocking mine workers from accessing the site. No arrests have been made despite several police warnings, but the situation is tense.
This new protest camp is named after Ox Sam, a survivor of the 1865 massacre and direct ancestor of the spiritual leaders who are now protecting the site where their ancestors were killed. The camp is also named "Newe Momokonee Nokutun" — an indigenous women's camp.
Traditional Paiute people have a spiritual relationship to water, and the choice to block the water pipeline was very deliberate.
There is a real possibility of imminent police or legal action against the camp. Just as in 1865, armed men are coming to Peehee Mu'huh. The elders are calling for supporters to urgently join them on-site in peaceful prayer, to spread the word, from afar, and build massive political pressure on the Biden Administration and the Department of the Interior to halt mine construction.
More information and camp contacts can be found at
https://oxsam.org
and background information is available at
https://ProtectThackerPass.org
This morning's video update from camp:
https://www.youtube.com/watch?v=I7NvIfPHwi8
We are 100% volunteer and depend on your participation to sustain our efforts!
Get Involved
If you'd like to help with maintaining or developing the website, contact us.