From the Open-Publishing Calendar
From the Open-Publishing Newswire
Indybay Feature
California Oil Regulators Sued Over New Oil, Gas Wells Near Homes, Beaches
15 Long Beach Wells Near Site of Last Year's Oil Slick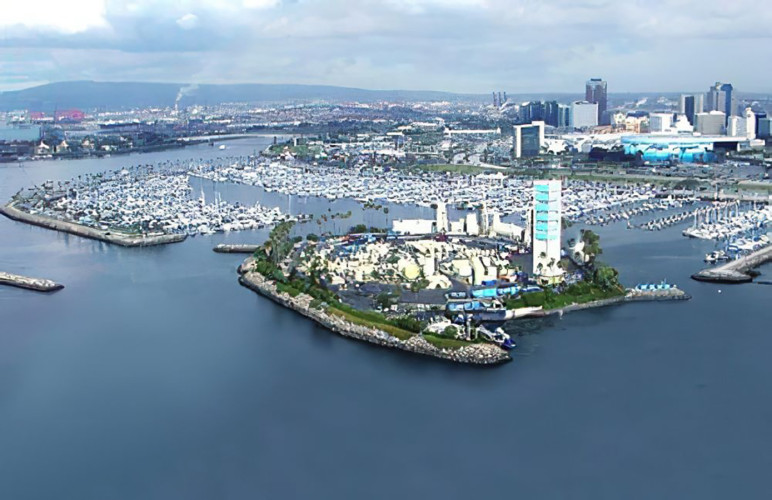 LONG BEACH, Calif., May 11, 2023 — The Center for Biological Diversity sued California oil regulators today for approving about two dozen new oil and gas wells in Los Angeles and San Luis Obispo counties close to homes, beaches and important habitat without conducting the required environmental review.
The first set of approvals is for drilling 15 new oil and gas wells in the Wilmington oilfield in Long Beach. The wells are located on an artificial island under 1,000 feet from a public beach. An oil slick at the same location washed up on beaches last year.
The Long Beach wells are within 3,200 feet of homes and community gathering sites. That zone would be protected under a health-and-safety buffer zone Gov. Gavin Newsom signed into law last year, which is now on hold pending an oil industry-backed referendum.
In approving the wells, the California Geologic Energy Management Division, or CalGEM, relied on an expired 50-year-old study that doesn't evaluate climate change or the risks to human health that have become well understood since that time.
"Rubberstamping new oil drilling sites without proper environmental review continues environmentally racist policies that add to the health harms residents have been facing for years," said Jan Victor Andasan, a community organizer with East Yards Communities for Environmental Justice. "Frontline communities are already overburdened with a multitude of pollution sources in neighborhoods like West Long Beach, from oil production sites to goods-movement operations. People in many working-class Black and Brown communities are simply trying to breathe, and to do that they need agencies to practice thorough, thoughtful review."
The second set of approvals is for six new wells at Arroyo Grande in San Luis Obispo County, an oilfield close to homes that's also important habitat for several imperiled species, including the California coast horned lizard and the rare wildflower Pismo clarkia. Regulators relied on a 19-year-old environmental study that evaluated the harms of a 125-well project. But CalGEM has approved 160 wells since then, including the six wells approved most recently.
"With increased wildfires, sea-level rise and drought, the Central Coast is on the front line of the climate crisis," said Heidi Harmon, former mayor of San Luis Obispo. "When the state rubberstamps new oil drilling, the consequences are steep for our community's water, our property values, and our children's future. As the recent former mayor of San Luis Obispo, I stand with the people of the Central Coast against this egregious action by CalGEM."
In both cases, because the well approvals in the oilfields already exceed the number of wells or timeframe for drilling that was originally covered in the decades-old environmental reviews, the agency's reliance on the old reviews was illegal.
CalGEM continues to issue oil and gas permits with no meaningful analysis, despite being sued by the Center in 2021 for failing to comply with the California Environmental Quality Act, or CEQA. The law requires public agencies to analyze and mitigate environmental harms, including in cases where previous studies did not cover the project in its entirety or failed to include recent information about the project's potential harms.
"State regulators are neglecting their duty to protect the public from these dangerous oil and gas projects," said Liz Jones, an attorney at the Center for Biological Diversity's Climate Law Institute. "Putting new wells near homes, beaches, and dwindling habitat for wildlife is the exact opposite of public safety. It's not only outrageous but illegal for CalGEM to approve these wells without a scrap of new environmental review."
CalGEM has come under scrutiny for its oil and gas approvals that run counter to Gov. Newsom's stated policy goals. This year the agency has dramatically increased the number of "rework" oil and gas permits, a substantial portion of which are within the health-and-safety buffer zone Newsom signed into law.
The governor has yet to appoint a replacement for CalGEM supervisor Uduak-Joe Ntuk, who resigned last year after reports the agency had sharply increased its approvals for oil and gas permits around the state.
Photo: Island Grissom, by Department of Energy.
The Center for Biological Diversity is a national, nonprofit conservation organization with more than 1.7 million members and online activists dedicated to the protection of endangered species and wild places.
https://biologicaldiversity.org/w/news/press-releases/california-oil-regulators-sued-over-new-oil-gas-wells-near-homes-beaches-2023-05-11/
We are 100% volunteer and depend on your participation to sustain our efforts!
Get Involved
If you'd like to help with maintaining or developing the website, contact us.