From the Open-Publishing Calendar
From the Open-Publishing Newswire
Indybay Feature
Leidesdorff Plaza established May 1966, rekindles the strength and courage to try again
Sacramento Negro Museum and Library Association dedicated Leidesdorff Plaza, May 1966, it is one of the last remaining authentic markers showcasing California Pioneers of Pan African Descent, like a Phoenix the rest of the story must rise.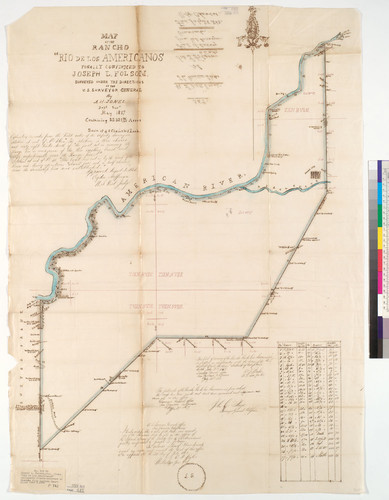 The connected history Leidesdorff Plaza, Historic Folsom Station, the Port of San Francisco, Port of New Orleans and Port Christianstand, US Virgin Islands a historic distortion that continues disparaging treatment toward people of Pan African Ancestry, yet the fulfillment of biblical prophecy is at hand.

Restoration and reconciliation of the stolen legacy from the "African Founding Father of California" Honorable William Alexander Leidesdorff, Jr. may help mitigate some of today's challenges and showcase to the world the amazing contributions by our "hidden figures" of Pan Africans Pioneers in early California History, (1840-1875.)

In 1834, Captain Leidesdorff was a maritime fixture at the Port of New Orleans along with thousands of other seamen of Pan African Ancestry who utilized New Orleans as a homeport, both enslaved and free, indeed Cotton was King.

Today, the Port of New Orleans usually imports and exports more tonnes of Agriculture products than any other Port in America.

In 1838, William Alexander Leidesdorff, Jr. was forced to leave the Port of New Orleans; his homeport for the previous 4 years, because strategic laws called Negro Seamen Acts proved a difficult and dangerous environmental conditions to continue lucrative maritime trade and commerce.

In 1841, William Alexander Leidesdorff, Jr. sailed from the Port of New York to relocate to the Pacific Ocean at the sleepy Mexican Port of Yerba Buena, to create a major cosmopolitan shipping destination.

Today's Port of San Francisco was facilitated by the vision of Honorable William Alexander Leidesdorff, Jr., prior to the Gold Rush discovery 170 years ago.

Leidesdorff St. is a Wall St. of the West coast, the heart of the Financial District of San Francisco, first developed by Leidesdorff as he served as first elected City Treasurer, President of the S.F. School Board and was appointed U.S. Vice-Consul of Mexican California, serving as the first African American Diplomat in U.S. History.

Beginning in the Spring of 1845 Leidesdorff Ranch, Rancho Rio De Los Americanos, 35,521 acres in today's Sacramento County was developed as a major cattle and wheat agricultural enterprise.

After the short lived Bear Flag Revolt and arrival of the New York Volunteers - Stevenson Regiment in 1846, Alta California was under U.S. Military rule until California Statehood in September of 1850.

The connection of New York financial markets to California development is an "Ancient Future" Gold Rush stolen legacy seen all along today's William Alexander Leidesdorff Jr Memorial Highway

Today, Northern California prepares to expand late night service to our 'ancient future' to Historic Historic Folsom Station at Leidesdorff Plaza, in the Historic Negro Bar, Sacramento County, Gold Mining District.

The Gold Line terminates at Leidesdorff Plaza, just prior to crossing the American River at historic Negro Bar, downstream from the community of Negro Hill, adjacent to Mormon Island Gold Mining District.

California State Parks is poised to take direction from our California State Legislature and finally resolve the authentic stolen legacy of Honorable William Alexander Leidesdorff, Jr. and a plethora of other Pan African Heritage stories along Historic Coloma Road, American River Parkway.

One of the first railroads west of the Mississippi River, the Sacramento Valley Railroad, follows a nearly identical path according to a September 1854 survey map, drawn by chief engineer T.D. Judah, which clearly identifies the major regional assets of Sacramento County, to include Negro Bar .

The Niagara New York Railroad was a training ground for Theodore Judah and many New York financiers provided needed venture capital to facilitate his vision of a transcontinental railroad.

May 1966, Leidesdorff Plaza was dedicated by the Negro Museum and Library Association of Sacramento, led by Mr. Joe Lawson ad many others.

A majestic fountain and scenic park once highlighted historical markers of the Pony Express, Sacramento Valley Railroad and Leidesdorff Ranch, these natural elements are lost to history as the positive contributions by people of Pan African Ancestry remains "hidden" by design.

Soon Historic Negro Bar Gold Mining Town established in 1848, may rise like a Phoenix.

Our California Underground Railroad Network to Freedom may enjoy Federal Historic Preservation protections to become a prized regional showcase.

The 1848 Gold Mining District remains a mutually beneficial point of respect and reconciliation that brings people from around the world together.

Unfortunately, recent examples of California Gold Rush Days, historic Black Culture Day, California State Fair, California Admission Day, Black Miners Bar and Negro Hill grave markers at Mormon Island Relocation Cemetery demonstrate a historic desire to uniquely exclude authentic Pan African
contributions to the forward flow of humanity.

Targeted alienation of our historic authenticity as it relates to demonstrating to global citizens the positive contributions of people of Pan African ancestry in the California Gold Rush Era, is a generational ongoing battle.

20 years ago, an example of bold and courageous bipartisan leadership by elder statesmen Dave Cox, Mervyn Dymnally and Darrell Steinberg whom help facilitate the establishment of the William Alexander Leidesdorff, Jr. Memorial Highway, as a first step, to encourage a broader recognition and desire towards preservation and restoration of an authentic legacy of Leidesdorff Ranch was a short lived ray of hope, Ready and Forward.

It may take a personal visit by Sister Tova Leidesdorf to relight bold leadership and support toward reconciling and restoring the stolen legacy.

There is no greater story leading up to our California Gold Rush Era than the golden legacy one of the wealthiest persons in 1848 California, Honorable William Alexander Leidesdorff, Jr. "African Founding Father of California."

Today, the San Francisco financial markets along Leidesdorff Street could help showcase 2023 Leidesdorff Day throughout the State of California and maximize opportunity fueling another Gold Rush seen along Historic Leidesdorff Ranch, Sacramento County.
We are 100% volunteer and depend on your participation to sustain our efforts!
Get Involved
If you'd like to help with maintaining or developing the website, contact us.