From the Open-Publishing Calendar
From the Open-Publishing Newswire
Indybay Feature
Breaking: LA Valley College Building Delayed Till 2025
$100 million dollar building sold to taxpayers as needed for low-income students will open a almost decade late. In the meantime low income San Fernando Valley students have struggled with mold, asbestos, and flooding.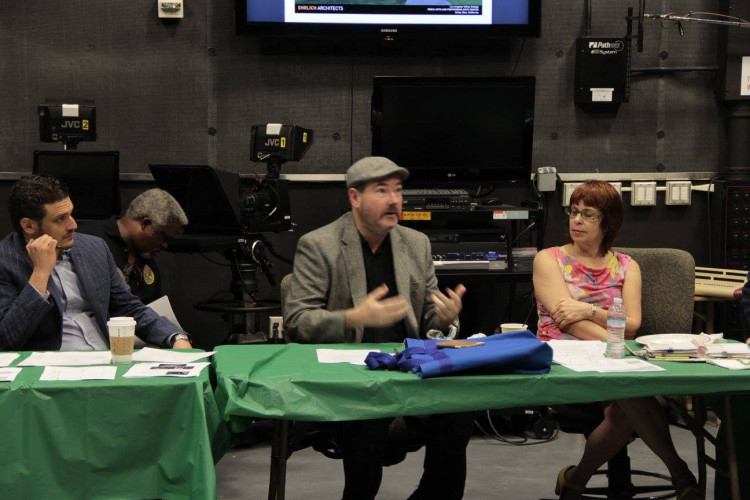 Los Angeles Valley College was supposed to open the Valley Academic and Cultural Center in 2018 to house LAVC's Media Arts and Theater Departments. Then end of 2019. By 2020 it still wasn't open and the situation had become dire. A pipe burst in Campus Center flooding the basement with several swimming pools worth of water destroying the existing Media Arts labs and classrooms that were too have been housed in the VACC. In 2022, it was announced the VACC would open in 2023, but that hasn't happened either.
Yesterday,
meeting minutes of the LAVC Work Environment Group were updated to reflect Dr. Barry Gribbons announcement that LAVC was working on getting Pinner Construction out of the building by the end of the year, after which another contractor would come in to finish work and that DSA Occupancy Permits were estimated to be approved for January 2025.
It didn't help matters that another pipe burst in Campus Center, which had just been re-opened this year, again flooding the building and closing it.
The Valley Academic and Cultural Center and the circumstances surrounding it's construction has been the subject of a great deal of news coverage since it was first approved in 2016, with accusations of racketeering and
LAVC's Media Arts Department student complaints about Department fraud.
During her tenure as LAVC's President, Erika Endrijonas,
the newly announced Superintendent-President of Santa Barbara City College,
persuaded the LACCD Board of Trustees to finally approve construction over budget in 2016, after the building had languished in development hell for at least a decade-and-a-half. But when she left to become the Superintendent-President of Pasadena City College, the project wasn't even half-complete.
The
LAVC Citizen's Building Oversight Committee required for every Bond Project, which included current
NoHo Neighborhood Council District 2-At-Large-Rep Jo Ann Rivas
representing North Hollywood, appears to have disbanded after Endrijonas left, or at least felt no obligation to continue publishing the meeting minutes for the public.
In the past year, arbitration ruled in favor of Pinner Construction that Los Angeles Valley College and the Los Angeles Community College District were at fault in the delay to finish the project. In
August 2022, Pinner Construction filed a lawsuit to confirm these findings,
but
amended the lawsuit in September 2022 to also sue every member of the LACCD Board of Trustees and have asked the California General Assembly for a public audit of Los Angeles Valley College.
In the meantime, the VACC opening remains closed, Campus Center remains closed, and low-income students remain in unserved at the only community college in the East San Fernando Valley.
'Erika Endrijonas faces new questions in LACCD fraud'
| May 2, 2023 | IndyBay
'Set back at VACC'
| March 17, 2023 | Valley Star News
'Campus Center flooded again' | March 16, 2023 | Valley Star News


'Pinner protests outside board of trustees meeting'
| Oct 12, 2022 | Valley Star News
'VACC delayed by ongoing dispute'
| Oct 21, 2022 | Valley Star News
Corruption and fraud beset long-delayed L.A. Valley college theater project, lawsuit alleges
| Aug 4, 2022 | The Los Angeles Times
Pinner Construction alleges corruption, fraud of taxpayers money
| Aug 4, 2022 | 2UrbanGirls
'Vandal breaks into Campus Center'
| Dec 29, 2021 | Valley Star News
Asbestos found in Campus Center requires abatement of contaminated materials
| April 11, 2021 | Valley Star News
New Valley College center still faces an uncertain timeline
| Nov 11, 2020 | Valley Star News
Broken pipes lead to torrential water flow and swamped basements on Valley campus
| Oct 17, 2020 | Valley Star News
LACCD confirms mold in Campus Center
| Dec 3, 2018 | Valley Star News
LA Valley College's $78.5-million arts complex approved in dramatic downtown vote
| Aug 11, 2016 | Los Angeles Daily News
LA Valley College's new performing arts center may be put on hold as costs rise
| Aug 9, 2016 | Los Angeles Daily News
We are 100% volunteer and depend on your participation to sustain our efforts!
Get Involved
If you'd like to help with maintaining or developing the website, contact us.