From the Open-Publishing Calendar
From the Open-Publishing Newswire
Indybay Feature
Aussies Say No to Nuclear Sub Base at Port Kembla, Support Rally In San Francisco Against US Base
An international day of action against a US nuclear submarine base in the Australian Port Kembla. Rallies took place at Port Kembla and in San Francisco against the base and the Australian, UK, US military alliance (AUKUS).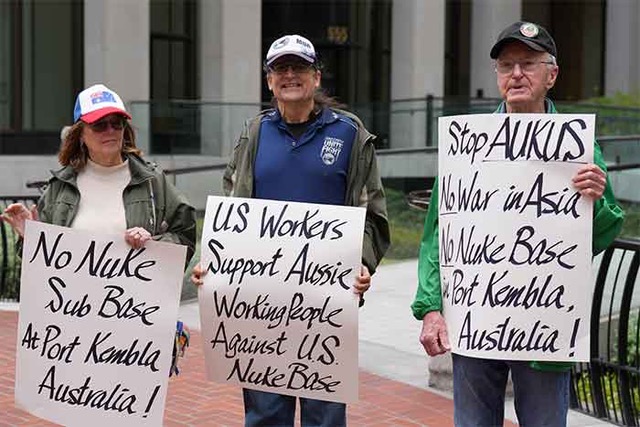 Aussies Say No to Nuclear Sub Base at Port Kembla
Support Rally In San Francisco Against US Nuke Base At Australian Port

by Phil Pasquini — 07/05/2023


As the only G20 country to ban nuclear power by federal law, Australia is now considering where to build an east coast base for its new American-British Missouri class nuclear-powered submarine fleet. On the short list of three possibilities are Brisbane, Newcastle or Port Kembla (Aboriginal for "plenty of waterfowl"). The New South Wales (NSW) Port Kembla on the Tasman Sea is favored for its proximity to deep-water along with its established infrastructure in meeting the needs of the new three boat nuclear submarines that will grow into a fleet of 11 nuclear subs in the near future.

It is the general distaste for all things nuclear that caused Australia's concerned citizens, environmentalists and union activists to call for "Global Action to Stop US Nuke Sub Base in Australian Port Kembla" by demonstrating on May 6 for "Peace, Jobs and Justice." Demonstrations opposing the conversion took place in Australia at the Port of Kembla and outside of the Australian Consulate in San Francisco. Leaders at the Maritime Union of Australia (MUA) are calling for a cessation to the militarization of Southeast Asia in what they view as a build-up to a war with China by the US, its military industrial complex and its security partners in Australia, the UK and Japan.

Several speakers representing Veterans for Peace, union activists and others spoke of their opposition to the build-up of a war with China along with using Australia as a pawn in that effort. It was lost on no one that the enormous profits to be earned by defense contractors in the project are taking precedent over concerns regarding conflict. They called for cessation to the nuclearization of Australia and the deployment of both British and American nuclear subs who would also use the proposed base during patrols.

Australia, along with its neighbors now facing a more aggressive China, is desirous in replacing its six small aging Australian-built Collins-class diesel-electric submarines scheduled for retirement in 2026. To that end, in 2016 the then Turnbull government struck a deal worth $90 billion with Naval Group (DCNS), a French company, to build twelve Shortfin Barracuda Block 1A conventional diesel subs that could later be converted to nuclear propulsion through a "tech hatch." At the time of the initial contract, the boats were promoted as being "regionally superior." This proved in the end not to be the case as China began building more powerful high-tech nuclear propelled ballistic missile submarines (SSBNs).

Because of several issues with the French company, in 2021 after having spent $2.4 billion on the project, the Australian government decided the new submarines would not meet the threshold of being "regionally superior" and cancelled the contract. They instead decided this year to go full nuclear and purchase the newly designed (Australian/American/British trilateral security Alliance) AUKUS-class nuclear subs costing as much as $368 billion over the next three decades, Australia's largest ever military expenditure.

The new subs will be armed with cruise missiles and will not have any nuclear weapons onboard as required under the 1986 South Pacific Nuclear Free Zone Agreement, aka the "Treaty of Rarotonga" that specifically forbids all signatories. "…not to manufacture, possess, acquire or have control of nuclear weapons" and further "…to prevent nuclear testing in their territories."

Opposition to the proposed plans has also been voiced by the Australian Electrical Trade Union (ETU) stating that "The AUKUS submarines will be powered by nuclear technology, which betrays Australia's non-nuclear policy and opens doors to a dangerous and unnecessary domestic nuclear power industry, weapons proliferation and regional arms race. The ETU is strongly against the deployment of nuclear power in Australia because of the risks associated with the mining and extraction of uranium, the huge build costs, the terrible and deadly consequences to environmental and human health when incidents occur and its potential to take us down the path of devastating weaponry."

The conversion of Port Kembla would terminate the busy unionized New South Wales (NSW) commercial port by displacing thousands of workers which in turn would negatively impact the local economy. Conversely, many engineers and others in support of the plan claim it will create new secure high-paying jobs related to the construction and maintenance of the submarines. To fill the gap between the retiring of the present diesel electric boats and the new AUKUS subs, the US and UK will rotate their nuclear-powered subs in and out of an Australian port.

One outstanding issue yet to be addressed is the disposal of radiated material generated by the subs during their service life and the disposal in the 2050s of their reactors at decommissioning. Environmentalists remain concerned that finding adequate and safe long-term storage for the reactors and other highly radioactive materials from the subs has not been fully addressed other than the government noting that Australia has "an overabundance of land" on to which safe and secure facilities can be created for disposal. The use of the term "overabundance of land" is highly suspected to signal land of Indigenous people.

The creation of such a disposal facility has raised concerns too that other countries in the region seeking safe disposal of their toxic nuclear waste may also be interested in utilizing Australian disposal sites, thus creating a larger problem in the country.

Photos by Phil Pasquini

(This article has previously appeared in the Washington Report on Middle East Affairs, Pakistan Link and Nuzeink.)

Phil Pasquini is a freelance journalist and photographer. His reports and photographs appear in the Washington Report on Middle East Affairs, Pakistan Link and Nuze.ink. He is the author of Domes, Arches and Minarets: A History of Islamic-Inspired Buildings in America.
We are 100% volunteer and depend on your participation to sustain our efforts!
Get Involved
If you'd like to help with maintaining or developing the website, contact us.