From the Open-Publishing Calendar
From the Open-Publishing Newswire
Indybay Feature
Dozen LAVC Cinema Student Narratives challenges Erika Endrijonas's LACCD Success Story
Erika Endrijonas has built a reputation as a rockstar "professional problem solver" in California's Community Colleges, but a dozen newly surfaced student narratives from her time as President at Los Angeles Valley College are creating cracks in this image.
Erika Endrijonas's name has been synonymous with success in higher ed. The current Superintendent-President of Pasadena City College has built a solid reputation as a self-described
"professional problem solver."
Nearly a decade ago Endrijonas took helm of Los Angeles Valley College,
an LACCD campus financially in the red and mired in Accreditation troubles.
Within a short period of time Endrijonas moved the campus finances back into the black and
removed accreditation warnings from the college in a year.
Having turned around LAVC, Endrijonas moved on to become the Superintendent-President of Pasadena City College, one of the more prestigious Junior Colleges on the West Coast. And again Endrijonas seemingly made miracles happen with
PCC receiving a thirty-million dollar donation in 2021. Endrijonas proudly announced "I cannot wait to put this investment to work."
.
Elsewhere Endrijonas has been quoted describing her passion for education,
"Community Colleges have a vital role in equalizing the playing field because not everybody has a family that will send them off to college."
Endrijonas's own personal backstory has driven her career as a Community College Student champion
"I grew up where it was assumed we'd go to college. But the day after I graduated high school, my mom said she would not pay for it and would not fill out financial aid forms. They could have paid," she explained. "I worked all through college. I had a typewriter and went around the dorm, and I'd exchange food for typing if students didn't have money."
And Endrijonas has been handsomely compensated for her work.
According to Transparent California,
Endrijonas currently commands a salary and benefits of $442,444.08 annually. During her Presidency at Los Angeles Valley College, Endrijonas's was paid over a quarter-of-a-million dollars per year.
Now Endrijonas has been
announced as possibly returning to the LACCD, as a finalist for President of Los Angeles City College.
But new cracks have emerged in this academic rockstar's professional image.
In the past year the
Pasadena City College Academic Senate and Faculty Union voted to pass a resolution of no confidence in her leadership.
This has been followed by
division between the Pasadena City Board of Trustees regarding whether to continue her employment or not,
and
Pasadena voters retiring sitting trustees last year signaling public displeasure with the college's direction.
Now a dozen newly surfaced student narratives from Los Angeles Valley College Media Arts students further contradict Endrijonas's success based resume.
On May 2, 2023,
'Endrijonas faces new questions in LACCD fraud'
hit the wire, questioning Endrijonas role in a massive racketeering scheme at her previous institution.
The article included two accreditation complaints filed by students in the LAVC Media Arts Department. Student 1 included emails to then LACCD Board of Trustees Scott Svonkin in Fall 2014, raising multiple issues. But a 2016 email thread from a dozen students show that these problems remained unaddressed two-and-half years into Endrijonas's leadership of Los Angeles Valley College.
In her response to the Accreditation Commission, Endrijonas acknowledged both that classes had not been scheduled and that work to ensure LAVC Media Arts Website accuracy had only commenced in February 2016, despite issues first being raised in 2014. Endrijonas provided no explanation as to why she had not taken steps to ensure the programs LAVC advertised were accurate or taken action against College officials responsible for submitting fraudulent reports to the LACCD Board of Trustees, Chancellor and Accrediting Commission.
Student 2's email includes similar complaint about scheduling with a petition signed by twenty three students demanding a class required for graduation that had not been offered in four years.
In 2018, LAVC Media Arts Department reported that during the 2015 – 2016 School Year, the number of certificates issued to students across all Media Arts disciplines amounted to only twenty-one total certificates issued. Only one certificate was issued in the Cinema track and one in the Television track. None were issued in Media Arts: Post Production. Multiple certificates were issued to the same students, further lowering the number of total students successfully completing a certificate program.
From 2008–2018, only thirty-one students had completed an AA in Cinema Degree, eighty-four had completed one of the four existing Media Arts Degrees; averaging three students per year completed a Cinema Degree, two students per year completed a Media Arts Degree program.
California Community College's in general struggle with student success.
In 2018, The Los Angeles Times reported that
70% of California Community College students statewide do not earn a two-year associate degree or transfer to a four-year school in six years.
. In 2017 it was reported that
"1 in 5 L.A. Community College students were homeless."
. And
65% of LACCD students were food insecure.
.
But the student narratives and petitions describe the obstacles to graduation as being entirely based on LAVC's Media Arts Department and the school Administration violating accreditation standards requiring scheduling be based around student completion. Several years prior a Media Arts student
also filed a lawsuit against Los Angeles Valley College alleging the same problems under the same Department Chair of delayed graduation, deceptive advertising and finally retaliation by being denied graduation.
Yet there is no evidence Endrijonas, the self-described "professional problem solver" took any action against the Media Arts Department Chair whose actions were cited as grounds for Los Angeles Valley College as a respondent in the 2008 lawsuit and 2016 Accreditation Complaints. During Endrijonas's leadership of LAVC, Eric Swelstad remained Chair of the Department and a full-time faculty member. According to
LAVC's current website, Eric Swelstad is still the Department Chair of the Media Arts Department.
On the surface Endrijonas's response of admitting multiple failures to abide by Accreditation Standards and submission of fraudulent reports to Accreditation, while failing to hold the Department Chair accountable appears uncharacteristic. Endrijonas has a solid reputation of heavy-handed responses to what she views as campus problems. According to LAVC's student newspaper The Valley Star News, Endrijonas fired
LAVC English Department Chair Alfred Zucker, who had taught at LAVC since 1997, due to "questions pertaining to his leadership of PTK [honor society Phi Theta Kappa] on campus."
. At
Pasadena City College Endrijonas mandated faculty return to in-person teaching during the middle of the 2022 omicron surge stating it was "non-negotiable."
Part of the answer may lie in how Endrijonas has demonstrated she operates.
At Pasadena City College Endrijonas is greatly disliked. The vote of no confidence passed the Senate 17-12, and the faculty union by 60%. Adjunct faculty denied the opportunity to vote staged demonstrations and voiced their discontent in Pasadena Newspapers and at Board of Trustee meetings.
Pasadena City College's Student Newspaper The PCC Courier described the Academic Senate vote on April 13, 2022 as follows "During the Academic Senate meeting Endrijonas was called "stubborn," "arbitrary," "unsafe," among other descriptions. She was accused of violating "the regulations and spirit of shared governance."
Endrijonas's only support has been the PCC Management Association who has resorted to staging protests trying to overthrow a U.S. election demanding the President of the Board step-down. According to the President of the Board they represent 5% of PCC stakeholders. Yet, the PCC Management Association felt comfortable with staging
a poorly received protest on Endrijonas behalf
at the April 19, 2023 Board of Trustees meeting demanding that Endrijonas's contract be extended and that the
President of the Board of Trustees ignore Pasadena voters mandate for change by resigning.
In 2016, LAVC school administrators appear to have worked to cover-up the situation. Student 1 brought complaints to LAVC Omsbudsman Annie G Reed. In an email to Student 1, Reed refused to address the schedule issues and was dismissive of student progress as a measure in how courses were scheduled – despite LAVC's Accreditation Standards clearly stating student achievement was to be the primary consideration in scheduling practices. Annie G Reed is married to Dennis Reed, the former area Dean over the Department, also listed as a respondent in the 2008 lawsuit.
Dennis Reed, the 2008 lawsuit alleged, had protected Department Chair Eric Swelstad from consequences and retaliated against the student filing the lawsuit by denying him graduation. The student's concerns about the LAVC Media Arts Department's deceptive practices were brushed off. Around the same time
Dennis Reed was involved actively lobbying the LACCD Board of Trustees
for approval of the
Media Arts Building that was also up for approval in 2016.
Instead of serving low-income LAVC students, Endrijonas built workplace alliances with Deans, Department Chairs and Administrators to craft a success story that didn't exist, while refusing to deal with the real problems and ensure real student success.
The other part of the answer as to why Endrijonas was willing to fire a long time Department Chair in one Department, but not the other, may lie in the fact that Endrijonas wasn't gearing up to lobby the LACCD Board of Trustees for approval of a building project over budget for the English Department;
a project that would turn out to be a racketeering scheme
exploiting low income students need while creating a windfall for the racketeers at the taxpayer and Pinner Construction's expense.
As more information comes to light more cracks appear in the carefully manicured image Endrijonas has cultivated in SoCal Academia. The newly surfaced dozen student narratives, accreditation complaints, lawsuits against Los Angeles Valley College, the votes of No Confidence by the Pasadena City College Academic Senate and Faculty Union, adjunct-faculty Op-Eds, the Pasadena City College Board of Trustees division over extending Endrijonas's contract all point to the "professional problem solver" reputation she has built being a work of fiction. Instead of cleaning house, Endrijonas swept ALOT under the rug. Erika Endrijonas may be a problem solver, but as these narratives indicate it is not for the low-income students she professes to serve.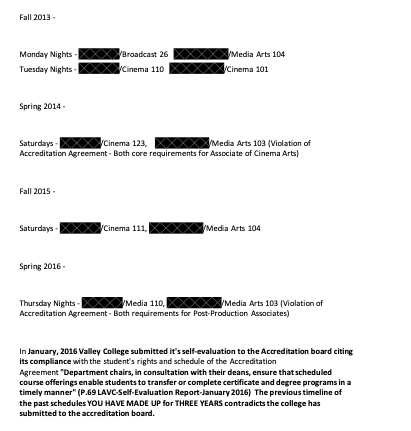 We are 100% volunteer and depend on your participation to sustain our efforts!
Get Involved
If you'd like to help with maintaining or developing the website, contact us.