From the Open-Publishing Calendar
From the Open-Publishing Newswire
Indybay Feature
KQED Security Used To Coerce Speak-out on World Press Freedom Day For Assange & Mumia
On World Press Freedom Day a rally speak-out was held in front of KQED TV and radio. The station bosses mobilized security to try to coerce and threaten the action.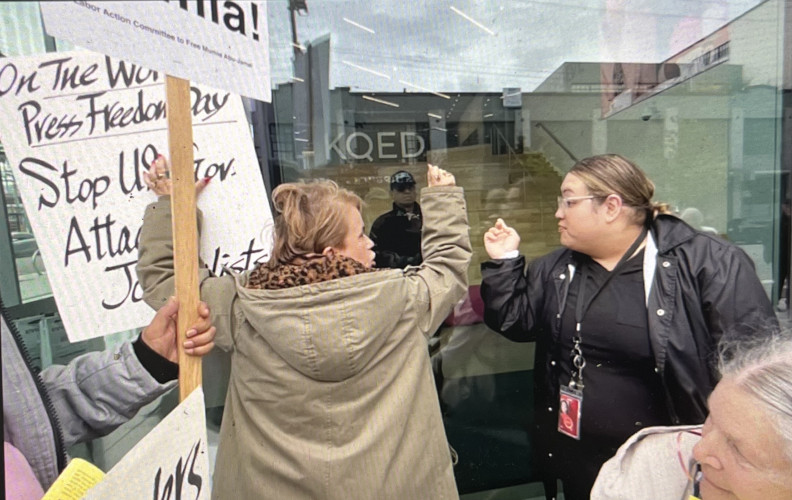 On World Press Freedom day on May 3, 2023, a speak out and rally was held at KQED in San Francisco to call on KQED, NPR and PBS to support the freedom of journalists Julian Assange and Mumia Abu-Jamal. Both are union journalists and Mumia Abu-Jamal was a CWA NABET report on the Philadelphia public radio station.
KQED security harassed and tried to bully the rally participants and demanded that participants not use the benches in front of the station as well has having signs on the public station's "property". They mobilized 6 security people to threaten the event but were unsuccessful.
KQED, NPR and PBS refuse to defend Julian Assange and Mumia despite their proclamations that they support freedom of the press. Assange has been imprisoned for exposing the crimes of the US in Iraq and the political corruption in the US through Wikileaks. He is being prosecuted for espionage although he is not a citizen of the US. Mumia Abu-Jamal has been in prison for over 40 years for a murder where evidence was hidden by the DA and police. As a CWA NABET public radio journalist in Philadelphia he also exposed the murders and corruption of the notorious racist corrupt police killers in Philadelphia. He also had a commentary show on NPR but was removed after pressure on NPR by the police.
Speakers also reported on the attack on journalists throughout the world. The participants reported that the previous week the KQED CEO Michael Isip had eliminated KQED Newsroom, the only TV news program on the station. According to an email Isip sent out the closure was because of low ratings. While the station has money for a large security force they can't fund Newroom.
The speakers called for the continued production of the program and efforts to stop the lay offs of 5 workers who are members of CWA NABET. The budget of KQED last year was nearly $37 million yet the station is unable to maintain a TV news program. While they have millions for cooking ,golf and business and other corporate sponsored shows but the bosses at KQED apparently can't afford a one hour weekly TV news show?
Labor musicians Mike Stout from Pittsburgh and Pat Fahey sang out for the freedom of Julian and Mumia.
For More Info:
Join IFJ Campaign
Free Assange now!
https://www.ifj.org/actions/ifj-campaigns/free-assange-now.html
Assange: IFJ and EFJ co-sign open letter to US President Biden
https://www.ifj.org/media-centre/news/detail/category/press-releases/article/assange-ifj-and-efj-co-sign-open-letter-to-us-president.html
Tlaib Leads Letter to DOJ to Drop Charges Against Julian Assange; Defends Freedom of Press
https://tlaib.house.gov/posts/tlaib-leads-letter-to-doj-to-drop-charges-against-julian-assange-defends-freedom-of-press
Journalists Speak Up For Assange
https://speak-up-for-assange.org/sign/
SF Trade Unionists & SFLC Delegates Speak Out On The Case Of Julian Assange
https://youtu.be/mujVU2Y5PAo
SF Protest At KQED On Mumia To Stop Censorship & To For Truthful Programming
https://youtu.be/vdzR2WNsAc0
ILWU Local 10 Press Conference On 2/16/23 Bay Area Port Shutdown & Rally To Free Mumia Abu-Jamal
https://youtu.be/ckj9zNQfkhM
Community & Labor Speak Out & Rally To Demand The Freedom Of Mumia In San Francisco
https://youtu.be/NV7VLuMYcf8
Mumia Abu-Jamal On Pacifica With Noelle Hanrahan
https://youtu.be/bhFYCuLjatE
KQED censorship of Mumia Abu-Jamal in new documentary 'Philly D.A.'
https://sfbayview.com/2021/04/protest-kqed-censorship-of-mumia-abu-jamal-in-new-documentary-philly-d-a/
Letter To KQED
http://www.laboractionmumia.org/wp-content/uploads/2021/04/Letter-to-Independent-Lens.pdf
Production of Labor Video Project
http://www.labormedia.net
We are 100% volunteer and depend on your participation to sustain our efforts!
Get Involved
If you'd like to help with maintaining or developing the website, contact us.