From the Open-Publishing Calendar
From the Open-Publishing Newswire
Indybay Feature
Anne Hillerman Talks About Her New Novel - 'The Way of Bear'
Interview with Southwest mystery writer Anne Hillerman on her new novel-The Way Of The Bear (2023) a part of the Leaphorn, Chee and Manuelito series.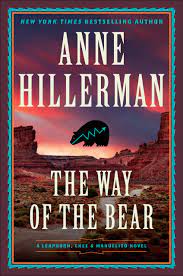 Anne Hillerman Talks About Her New Novel-The Way Of The Bear
by Mike Raccoon Eyes Kinney

Anne Hillerman's masterfully written cliff-hanger THE WAY OF THE BEAR is the very best in her mystery series of Leaphorn, Chee and Manuelito sagas.

She said in her exclusive interview with me: " I really enjoyed the research that I did for 'The Way Of The Bear'. The Valley of the Gods landscape is incredibly beautiful.It was wonderful to be back on the Navajo Nation after the pandemic. Walking and exploring both the Bear Ears National Monument and the Valley of the Gods was simply incredible. The setting is crucial to the story."

When I asked Anne why this new novel was so different and outstanding from her past novels, she stated: " I have definitely learned a little bit from each book I have written. What is so different with 'The Way Of The Bear' this the very first time Chee and Bernie have worked together to solve a crime. While these crimes are being committed by the killers, there is a plot twist that that will surprise the reader."

MIKE:" In your new book-THE WAY OF THE BEAR, Chee and Bernie work together for the first time on a case. What inspired you to do that?"

ANNE: " I had wanted to do that for several books, but one or the other of the characters declined to cooperate. In this book, Bernie needs a colleague and Chee is the obvious guy to ask. They seemed to enjoy working together so there might be more of that in store for them."

MIKE: " You have introduced a rather eccentric paleontologist Chapman Dulles. Will Dulles have a recurring role in the future books you will write in Leaphorn, Chee and Manuelito series. How did this character evolve and have you actually ever known anybody like him before? "

ANNE: " When I first considered setting a novel in the beautiful landscape of the Bears Ears, one thing that captured my imagination was the wealth of archaeological and paleontological resources there. I'd written about archaeology in my first novel, so, I thought it would be interesting to talk about old bones and fossils. I talked to paleontologists for the book, but I haven't known one quite like Chapman Dulles. However, I have been fortunate to know people who, like Chap, find tremendous pleasure in their work and approach it with enormous dedication."

MIKE:" What inspired you to give a small chapter to the killers in THE WAY OF THE BEAR? You wrote about the identities of the killers so masterfully, no one would have suspected it was them. How did the chapter come about when you wrote it? "

ANNE: " Villains are difficult for me, and I wrote that chapter as a way first of all to give myself some additional insight into that person's character. I liked the way it came out, tweaked it a bit and decided to leave it in the book with the thought that readers might enjoy it, too."

MIKE:" What made you decide that weather would become an important element in your novel? "
ANNE:" When I visited the area, the weather was exciting, full of cold winds and hot sun and strong winds and beautiful calm periods. It dawned on me that life is like this, too, so it seemed appropriated to highlight the changing weather in the story."

MIKE :"With Bernie not getting the job of being a detective, how will it affect her future in law-enforcement and her relationship with Chee? "

ANNE: "That's a great question. That's one of the reasons readers need to keep reading the series. And there may be a possibility of them having a family."

MIKE: " Recently a fully intact Tyrannosaurus Rex skeleton that was assembled
from 300 bones from three different excavation sites from South Dakota sold for $5.3 million dollars at an auction house in Zurich. Back in 2022 a fully intact T-Rex skull was at auction at Sotheby's for $15 million dollars.

The backdrop of THE WAY OF THE BEAR takes place at the Bears Ears National Monument in Utah, which is known for fossils that go back 300,000,000 years.

There is a huge market for legal/illegal dinosaur fossils that come out of Bears Ears, which are viewed as 'trophies' by collectors. What is your opinion of what should be done to stop illegal black marketplace at Bears Ears National Monument? "

ANNE: "Illegal fossil excavation and illegal excavation of ancient human habitation pose a problem on public land throughout the west. I think more people to help watch over this public treasure to make sure it is respected is one answer. Another is education about the value of these resources to our whole society/community, which is more than just money."

MIKE: " Will Roper Black, the security professional become a Navajo Tribal Police officer and work with Chee and Manuelito in the future? Is he a character we should keep an eye on in the near future? "

ANNE: "Roper will appear in my next book. Yes, he's a guy to keep an eye on."


We are 100% volunteer and depend on your participation to sustain our efforts!
Get Involved
If you'd like to help with maintaining or developing the website, contact us.