From the Open-Publishing Calendar
From the Open-Publishing Newswire
Indybay Feature
The 1st Amendment, Defense Security Cooperation Agency & the Henry A. Kissinger Connection
Attached please find the article, "Kissinger's Culpability," published this month in The Progressive magazine. The story admirably fleshes out the already decorated U.S. federal national security and human rights whistleblower's arguably most important disclosures regarding a far-right and/or neo-Nazi cabal and a systemic pattern of self-protecting reprisal running through National Defense University (NDU) and Defense Security Cooperation Agency (DSCA) decisions against an already decorated national security whistleblower; efforts sustained by collaborationist kapos of the U.S. Merit System Protection Board (MSPB), themselves rightful owners of a quota of guilt. In the Petitioner's initial 01/22/2023 Petition before the U.S. Court of Appeals for the Fourth Circuit he noted that "[m]yriad federal false statements made to and parroted by" the MSPB included claims that he had promoted "damaging conspiratorial theories of wrongdoing by the agency," ie: the NDU and DSCA. (P.5) The Petitioner noted (Pp. 6-7) that "key details" that he had provided in three classified Congressional Disclosures before the Intelligence Community Office of Inspector General (IC OIG) also "directly relate(d) to the clandestine and bloody efforts" that were the focus of the Brennan Center for Justice Liberty and National Security Program. In a critical report last year, the Brennan Center in excruciating detail found 22 examples of U.S. secret wars "contraven(ing) our constitutional design … invit(ing) military escalation that is unforeseeable to the public, to Congress, and even to the diplomats charged with managing U.S. foreign policy."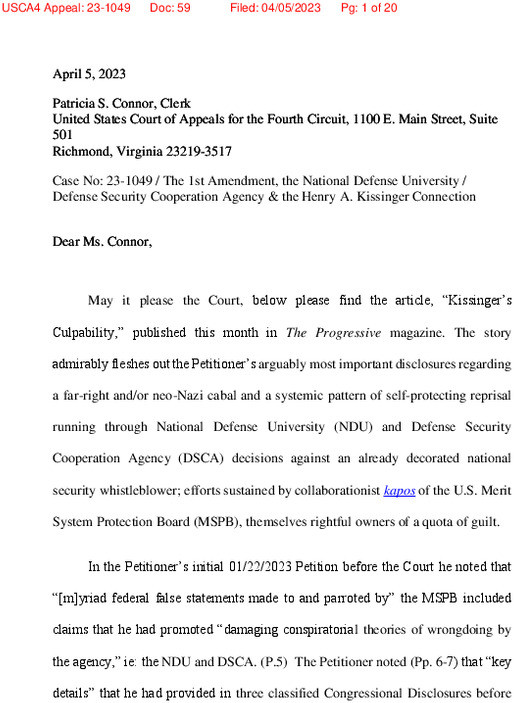 May it please the Court, below please find the article, "Kissinger's Culpability," published this month in The Progressive magazine. The story admirably fleshes out the Petitioner's arguably most important disclosures regarding a far-right and/or neo-Nazi cabal and a systemic pattern of self-protecting reprisal running through National Defense University (NDU) and Defense Security Cooperation Agency (DSCA) decisions against an already decorated national security whistleblower; efforts sustained by collaborationist kapos of the U.S. Merit System Protection Board (MSPB), themselves rightful owners of a quota of guilt. In the Petitioner's initial 01/22/2023 Petition before the Court he noted that "[m]yriad federal false statements made to and parroted by" the MSPB included claims that he had promoted "damaging conspiratorial theories of wrongdoing by the agency," ie: the NDU and DSCA. (P.5) The Petitioner noted (Pp. 6-7) that "key details" that he had provided in three classified Congressional Disclosures before the Intelligence Community Office of Inspector General (IC OIG) also "directly relate(d) to the clandestine and bloody efforts" that were the focus of the Brennan Center for Justice Liberty and National Security Program. In a critical report last year, the Brennan Center in excruciating detail found 22 examples of U.S. secret wars "contraven(ing) our constitutional design … invit(ing) military escalation that is unforeseeable to the public, to Congress, and even to the diplomats charged with managing U.S. foreign policy." It continued: Despite a series of Cold War–era executive orders that prohibit assassinations, the covert action statute has been used throughout the war on terror to conduct drone strikes outside areas of active hostilities. But there is a third class of statutory authorities that enable undisclosed hostilities yet have received little public attention: security cooperation authorities. Congress enacted these provisions in the years following September 11 to allow U.S. forces to work through and with foreign partners. One of them, now codified at 10 U.S.C. § 333, permits the Department of Defense to train and equip foreign forces anywhere in the world. Another, now codified at 10 U.S.C. § 127e, authorizes the Department of Defense to provide "support" to foreign forces, paramilitaries, and private individuals who are in turn "supporting" U.S. counterterrorism operations. (Italics added.) It was on 11/09/2022 that the Petitioner clearly informed the MSPB, "another Pleading will be submitted shortly that shows how a much-ballyhooed U.S. Secretary of State who received the NDU Foundation's prestigious American Patriot Award in 2008 (the same year the Petitioner began investigating [his] NDU colleagues guilty of torture, murder and association with international terrorist in their previous roles as senior officials in the Argentine and Chilean military dictatorships promoted by the American), can in fact actually be accused of treason. New revelations show how PhD dissertation research based on (the Petitioner's) insider knowledge (and paid for as part of [his] DoD stipend at NDU) was close to uncovering critical evidence in this historic case. No wonder vice ADM. Ann E. Rondeau, at the time angling for appointment as the head of U.S. Southern Command, rushed to falsify the case against [him]. (Italics added.)" This Petition further shows how the "Nonprecedential … Final Order" (NFO) made by Ms. Cathy A. Harris, et. al on November 17, 2022 (barely a week after the Petitioner's disclosures to them) evidenced a gross and coordinated reprisal by a federal agency supposed to protect whistleblowers, as the MSPB decision was posted within days of new information (literally less than a week) proffered to it by the Petitioner on how the palpable treason of former Secretary of State Kissinger, already known for committing crimes against humanity, directly affected the Petitioner's (to that point spotless) federal career, as well as the welfare of his family. It was Kissinger who. while in office, orchestrated one of the original clandestine wars (Cambodia) cited by the Brennan Center study, the eventual revelation of which resulted in Congressional passage of the War Powers Resolution (WPR). One of the WPR staff authors went on to be a senior official in President Jimmy Carter and Bill Clinton administrations and was a former employer of mine. When he offered the Petitioner the job (working for former Vice President Walter Mondale), he told me it was largely due to his investigative reporting about another clandestine war about which the Petitioner had written an exposé just prior to his being hired. (Literally a month before the Petitioner was brought onboard by the WPR expert, the former had exposed Mr. Kissinger for giving a "green light" to neo-Nazi military coup mongers for their secret war in Argentina.) Former Secretary of State Kissinger not only pointedly referred to military men as "dumb, stupid animals to be used" as pawns in his clandestine machinations; in 2008 he was given the National University Foundation's coveted "American Patriot Award" the same year the Petitioner began, (supposedly protected) disclosures at NDU about fellow professors and others who later were convicted for "crimes against humanity" in lawless regimes promoted and protected by the former most senior diplomat. Not only were Kissinger's minions intimately involved in the wrongdoing that was part of the Petitioner's subsequent NDU/DSCA whistleblowing disclosures as well as the hyperbolic and wrongful reprisals against him. The Petitioner found out that Mr. Kissinger also privately told the foreign minister of another far-right military dictatorship he supported and protected (that of international terrorist General Augusto Pinochet's Chile), that a good friend (and news source) of the Petitioner's, who at the time of the conversation in question was President Carter's point person on international human rights issues, was a "stupid" woman "who should receive rough treatment." ...
We are 100% volunteer and depend on your participation to sustain our efforts!
Get Involved
If you'd like to help with maintaining or developing the website, contact us.