From the Open-Publishing Calendar
From the Open-Publishing Newswire
Indybay Feature
CA Climate activists protest approval of hundreds of neighborhood oil permits this year
A total of 14,374 new and reworked oil drilling permits have been approved by CalGEM under Governor Newsom since Jan. 2019.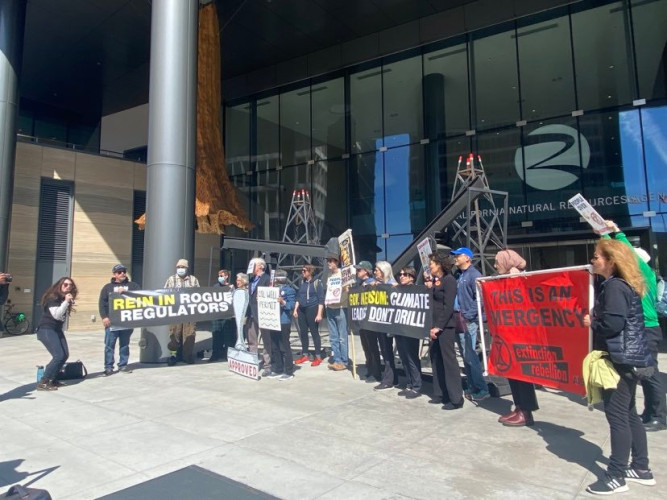 SACRAMENTO, CA— As regulatory capture by Big Oil and Big Gas becomes deeper and deeper in the supposedly "green" state of California, climate activists with the Last Chance Alliance held a protest at noon on March 17 outside the California Natural Resources Agency Building to draw attention to the recent approval of hundreds of oil drilling permits in communities.
They held banners proclaiming, "Rein In Rogue Regulators," "Gov. Newsom: Climate Leaders Don't Drill, "and "This Is An Emergency." They also used props, including an oversized "rubber stamp" and "oil derricks," to call out CalGEM for rubber stamping oil drilling permits in neighborhoods across the state.
A total of 649 permits have been approved since the start of the year by CalGEM, the state's oil and gas regulator. Of those, 389 permits (60%) were issued inside the health protection zones that would have been created by Senate Bill 1137, according to an analysis by Kyle Ferrar, Western Coordinator of the Fractracker Alliance. 
This brings the total number of permits to an astounding 14,374 new and reworked oil drilling permits approved by CalGEM since Jan. 2019.  
From 12 to 1 p.m., the activists spoke, chanted and sang songs urging CalGEM to halt oil drilling within 3,200 feet of communities.  Organizers of the Sacramento protest included the Last Chance Alliance, Food & Water Watch, Greenpeace, the Oil & Gas Action Network and local climate groups.
"Since the start of the month oil drilling permits have sky rocketed, particularly in the health protection zones that would have been created by SB 1137," according to a statement from the Last Chance Alliance. "But soon after the bill to end neighborhood drilling was signed into law last Fall, the oil industry launched a multi-million dollar referendum to overturn it."
"With the fossil fuel industry-backed referendum qualifying for the November 2024 ballot, California's landmark environmental justice bill and the vital protections it provides have been put on hold. Permits for oil drilling within 3,200 feet of communities have jumped up," the group said.
"Across the state, industrial oil operations take place just feet from homes, schools and hospitals, increasing community risks of asthma, birth defects and cancer. More than 2 million people live within 3,200 feet of an operational oil well. California is one of the last oil producing states in the nation to allow oil drilling in neighborhoods," the group stated.   
According to FracTracker's analysis of data from state oil regulator CalGEM, permits were issued within 3,200 feet of Los Angeles, Ventura, Kern, Central Coast and Northern California communities. Download a map of permit approvals within the 3,200' health protective zone.
Members of Last Chance Alliance sent a letter to Gov. Newsom on Tuesday asking him to rescind the permits, stating: "CalGEM approved these permits without any environmental review of the serious harms that are likely to result from these dangerous operations." 
"CalGEM issues rework permits to oil and gas operators who are modifying an existing well. Rework operations are significant sources of pollution that put frontline communities and sensitive individuals at elevated risk of health impacts," the Alliance stated.
Frontline communities expect even more more permit approvals  
Frontline communities and advocates say they expect to see even more approvals before the first quarter of the year closes out, based on the rate of approvals of permits this year to date.
"CalGEM issuing hundreds of permits to negligent oil companies so they can continue drilling in our communities just months after they released an emergency rule to block neighborhood drilling is exactly why we don't trust them," said Cesar Aguirre, organizer with Central California Environmental Justice Network. "This is exactly the free-for-all that California's oil industry wanted when they bought their way onto the ballot and forced the stay of SB 1137." 
"It is bad enough that Big Oil rips off Californians at the pump and uses their record profits to fight public health measures," said Marjaneh Moini, MD, Board Member, Physicians for Social Responsibility. "They spent 20 million dollars to put SB1137 on hold, a health protective law that prohibits drilling near schools, homes and hospitals. They may even succeed at reversing it in 2024."
"What is worse is how CalGEM, which is supposed to prioritize protecting public health, has issued hundreds of permits within the health protective zone since January. Officials at CalGEM know how harmful oil and gas drilling near schools, day care facilities and homes are, but they are issuing these permits that put children at risk of birth defects, cancer, lung disease and much more. This has to stop," Moini stated.   
"Fossil fuel-driven climate change is driving intense storms and prolonged dry periods," said Chirag Bhakta, California Director, Food & Water Watch. "This is wreaking havoc on our water security and will only worsen as climate change accelerates — yet the state continues to approve fossil fuel permits. It's time for Governor Newsom to show leadership, protect California's water and communities by directing CalGEM to stop approving fossil fuel permits immediately."  
"While a state commissioned public health panel has shown that living near oil and gas drilling is harmful to our health, the oil and gas industry has no problem funneling more than 20 million dollars into trying to overturn a public health law, SB1137, aimed at ending the practice," said Maricruz Ramirez, Community Organizer, Center on Race, Poverty & the Environment. "Now, after using money to corrupt policy, they continue to apply for drilling permits in our neighborhoods."
"CalGEM has the responsibility to step in and reject these permits and they've done it before. Each day that passes is one that CALGEM can stop issuing drilling permits altogether and continue rulemaking processes to codify 3,200 ft setbacks. They can't pick and choose when to protect the environment and public health. CALGEM and the state should be doing the most they can to demonstrate their commitment to the people of California and one of their most important resources, their health; instead, unfortunately, it's business as usual," Ramirez concluded.   
The California Independent Petroleum Association (CIPA) sponsored the referendum that has delayed the implementation of the setbacks law for two years. Filings with the California Secretary of State reveal that oil companies funneled over $20 million  to the committee Stop the Energy Shutdown, a "Coalition Of Small Business Owners, Concerned Taxpayers, Local Energy Producers And The California Independent Petroleum Association."  
In light of the hold on the implementation of SB 1137 caused by the qualification of the referendum for the November 2024 ballot, oil industry representatives claim that CalGEM has no choice but to approve the permits, even those within the 3200 foot health and safety buffer zone.
"We don't think CalGEM has the discretion to deny permits that have to meet all the requirements of the law and regulations. That would be arbitrary and capricious, CEO Rock Zierman of the California Independent Petroleum Association trade group  told the Bakersfield Californian:
http://www.bakersfield.com/
…
Deep regulatory capture by Big Oil from top to bottom
The announcement of the referendum's eligibility for the ballot came just three days after Jan. 31 filings with the Secretary of State revealed that the oil and gas industry in California spent over $34.2 million in the 2021-22 Legislative Session against SB 1137 and other bills the oil industry was opposed to, including legislation to ban offshore drilling in state waters and to divest California retirement pensions from oil and gas companies.
The gusher of Big Oil and Big Gas lobbying money also resulted in the approval of many new and reworked oil and gas well permits, including many within the 3200 foot health and safety zone, by CalGEM, the state's oil and gas regulator. Uduak-Joe Ntuk, the state Oil & Gas Supervisor at the California Geologic Energy Management Division (CalGEM), recently resigned from his job against the backdrop of a 754% increase in new oil drilling permits issued in the fourth quarter of 2022. 
CalGEM approved a total of 3,382 permits in 2022, including 551 new well permits and 2,831 oil well rework permits.  
Big Oil spent a total of $4,220,214 in lobbying expenses in the last quarter from Oct. 1 to Dec. 31, 2022. That brings the total of oil and gas corporation lobbying expenses to $34,270,001 in the eight quarters of the 2021-22 session: cal-access.sos.ca.gov/…  
The Western States Petroleum Association, the largest and most powerful corporate lobbying group in Sacramento, spent $11,720,912 in the 2021-22 session. They spent $1,734,594 out of the $4,220,214 spent on lobbying by the oil and gas industry in California in the eighth quarter.
Chevron Corporation, the San-Ramon based oil giant that is infamous for environmental devastation and degradation from the Ecuadorian Amazon to Richmond, California, spent a total of $8,631,118 lobbying California officials in the 2021-22 session. They spent $782,341out of the $4,220,214 total fossil fuel lobbying expenses in the fourth quarter.
Western States Petroleum Association sponsors 'media dinner'
WSPA and Big Oil wield their power in 8 major ways: through (1) lobbying; (2) campaign spending; (3) serving on and putting shills on regulatory panels; (4) creating Astroturf groups; (5) working in collaboration with media; (6) creating alliances with labor unions; (7) contributing to non profit organizations; and (8) sponsoring awards ceremonies, including those for legislators and journalists.
In one of the latest examples of the collaboration between Big Oil and the media, the Western States Petroleum Association sponsored a "media dinner" in Sacramento  on Tuesday, February 28, in Sacramento as part of #BizFedSactoDays.
The flyer for the event states, "Journalists who play an outsize role in shaping narratives about state politics and holding lawmakers accountable will join business leaders to pull back the curtain on how they select and tell stories about California policies, policy and power."
Featured speakers at the program included Coleen Nelson of the Sacramento Bee, Laurel Rosenhall of the Los Angeles Times, Kaitlyn Schallhorn of the Orange County Register and Dan Walters of Cal Matters.
In a tweet, Catherine Reheis-Boyd, President of the Western States Petroleum Association (WSPA) and former Chair of the Marine Life Protection Act (MLPA) Initiative Blue Ribbon Task Force to create "marine protected areas" in Southern California, gushed:
"One of our favorite times of year is #BizFedSactoDays- when @BizFed helps amplify the presence and power of business in California. And we're honored to host the Media Dinner and featured media speakers! @DanCALmatters @LaurelRosenhall@ColleenMNelson @K_Schallhorn"
This dinner truly marks the end of political satire in "green" California. When #BigOil teams up with journalists, columnists and editors at events like this and hardly anybody other than this writer thinks this is a big story, you know we must be doomed. No, I didn't attend.
It's hard to write satirical songs and articles like I used to because the real world has become more bizarre than any satire could be.
We are 100% volunteer and depend on your participation to sustain our efforts!
Get Involved
If you'd like to help with maintaining or developing the website, contact us.