From the Open-Publishing Calendar
From the Open-Publishing Newswire
Indybay Feature
Food Not Bombs Will Not Be Silenced
A global war is boiling in the back kitchen with the noisy rattling of a brass kettle on a gas stove left unattended. Millions of us stand at the register discovering our food stamps have diminished leaving our families with half full bellies as the banks of the exploiters slide into insolvency promising to take us all down with them.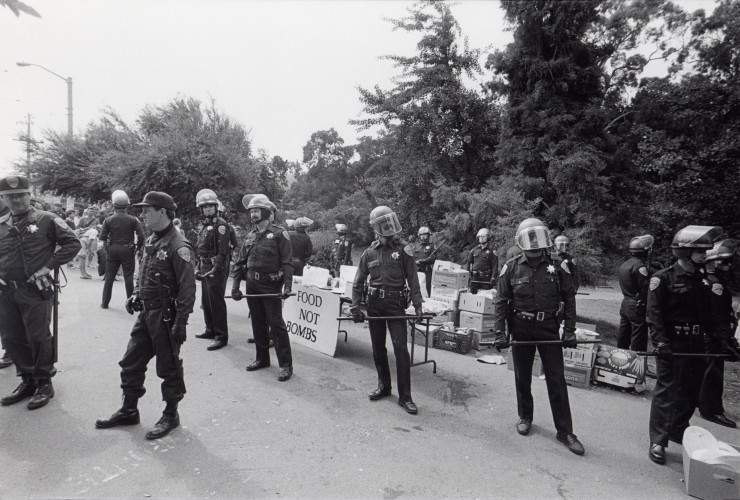 The invisible masters of our cloud based universe struggle to delete the digits of uncomfortable empathy. Google makes sure every search reveals a truth vetted by Langley. Their local enforcer of cruelty, Google chief attorney Halimah Delaine Prado and her Take Back Santa Cruz husband Manuel press their City Manager Matt Huffaker into action. They are but just a few of the many AI bots that infest our town.

Force those without housing into the atmospheric rivers to shiver in weeks of drenched clothing. Deny the hundreds of homeless access to the empty parking garages and lock the doors of the Civic Auditorium tight as 40 mile an hour shards of cold water pierced the flapping garbage bag raincoats to shreds.

The Prados may not have succeeded in having the home of Alicia Kuhl's family and my car towed but they were victorious in making hundreds of their neighbors miserable in the brutality of our floods. The next advance in their campaign of pain was the eviction of the Food Not Bombs meal from the protection of Garage 10 and threats of arrest outside City Hall. Next was the attempt to cut off Food Not Bombs sources of food with the promise of forcing the all volunteer group into some dark patch of sidewalk where the public never passes outside Housing Matters in their effort to hide opposition to their wars and exploitation. The people we want to reach avoid the Coral Streets of America.

Just as Houston Mayor Taylor claims in his effort to drive Food Not Bombs out of sight into a fenced lot under a freeway, Matt Huffaker will claim that we need his permission to share food with those he refused to feed and has forced them to endure weather sure to kill.

But you never need permission to help the hungry. Sharing food is always an unregulated gift of compassion. This kindness is protected by the US Constitution. There are some things that the government has no say in and the Food Not Bombs protest and meal at the Town Clock is one such assembly.

If they can give you a permit they can take it away. Something we experienced in San Francisco in the 90's and led to Food Not Bombs' global policy against accepting or requesting permission. We showed that issue was never about permits it was always about our independence and desire to change society so no one is forced to seek a meal at a soup kitchen or sleep in the streets.

Consider risking arrest if these heartless bureaucrats attempt to drive our message of Food Not Bombs into the shadows of the homeless industrial complex.

Join Food Not Bombs at 5:00 pm on Monday, March 20, 2023 at the Resource Center For Nonviolence at 612 Ocean Street, Santa Cruz, California.
We are 100% volunteer and depend on your participation to sustain our efforts!
Get Involved
If you'd like to help with maintaining or developing the website, contact us.