From the Open-Publishing Calendar
From the Open-Publishing Newswire
Indybay Feature
Stop Sale Of KPFK Bldg & Flagrant Violations Of Pacifica Bylaws 6 Year Term Limit-Speak Out
A speak out was held in front of KPFA on March 9, 2023 to protest the sale by the illegitimate Pacifica National Board of the KPFA building. It also was to opposed the vote by the same board and PNB members of the "Protectors" group to ignore the 6 year term limit under the bylaws. The same group has also used corporate nuisance lawsuits to break up Pacifica. These suits have cost over $400,000 in their wrecking operation.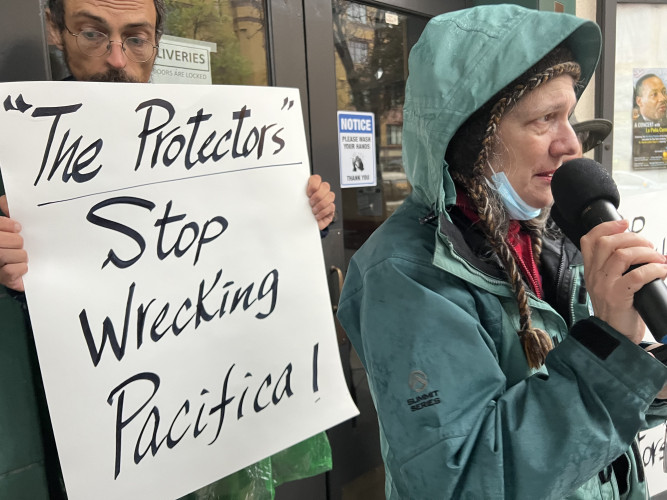 Supporters of KPFA and Pacifica spoke out on 3/9/23 on the the financial crisis threatening Pacifica is, in part, as a result of the KPFA Local officers and Board majority (most who belong to the "Protectors") have supported and initiated nuisance lawsuits against Pacifica costing over $400,000. Some KPFA LSB members have helped former ED Vernille win a suit against Pacifica for $300,000 by voluntarily testifying in his arbitration against Pacifica. The $300,000 was seized as a result in part of their testimony on behalf of ED John Vernille.
The same KPFA member on the Local Station Board and many of the PNB supported the illegal shutdown of WBAI and some of the same people are for the sale of KPFK in Los Angeles which would threaten the viability of the station and its future as the largest independent broadcast platform in Southern California.
KPFA LSB even passed a motion supporting a petition filed by a member of the KPFA LSB to the FCC to take away the broadcast license of sister station WBAI.
This press conference was called by Rescue Pacifica and Pacifica Fight Back, network wide to prevent the corporate take-over of Pacifica.
The PNB with the support of KPFA LSB officers and others have also improperly tried to do an end run around the By Laws by passing a motion to allow them to continue in office beyond the 6-year term limit.
This flagrant violation of the bylaws is being challenged in State Courts and will be heard in Los Angeles on March 30, 2023.
The independence of Pacifica and the integrity of the network is at stake if these actions by the PNB and KPFA "Protectors" are allowed to continue.
-stop the sale of the KPFK building
-remove the termed-out delegates from all boards and seat the runners-up immediately to restore legitimacy
-Redo the PNB elections
-Set a clear date and financing plan for the long overdue LSB elections
-reverse all actions in which this illegitimate PNB suspended or removed members, muzzled complaints and attempts to handpick Local Station Board members into the PNB in disregard of the member-elected representatives.
-reinstate the KPFK Board which has been declared illegal by the illegitimate PNB
The court date is set for 3/30 at LA Superior court
Additional Links:
https://pacificafightback.org/victorious-campaign-against-undemocratic-replacement-bylaws/break-up-bylaws/who-and-what-is-behind-the-bylaws-revision/
https://www.counterpunch.org/2021/06/11/a-rebuttal-to-the-kooky-protecting-pacifica-article-by-kaldveer-and-gendelman/
Answering KPFA "Protector's" email
https://www.indybay.org/newsitems/2021/10/14/18845684.php
With "Protectors" like these…. The Fight to Rescue Pacifica from the KPFA Pretenders
https://www.indybay.org/newsitems/2022/02/01/18847674.php
Pacifica National Board Censures KPFK Jan Goodman For Illegal Deal Making
https://www.indybay.org/newsitems/2020/10/23/18837834.php
Join us at our VIRTUAL NATIONAL TOWN HALL: What Next, Pacifica?
Sat. Mar 11, 3pm PT / 5pm CT / 6pm ET.
Register here:
https://us02web.zoom.us/meeting/register/tZUrf-iqqjMoH93vA-cBkWNRlMdoAPRhn2c
-
After you register you will receive a link by email.
RUN for LSB: If you want to run to become a Delegate at your station, or work on a campaign for delegates committed to reviving a free-speech, mission-driven, democratic, transparent and accountable Pacifica, get in touch with us now at:
pacificafightback [at] gmail.com
Pacifica Fightback
http://www.pacificafightback.org
Rescue Pacifica
http://rescuepacifica.net
We are 100% volunteer and depend on your participation to sustain our efforts!
Get Involved
If you'd like to help with maintaining or developing the website, contact us.