From the Open-Publishing Calendar
From the Open-Publishing Newswire
Indybay Feature
CA AG Bonta Prosecute SF Police Killer Say Speakers At SF State Building
A rally was held at the San Franciscoo State Building to demand that California Attorney General Rob Bonta continue the prosecution of SF police officer Christopher Samayoa who murdered Keita O'Neil. The San Francisco District Attorney Brooke Jenkins who was put in place by rightwing San Francisco billionaire William Obberndorf and POA supporter Mayor London Breed is dropping charges against police murderers that were filed by former DA Chesin Boudin.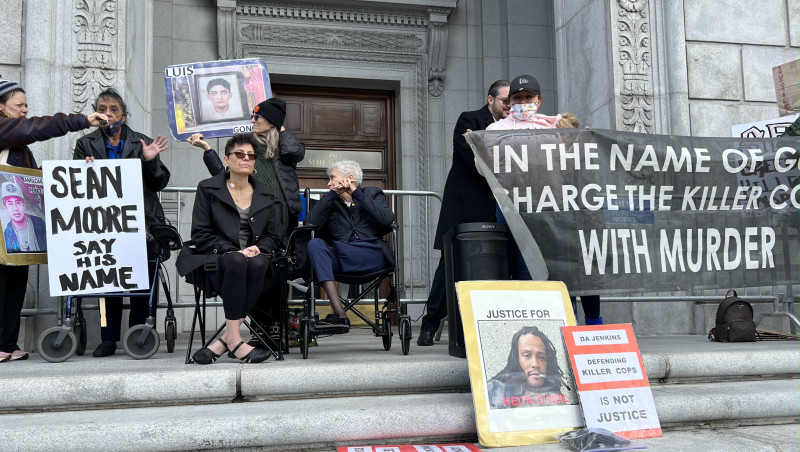 After the San Francisco District Attorney Brooke Jenkins declined to prosecute the San Francisco police officer Christopher Samayoa for killing Keita O'Neil, a rally was held at the San Francisco State building on 3/6/23 demanding that California Attorney General Rob Bonta prosecute Samayoa.
Keita O'Neil's aunt April Green and her sister spoke as well as Cleo Moore whose son was also murdered by police.
Additional Media:
Justice For Keita O'Neil! SF DA Jenkin Fronting For POA & Developers In Dropping Charges For Killing
https://youtu.be/SdSYc7PO5UM
"We Mean Business" SF Unionists Protest SF POA & Demand Defunding of Police & Ending Militarization
https://youtu.be/zdw0zBXBG64
WW 6-25-20 Police Unions, Police Terror, The AFL-CIO And Labor
https://soundcloud.com/workweek-radio/ww-6-25-20-police-unions-the-afl-cio-and-labor
End Police Terrorism & Systemic Racism NOW! ILWU Juneteenth Speak Out At Oakland Oscar Grant Plaza
https://www.youtube.com/watch?v=jKkS-JugzFc
Defense Campaign For ATU 241 Bus Driver Erek Slater
https://www.change.org/p/chicago-transit-authority-drop-all-charges-and-reinstate-chicago-bus-driver-erek-slater?utm_content=cl_sharecopy_22860526_en-US%3Av4&recruiter=1123370684&recruited_by_id=dcc875c0-b5be-11ea-9af4-19701e610203&utm_source=share_petition&utm_medium=copylink&utm_campaign=psf_combo_share_initial&utm_term=psf_combo_share_initial
CTA bus driver alleges he was disciplined for organizing against transporting police
https://chi.streetsblog.org/2020/06/09/cta-bus-driver-alleges-he-was-disciplined-for-organizing-against-transporting-police/?fbclid=IwAR3g7ChNmNm7h2eopzJ2IjK_rkUQZ7Eh-yAX9025-yVmeDUnM2tmL3YazSY
Kids Who Die- Why Cop Guilds. and Worker Unions Are Not Compatible
https://workersandcopsaredifferent.com/2020/06/08/kids-who-die/?fbclid=IwAR0hNRtVPKRwSsJGb8es6XXa0Vxu-UURP0F_k766F7stCUVV_ZVi0qzT4as
Revealed: police unions spend millions to influence policy in biggest US cities
https://www.theguardian.com/us-news/2020/jun/23/police-unions-spending-policy-reform-chicago-new-york-la
National labor groups mostly close ranks to defend police unions
https://www.nbcnews.com/politics/politics-news/national-labor-groups-mostly-close-ranks-defend-police-unions-n1231573
Production of Labor Video Project
http://www.labormedia.net
Who is William Oberndorf, the Republican billionaire backing the Chesa Boudin recall campaign in San Francisco and colluded witth SF Mayor London Breed To Remove Chesin Boudin?
Big Supporter of Jan 6 Insurrection at DC and Charter Schools
https://www.sfgate.com/politics/article/William-Oberndorf-in-Boudin-recall-17059555.php
Who is William Oberndorf, the Republican billionaire backing the Chesa Boudin recall campaign in San Francisco and colluded witth SF Mayor London Breed To Remove Chesin Boudin?
Big Supporter of Jan 6 Insurrection at DC and Charter Schools
Eric Ting
,
SFGATE
April 8, 2022
Who is William Oberndorf, the billionaire backing the Chesa Boudin recall election?
Image via Michael Blann/Getty; Illustration by SFGATE
For anyone following the Chesa Boudin recall election in San Francisco, one name is almost inescapable: billionaire William Oberndorf.
Boudin himself mentioned the Republican Party mega donor in a recent interview with the New York Times. The embattled district attorney accused Oberndorf of dangling support of his 2019 campaign, with one big catch — Boudin would have to oppose San Francisco's sanctuary city policy. Oberndorf denied the allegation.
Over the past two years, Oberndorf has been the biggest donor to the Neighbors for a Better San Francisco super PAC, which has spent just over $1.8 million on pushing the Boudin recall, of which over $900,000 came from Oberndorf. The political action committee also spent $458,000, more than any other group, on February's school board recall election. So who, exactly, is Oberndorf?
The first thing to know is that he made his money in finance after founding the investment firms SPO Partners and Oberndorf Enterprises. SPO Partners is based in Mill Valley, and Oberndorf Enterprises is based in San Francisco. At one point, he chaired the UCSF Foundation Investment Company board.
Politically, Oberndorf has mostly given to Republicans, though he has also donated to Democrats who support charter schools. While he has stylized himself — in both his public comments and donation history — as an anti-Trump Republican, he still donated millions of dollars to congressional Republicans in the Donald Trump era, most notably Mitch McConnell's fund for Republican Senate candidates. He tends to end up on the losing side of races he spends big money in.
To better understand Oberndorf's history as a political player, SFGATE has compiled his federal and state donations, using data from the Federal Election Commission and the California secretary of state.
Oberndorf has given millions to national Republicans
Oberndorf's first recorded political donation went to Ed Zschau, a Republican congressman who mounted an unsuccessful Senate bid against incumbent Democratic Sen. Alan Cranston in 1986. The first time Oberndorf spent upward of $10,000 on a race came ahead of the 1990 midterm elections, when he gave $10,000 to the National Republican Senatorial Committee and $15,000 to the Republican National Committee.
After Mitt Romney — a candidate Oberndorf gave $50,000 to — lost the 2012 presidential election, Oberndorf started tossing large amounts of money into federal elections, giving over $300,000 to two separate pro-business PACs supporting GOP candidates ahead of the 2014 midterms.
In 2016, his donations skyrocketed: He set what was then a personal record for the most cash spent on a single cause, giving over $1.7 million to a super PAC supporting Jeb! Bush in the Republican presidential primaries. The same year, he gave $850,000 to McConnell's Republican Senate Leadership Fund and $750,000 to the Republican Congressional Leadership Fund. (He's continued supporting the Senate Leadership Fund, donating a total of $3.25 million between 2018 and 2020.)
After Bush dropped out in February 2016, Oberndorf gave $750,000 to the Our Principles PAC, a Republican group that ran anti-Trump ads during the primaries. Once Trump became the presumptive GOP nominee, Oberndorf told CNN, "If it is Trump vs. Clinton, and there is no viable third party candidate, I will be voting for Hillary Clinton."
After Trump was impeached by the House a second time over his role in the Jan. 6 Capitol riots, Oberndorf gave the maximum individual contribution to nine of the 10 House Republicans who voted for the former president's impeachment (only Rep. Liz Cheney did not receive money). But those personal contributions max out at just $2,900.
Similarly, Oberndorf and his wife both gave $50,000 to a Clinton super PAC in 2016, barely making a dent in his GOP expenditures in the 2016 cycle. He did not donate to Biden in 2020.
Charter schools are at the top of his wish list
Oberndorf has given huge amounts of money to candidates and causes that promote charter schools — even if they're Democrats. The first time Oberndorf spent six figures on an election was a donation of $200,000 to Bill Simon, a pro-charter school Republican who ran for governor of California in 2002 and lost. Simon, who went to Williams College with Oberndorf, actually had no political experience prior to his bid.
In the 2018 midterms, Oberndorf made what remains his largest political contribution to date, handing a whopping $3.75 million to a pro-charter school group backing former Los Angeles Mayor Antonio Villaraigosa, a Democrat and longtime charter school proponent, in his run for California governor.
The billionaire donor currently chairs the American Federation for Children — a group that pushes for charter schools — and said in January that charter school choice "is the civil-rights issue of our time" while trashing teachers unions that oppose charter schools.
In 2012, Oberndorf used his money directly against teachers unions, giving $1.1 million — at the time, the largest sum he had ever given in an election — to a PAC supporting a ballot measure that would have banned unions, corporations and government contractors from giving to state and local candidates. The ballot measure was crafted in large part to curb the power of teachers unions in the state, but it ultimately failed. (The same PAC also opposed a ballot measure that would have taxes on those with incomes over $250,000; that measure passed, putting Oberndorf on the losing side of both races.)
In the 2008 presidential primaries, he and his wife actually donated to Barack Obama, who pledged to double federal funding for charter schools. (The couple also donated to John McCain, Romney and Rudy Giuliani). In 2014, Oberndorf and his wife spent tens of thousands of dollars between them on Democrat Cory Booker, a noted charter school advocate.
He also spends big on California politics — usually fighting tax increases
Oberndorf started spending big on California politics around 2003, when he and his wife Susan both gave then-maximum $21,200 donations to Arnold Schwarzenegger's campaign in the Gray Davis recall election. In 2005, Oberndorf gave $575,000 to the California Republican Party.
In 2004, the billionaire gave $100,000 to support a ballot measure to do away with California's partisan primary system and replace it with the current top two system, which failed. In 2010, he spent $50,000 supporting a similar measure, which passed. (The change has actually had the effect of locking Republican candidates out of many general elections.)
Over the years, the billionaire continued to sink six figures into different ballot measures, including $100,000 in 2006 to fight a universal prekindergarten program, paid for by taxing people who make over $400,000 a year.
Oberndorf's first donation to Neighbors for a Better San Francisco was a $300,000 payment in September 2020, months before organizers started gathering signatures for the school board recall. Prior to the recalls, Neighbors for a Better San Francisco had spent money against progressive candidates and measures that would raise taxes.
In 2021, with efforts to recall both the school board members and Boudin well underway, Oberndorf gave Neighbors for a Better San Francisco another $600,000, making him the group's biggest donor that year.
A shift to crime policies
While taxes, charter schools and school choice have historically been Oberndorf's most animating issues, he's been placing a greater emphasis on criminal justice issues lately. In addition to spending big on the Boudin recall, Oberndorf gave the maximum individual contribution to attorney general candidate Anne Marie Schubert, who is running as a tough-on-crime prosecutor critical of recent criminal justice reform efforts.
Oberndorf is just one of many wealthy individuals spending money on the Boudin recall, but the size of his contributions — as well as his past financial support of GOP candidates — have made him a key target of Boudin allies, as they work to characterize the recall efforts as a "Republican recall." Recall proponents often argue that Democratic Party mega donors are also funding the recall, but both sides would likely agree on one thing: Oberndorf is spending a lot of money on this race.
State Finds No Conflict Stops Jenkins From Prosecuting SF Cop
https://sfstandard.com/criminal-justice/state-finds-no-conflict-stops-jenkins-from-prosecuting-sf-cop/
Written by Michael Barba
Published Mar. 01, 2023 • 3:37pm
District Attorney Brooke Jenkins addresses the media about her feelings following Election Day in San Francisco's Chinatown on November 9, 2022. Still in the lead by Wednesday morning, Jenkins felt confident in declaring victory in retaining her position. | Morgan Ellis/The Standard
State prosecutors poured water on claims that District Attorney Brooke Jenkins had no choice but to drop the manslaughter case against a San Francisco police officer.
California Attorney General Rob Bonta's office concluded Tuesday that nothing prevents Jenkins from taking Christopher Samayoa to trial for killing Keita O'Neil in the line of duty.
Jenkins cited an ethical duty to drop the charges and leave the rest up to Bonta because her predecessor mishandled the case. Jenkins accused Chesa Boudin of charging Samayoa to score political points. She suggested that the former DA pressured an investigator to sign for Samayoa's arrest, even though others in the office doubted the case would hold up in court.
Another reason Jenkins said she wants to eschew prosecution: because the investigator recently told her he had doubts about signing the warrant, which means Jenkins could now be called as a witness to evidence that could help the defense. The investigator, however, has since denied making those representations to Jenkins.
But Bonta's chief assistant attorney general, Lance Winters, wrote in the letter Tuesday that the allegations don't require the DA to step back from the prosecution.
"The District Attorney's disagreement with the charging decision of the prior District Attorney and accompanying accusations of impropriety do not create a recusable conflict," he wrote. "Likewise, that some personnel within the District Attorney's office may have different opinions about the case does not give rise to a recusable conflict mandating the Attorney General assume responsibility for the prosecution."
While Bonta disagrees with Jenkins on that issue, his office is still reviewing the case to decide whether to take it over. The statute of limitations on manslaughter will give him nine days to make the decision once the case is dismissed next Tuesday.
Winters said the office is reviewing whether Jenkins "abused her discretion" by declining to move forward with the case. The office would have to find that she arbitrarily or erroneously tossed it despite the evidence.
The AG's letter came the evening before a Wednesday hearing where Jenkins planned to drop the charges against Samayoa. Scores of protesters rallied against the dismissal at the Hall of Justice, spurring a heavy police presence outside the courtroom.
Samayoa made a rare appearance at the hearing, wearing a blue suit, dark-framed glasses and hair slicked to the side.
The president of the local police union, Tracy McCray, sat on his side of the courtroom. O'Neil's aunt, April Green, sat on the other.
Former SFPD officer Christopher Samayoa walks out of the courtroom. | Morgan Ellis/The Standard
No one in the courtroom seemed to want Jenkins on the case any longer. The presiding judge, Loretta Giorgi, agreed with Jenkins that a potential conflict could undermine the case.
"It needs fresh eyes," Giorgi said.
The lead prosecutor on the case, Darby Williams, and Samayoa's attorney Julia Fox seemed eager to dismiss the charges over the conflict, too.
Green and her attorney, Brian Ford, want Jenkins off the case because they doubt her office will fairly prosecute Samayoa.
Giorgi seemed ready to dismiss the case—until Green pleaded for more time and for Samayoa to be held accountable.
"My family has been through so much," Green told the judge, standing up from a walker she is using after a major surgery. O'Neil's mother has struggled in the years since her son's death, Green said. "When he died, her life ended."
April Green speaks at the protest outside the Hall of Justice. | Morgan Ellis/The Standard
In the end, Giorgi decided to toss the case. But she agreed to delay the dismissal until Tuesday so Bonta's office could diligently review the case before deciding what to do with it.
"I understand your concern," the judge told Green. "But it is in good hands."
Jenkins said her office does not oppose the delay and welcomes the state review.
"Although it would be politically expedient for me to take this case on, I shall not, as I can not move forward ethically," Jenkins said in a statement. "If the facts and law in this case supported prosecution, we would have expected the Attorney General's office to step in before we dismissed the case and take it over."
The AG is expected to announce its decision at a later date.
Michael Barba can be reached at
michael [at] sfstandard.com
We are 100% volunteer and depend on your participation to sustain our efforts!
Get Involved
If you'd like to help with maintaining or developing the website, contact us.