From the Open-Publishing Calendar
From the Open-Publishing Newswire
Indybay Feature
Protestors Call on Merced DA to Prosecute Cruelty at Foster Farms Not Animal Rescuers
Citing practices that cause prolonged, terrifying, and painful deaths at Foster Farms' killing facility, activists call for corporate accountability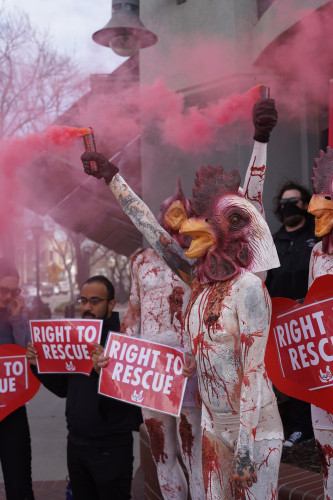 Protestors Call on Merced DA to Prosecute Documented Cruelty at Foster Farms Livingston Slaughterhouse
On February 15, activists gathered at the office of Merced County District Attorney Nicole Silveira to ask her to prosecute documented criminal animal cruelty and worker abuse at Foster Farms' slaughterhouse in Livingston instead of prosecuting the individuals who
rescued two animals
from just outside the facility. In September 2021, Alicia Santurio and "Baywatch" star Alexandra Paul removed two chickens from a truck at the slaughterhouse, took them to receive veterinary care, and placed them in a sanctuary for rescued animals. The women are being charged with theft, with the trial set to begin March 7 at Merced County Superior Court.
The rescue occurred on the same day animal rights network Direct Action Everywhere (DxE) released
hidden camera footage
obtained inside the slaughterhouse. The video shows 6-week-old chickens being moved along an automated assembly line, routinely missing the stun bath and a device designed to cut their necks, leaving it to workers in poorly lit conditions to identify conscious birds before their evisceration, at a speed of 140 shackles a minute. DxE says that the conduct constitutes a violation of
company policy
, its
American Humane animal welfare certification
, and California law, and that state and local authorities have not responded to DxE's formal complaints against Foster Farms. The video also shows some panicked birds temporarily escaping the conveyor belt and frantically seeking a way out.
Former slaughterhouse worker
Susana Chavez
, who co-organized the protest, said, "Viewing what the workers and chickens were subjected to in the undercover footage brought back painful memories. Workers working alone in the dark and surrounded by slip hazards while brutalized chickens lay languishing on the floor is criminal abuse of workers and animals, yet the DA's office isn't lifting a finger to investigate or prosecute, opting instead to come after members of the group that blew the whistle on Foster Farms."
The rally at the DA office included a "Right to Rescue" banner, heart-shaped signs also reading "Right to Rescue," smoke flares, and activists dressed as chickens and marked with red body paint to show solidarity with the victims and to dramatize the grisly abuse that takes place within the Livingston facility. After presenting their demand to the DA, participants drove to the Livingston slaughterhouse to pay tribute to the chickens whose lives are taken there. Santurio spoke at the slaughterhouse about the September 2021 rescue. DxE organizers say they chose Valentine's Day for the demonstration because the holiday is seen as a celebration of love, something animals in the food industry never experience.
"Valentine's Day is a time to do something nice for loved ones, and we love Alexandra, Alica, the workers, and all the chickens whose hearts will stop this Valentine's Day," said protest co-organizer Paul Darwin Picklesimer. "What we don't love is seeing preferential treatment from the DA's office to Foster Farms' factory farms and slaughterhouse."
We are 100% volunteer and depend on your participation to sustain our efforts!
Get Involved
If you'd like to help with maintaining or developing the website, contact us.