From the Open-Publishing Calendar
From the Open-Publishing Newswire
Indybay Feature
First-Ever Footage Inside a US Slaughterhouse Gas Chamber Obtained at Smithfield Foods
Direct Action Everywhere volunteer investigator Raven Deerbrook has obtained never-before-seen, undercover
footage
from inside the Marel Butina gas chambers in Smithfield Foods' Farmer John slaughterhouse in Vernon, California.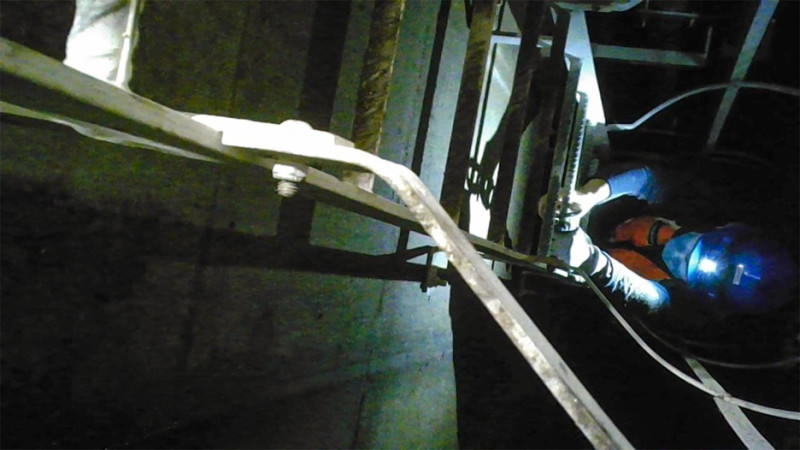 [Photo: DxE investigator Raven Deerbrook descends into a Marel Butina gas chamber at Farmer John slaughterhouse in Vernon, CA]
Raven Deerbrook recorded over 16 hours of footage from multiple angles in the first week of October 2022, which shows pigs screaming, gasping, thrashing violently and trying to escape as they descend into the pit of CO2 gas. Former federal prosecutor Bonnie Klapper reviewed the video and determined that use of these devices on pigs violates federal law, specifically Title 9 CFR § 313.5 (a)(1) which states that carbon dioxide gas can only be used if it accomplishes "anesthesia quickly and calmly, with a minimum of excitement and discomfort to the animals."
Over 50 veterinarians, including
Dr. Sherstin Rosenberg
and
Dr. Crystal Heath
, have signed onto a
statement
giving their expert opinion that the "extreme distress experienced by the pigs highlights the company's failure to comply with the Humane Slaughter Act and California law."
Deerbrook was previously arrested at the Farmer John slaughterhouse during a September 2020 nonviolent
direct action
, where she led other activists to chain themselves together in front of the gas chambers. Deerbrook says that in 2020, she realized that it was impossible to see animals once they were driven inside the gas chambers, sometimes called "stunners," which led her to conclude that no humane handling inspection was being performed by the USDA during stunning (as required by law).
In October 2022, she returned to the facility, and despite the risk of asphyxiation, she descended 26 feet to the pit of the gas chamber to search for any sign that the USDA might be performing stunning inspections by camera. When she found no cameras, she placed her own.
On October 16, 2022, Deerbrook delivered her footage to the LA District Attorney's office along with an affidavit authenticating the evidence. Deputy DA Kimberly Abourezk met with Deerbrook and Klapper to discuss the findings and possible legal action against Farmer John. However, USDA officials refused to work with Abourezk, and thus far, both agencies have been unwilling to pursue legal action against Smithfield. Dr. Quita Bowman Blackwell, the National Humane Handling Enforcement Coordinator for the USDA FSIS, said there is no strict definition for terms like "quickly" and "minimum of excitement," so it is up to the USDA to interpret the law.
"Companies like Smithfield get away with concealing animal suffering in gas chambers because the USDA willfully looks away," said Deerbrook. "That's why people like me have to go to these terrifying places to show you what no one else will."
This investigation is the latest work by grassroots activists to hold Farmer John and parent company Smithfield Foods accountable. It follows a groundbreaking legal victory last October where two DxE activists were
acquitted
on burglary and theft charges stemming from a 2017 investigation and rescue of two sick piglets from a Smithfield farm in Utah that sends pigs to Farmer John.
In June 2022, Smithfield Foods
announced
that it would close its Farmer John slaughterhouse in February 2023, citing costs related to operating in California. DxE says the closure is a victory but that activists must maintain the pressure to ensure that the facility is never again used to torture animals or exploit workers.
Smithfield Foods' Gas Chambers videos:
https://vimeo.com/showcase/10122399
We are 100% volunteer and depend on your participation to sustain our efforts!
Get Involved
If you'd like to help with maintaining or developing the website, contact us.