From the Open-Publishing Calendar
From the Open-Publishing Newswire
Indybay Feature
DeSantis - quid pro quo - The perjury of his major appointee and felony forgery cover-up
DeSantis' - newly elected and narrowly elected in 2019 - first major appointee faced a perjury investigation. He needed a favor and chose State's Attorney Amira Fox and he re-assigned the perjury case to Fox. Fox let the Desantis felon appointee walk. In return DeSantis covered up the felony forgery and felony official misconduct of Fox in 2 State Court cases. Corrupt quid pro quo related to criminal justice matters.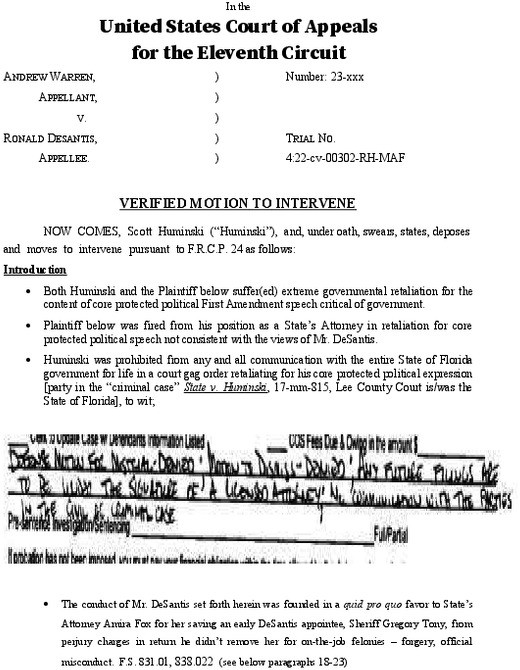 DeSantis quid pro quo relevance to Warren v. DeSantis case,
DeSantis, the new and narrowly elected Governor in 2019,' first major law enforcement appointee was Broward County Sheriff Gregory Tony who immediately faced a perjury investigation. The answer to this dilemma, DeSantis assigned the case to a close crony, State's Attorney Amira Fox, 20th Judicial Circuit., who would be willing to cover-up for the new Governor.
State's Atty. Amira Fox covered-up perjury of DeSantis appointee Broward Sheriff Tony as a favor to her boss. In return DeSantis covered-up Fox's forgery of a Court order in State Courts. See paras. 16-23 in the below court paper. Fox's assistant, Prosecutor Anthony Kunasek, who actually engaged in the forgery for Fox committed suicide related to his crimes in the spring of 2022.
So, while covering-up the felony forgery and felony official misconduct of far-right GOP prosecutor, Amira Fox ... DeSantis was scheming to remove a progressive prosecutor, Andrew Warren. It really pays to have the right political connections in DeSantis' Florida.
https://cdn.muckrock.com/outbound_request_attachments/s_huminski%40live.com/127252/DeSantis_quid_pro_quo_crime.pdf
**************************** Supportive links and commentary ****************************
https://www.floridabulldog.org/2022/04/state-attorneys-perjury-report-broward-sheriff-tony-omitted-key-facts/
[Anthony Kunasek mentioned in this link, the prosecutor working under State's Attorney Amira Fox to insulate a DeSantis appointee from perjury charges committed suicide in spring 2020 after federal law enforcement sought to interview him about forgery of a Lee County Court order - he was guilty and took his life instead of facing the justice system]
**** THE DESANTIS - STATE'S ATTORNEY AMIRA FOX CRONY CONNECTION
Mr. DeSantis accepts advice, counsel and recommendations from his crony Amira Fox,
https://www.flgov.com/wp-content/uploads/orders/2019/EO_19-14.pdf
[DeSantis has classified the executive order appointing Amira Fox - secret and confidential under Florida's Sunshine Law - the citizens of Florida are forbidden from access]
and Ms. Fox opined in favor of removal of Mr. Warren from office,
https://www.winknews.com/2022/08/04/desantis-suspends-state-attorney-andrew-warren-says-hes-not-enforcing-law/
and Ms. Fox is otherwise connected to/or supportive of Mr. DeSantis,
https://www.fortmyersbeachtalk.com/2021/06/16/desantis-sending-police-to-mexican-border/
https://www.naplesnews.com/story/news/crime/2020/07/01/state-attorney-requests-complaint-against-candidate-reassigned/5355223002/
https://www.democraticunderground.com/10142957259
As far as the forgery of a Court order supervised by Amira Fox, Mr. DeSantis has been reciprocally supportive of Amira Fox in the 2 State Court proceedings and instead of removing her for her crimes against the justice system (felony forgery, felony official misconduct), he and his attorney, Fl Attorney General Ashley Moody, took no action concerning Amira Fox's crimes and misconduct.
******* POLITICAL FAVORS NEED TO BE REPAID
Mr. DeSantis assigned a perjury case against his 2019 appointed sheriff of Broward County, Gregory Tony, to his trusted ally Amira Fox who then assigned it to Anthony Kunasek. Mr. Kunasek is the actual person who engaged in the forgery in State v. Huminski under the guidance and supervision of Ms. Fox which eventually led to Mr. Kunasek committing suicide in spring of 2022. These 3 individuals (DeSantis, Fox, Kunasek) seem to work well in concert and cooperation with each other when an appointee of Mr. DeSantis is investigated for perjury. Of Course, the Governor's appointee was let off the hook. It seems only right for the Governor to re-pay the favor and not remove Amira Fox from office concerning the felony forgery/official misconduct in State v. Huminski. Political favors need to be repaid.
https://www.miamiherald.com/news/local/crime/article257905813.html
https://www.local10.com/news/local/2022/09/14/florida-ethics-commission-finds-probable-cause-that-broward-sheriff-tony-lied-misused-position/
https://www.nbcmiami.com/news/local/ethics-commission-finds-broward-sheriff-gregory-tony-gave-false-info-misused-position/2858217/
https://www.sun-sentinel.com/opinion/commentary/fl-op-col-bousquet-sheriff-tony-outrage-700-words-20220916-zn6ibkqbhrdhbalvcucxclpgom-story.html
https://www.pressreader.com/usa/south-florida-sun-sentinel-palm-beach-sunday/20220918/281762748111519
https://www.flcourier.com/news/florida/broward-sheriff-won-t-be-prosecuted-state-closes-case/article_6291bae0-8651-11ec-a39f-d3b0d53c71f3.html
https://www.foxnews.com/us/florida-sheriff-may-have-failed-disclose-killed-someone-when-14
https://www.youtube.com/watch?v=3qVAk-dzl7w
http://www.sfltimes.com/news/gov-desantis-removes-criminal-case-against-broward-sheriff-tony-from-state-attorney-pryors-office
We are 100% volunteer and depend on your participation to sustain our efforts!
Get Involved
If you'd like to help with maintaining or developing the website, contact us.