From the Open-Publishing Calendar
From the Open-Publishing Newswire
Indybay Feature
Records reveal Xianmin Guan of Fremont as slumlord owner of mass murder mushroom farms
California Terra Garden Inc., Incorporation Papers: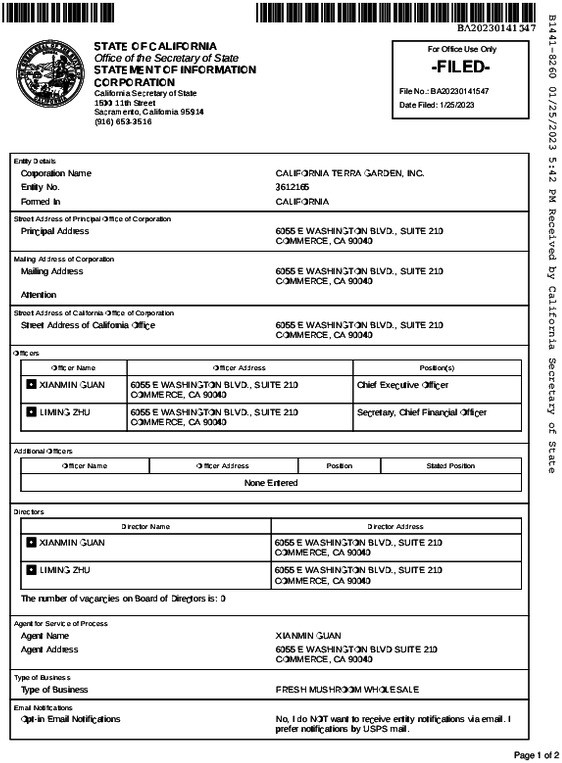 Records reveal Xianmin Guan of Fremont as slumlord owner of mass murder mushroom farms
By Lynda Carson - January 28, 2023
The mass murder shootings in Half Moon Bay recently, allegedly by Chunli Zhao age 66, killing 7, and leaving another critically wounded, took place around 8 days ago at the California Terra Garden mushroom farms,
owned by slumlord Xianmin Guan, of Fremont.
More deep background information about slumlord Xianmin Guan of Fremont,
may be found by clicking here.
According to the public records with the California Secretary of State, until 1/25/2023, there was not any mention in the incorporation papers with the Secretary of State for California Terra Garden, Inc., that mentions that California Terra Garden, or Xianmin Guan, and Liming Zhu, are in the business of fresh mushrooms for wholesale.
Reportedly,
"According to the mushroom farm's team, eight families lived on the property, paying about $300 a month. They also confirmed that workers are still not back and the farm is not in operation at this time."
"They had porta potties for restrooms. They lived in trailers that were similar to camper style. It was muddy, rodents. Having to cook outside," said Dr. Belinda Hernandez Arriaga, founder and executive director of ALAS."
Additionally, it was also reported, "No one is going back to live there," said Supervisor Mueller, adding, "Horrible. Horrific. Deplorable conditions. We saw what basically looked like sheds. Storage containers that people were living in. No insulation. No running water. Nowhere where you would want to prepare food."
Reportedly, California Terra Garden has owned the mushroom farm since 2022 and says the state inspected the mobile homes on the property.
California Terra Garden Inc., Owned By Slumlord Xianmin Guan:
California Terra Garden Inc.,
received a "Warning Letter" from the FDA as recent as November 10, 2021,
revealing problems with Xianmin Guan's mushroom business activities.
Additional records further below reveal that
slumlord Xianmin Guan, of Fremont, owns a number of businesses:
Lynda Carson may be reached at
newzland2 [at] gmail.com
Guan's Mushrooms
https://guansmushroom.com/
>>>>>>>
S.J.H. International, Inc.
Guan's Mushroom Company
Contact Information
S.J.H. International, Inc.
37048 Niles Blvd
Fremont, CA 94536
Contact:
Xianmin Guan
Title:
Pres
Phone:
(510) 745-8800
Website:
http://www.guansmushroom.com
https://www.buzzfile.com/business/Guan!s-Mushroom-Company-510-745-8800
>>>>>>>
FOREST MUSHROOM FOOD, INC.
https://opencorporates.com/companies/us_ca/1963354
>>>>>>>
VENTURA TERRA GARDEN INC.
4440 OLIVAS PARK DR
VENTURA CA 93001
https://opencorporates.com/companies/us_ca/3694548
>>>>>>>>
PESCADERO TERRA GARDEN, INC.
https://opengovus.com/california-corporation/03744508
>>>>>>
Shuttered mushroom operation back in business in Ventura
Posted: March 24, 2014
By Carol Lawrence
https://archive.vcstar.com/business/shuttered-mushroom-operation-back-in-business-in-ventura-ep-459023834-351423371.html/
>>>>>>>
California Terra Garden
Physical Address: 12761 SAN MATEO ROAD, HALF MOON BAY, CA, 94019
Phone: 650-685-8832
Cell Phone: N/A
Fax: N/A
CALIFORNIA TERRA GARDEN INC is carrier company located at 12761 SAN MATEO ROAD, Half Moon Bay, CA, 94019. USDOT 2626490 with operating status Active.
https://www.joeproduce.com/users/terra-gardens
Company:
Terra Gardens
Company Website:
http://www.ca-terragarden.com/
Employer Introduction
California Terra Garden is a dedicated grower of fresh mushrooms & fresh cut herbs, located along the Pacific coastline in California.  As a company, we value integrity, service, and innovation, and strive to reflect these values in the produce we deliver to you. Terra Garden offers a broad line of products, focusing on safety and efficiency of all aspects of production, in order to ensure the freshness and high quality of our products.
We are UNIQUE. Terra Garden has three farms located along the Pacific coastline from north to south in California, with a total growing area of 1.5 million square feet.  The clean, cool and moist environment provides excellent natural growing conditions for our mushrooms.  With advanced technology and equipment, and aided by our 19 years of experience in mushroom industry, we insist on ecological cultivation and natural growing conditions. Because they are grown without any pesticides or fertilizers, the mushrooms that we produce are natural mushrooms with pure taste.
We are INNOVATORS. Terra Garden is dedicated to innovation in production, marketing and distribution to help deliver the freshest, healthiest produce to your table.  We want to be perfect, and it shows in the work ethic of our team. Every day, they're working hard to ensure these fresh and delicious mushrooms make it from our fields to your table in the best condition.   
California Terra Garden brings fresh ideas to your fresh living!
>>>>>>
California Terra Garden Inc. Recalls Seafood Mushroom Because of Possible Health Risk
Summary
Company Announcement Date:
May 28, 2021
FDA Publish Date:
May 29, 2021
Product Type:
Food & Beverages
Reason for Announcement:
Potential Listeria monocytogenes contamination
Company Name:
California Terra Garden Inc.
Brand Name:
Guan's
Product Description:
Seafood mushrooms
Company Contact Information
Consumers:
323-597-0346
https://www.fda.gov/safety/recalls-market-withdrawals-safety-alerts/california-terra-garden-inc-recalls-seafood-mushroom-because-possible-health-risk
>>>>>>>
We are 100% volunteer and depend on your participation to sustain our efforts!
Get Involved
If you'd like to help with maintaining or developing the website, contact us.