From the Open-Publishing Calendar
From the Open-Publishing Newswire
Indybay Feature
Antiwar Voices on MLK week; South Africa Power Grid Crisis; US out of Peru; Free Assange!
On Pacifica: Antiwar Voices on MLK week; South Africa Power Grid Crisis; US out of Peru; Free Assange!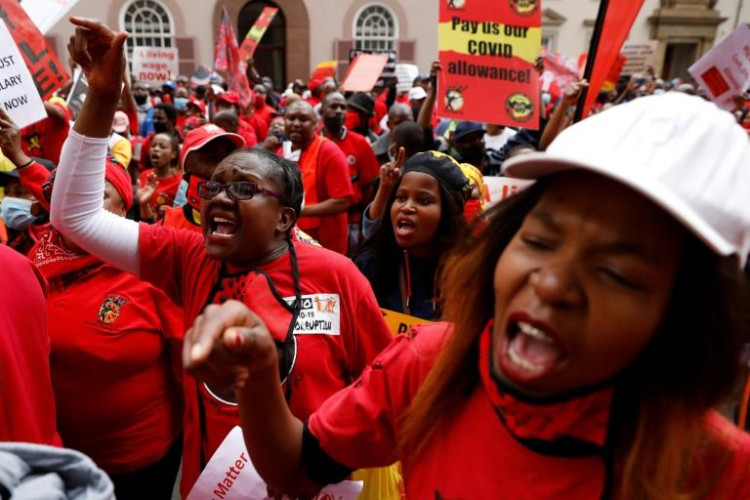 On Pacifica: Antiwar Voices on MLK week; South Africa Power Grid Crisis; US out of Peru; Free Assange!
Pacifica's Covid, Race & Democracy
By COVID-TF - January 23, 20233
his week on COVID, Race, & Democracy:
https://covidtaskforce.pacifica.org/2023/01/23/antiwar-voices-on-mlk-week-south-africa-power-grid-crisis-us-out-of-peru-free-assange/
While war continues to rage in Ukraine and threatens to spill beyond its borders, anti-war groups in the US are doing a slow build in the hopes that sufficient resistance will catalyze in time to prevent a global catastrophe. Don Debar filed this report on the holiday events honoring Rev. Dr. Martin Luther King, Jr.
***
Today in South Africa there are regular and sudden massive power shortages In Johannesburg and Durban that are threatening jobs, health and the future of South Africa. Pacifica's Steve Zeltzer recently interviewed former African National Congress founding activist Weizmann Hamilton who is now a leader of the Workers and Socialist Party of South Africa.
***
A solidarity rally was held in San Francisco at the Peruvian consulate on January 13 to protest the massacres and coup supported by the US in Peru. Speakers talked about the right wing organized coup to overthrow the Pedro Castillo government with the direct support of the United States. We hear from Lucrecia Bermudez with Colectivo Kausachun and Mission District Community Activist Christina Gutierrez.
***
On January 20th the Belmarsh Tribunal was held in Washington DC to bring attention to the case of imprisoned Wikileaks publisher Julian Assange. The event featured expert testimony from journalists, whistleblowers, lawyers, publishers and parliamentarians on assaults to press freedom and the First Amendment of the U.S. Constitution. We hear from American civil rights attorney Steven Donzinger.
***
There is ongoing work in Washington State to protect the watershed of the Nisqually people, native to lands around the Nisqually river, a huge source of life flowing through a national wildlife refuge and into the Puget Sound.
The Nisqually Environmental Team "honor the sacredness of the earth, salmon, and the waters" by encouraging everyone to protect the environment, be respectful of all creatures, and lead by example.
David Thunderbear, a tribal elder of the Nisqually and a member of their environmental team, recently shared a message and blessing for all beings on Mother Earth with Tanya Horlick of kmud Redwood Community radio.
And that concludes today's edition of Covid, Race & Democracy. We thank all of Pacifica's sister stations and affiliates who contribute to the production of this show. Today's program was produced by Akua Holt, Polina Vasiliev, and Steve Zeltzer.
Music:
Los Kharkas, "Ojos azules"
Damian Marley, "War"
"War" by Bob Marley and the Wailers' 1976 Island Records album, Rastaman Vibration, Most of the lyrics are from the iconic Ethiopian Emperor Haile Selassie speech delivered at the United Nations General Assembly on 4 October 1963.
Sing the Water Song
We are 100% volunteer and depend on your participation to sustain our efforts!
Get Involved
If you'd like to help with maintaining or developing the website, contact us.