From the Open-Publishing Calendar
From the Open-Publishing Newswire
Indybay Feature
Abortion Saved My Life Banners Appear Across Bay Area Freeways
Banners declaring "Abortion Saved My Life" emblazon freeways across 5 Bay Area cities. Protest against anti-abortion, far-right agenda in SF today, Jan 21, at noon.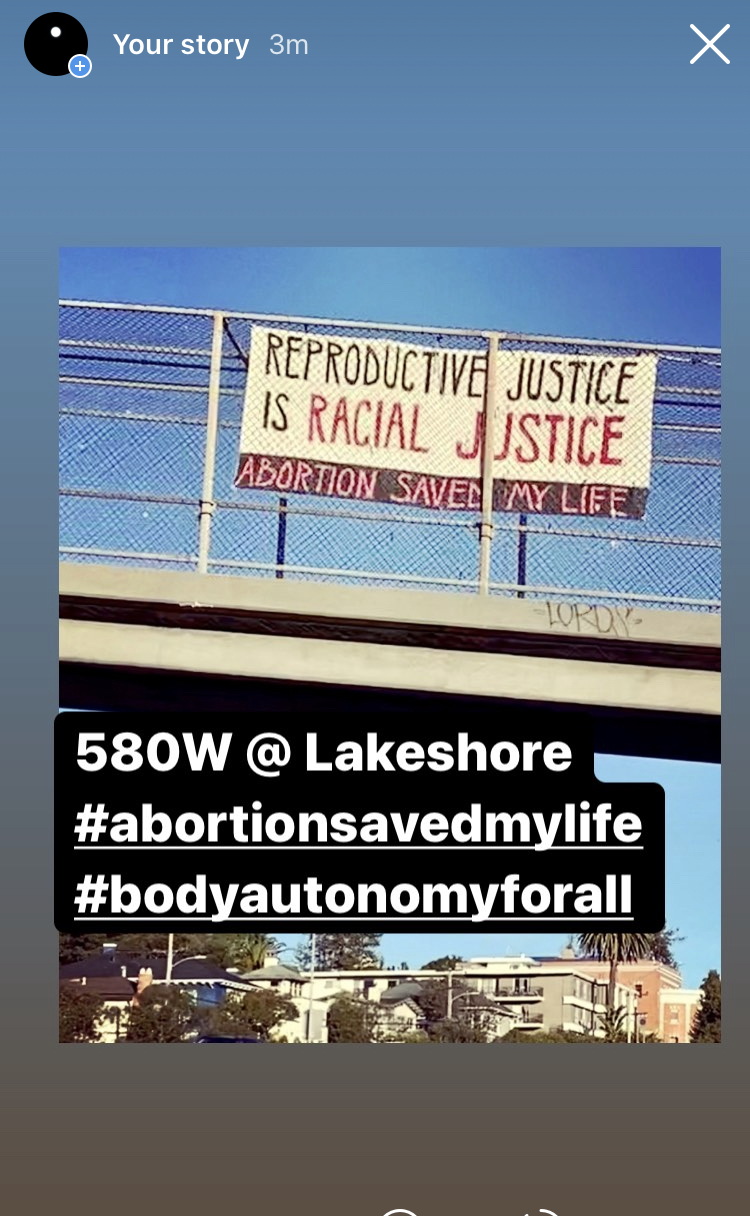 FOR IMMEDIATE RELEASE
January 21, 2023
Attn: News and Women's Health Editors
Contact: Alice Smith,
AbortionSavedMyLife [at] proton.me
, (510) 244-4131
Banner photos with location tags to view and download:
https://tinyurl.com/mr99c8e7
Raw Images of banners:
https://tinyurl.com/mrxj54jxFollow
Event media at #abortionsavedmylife
Abortion Saved My Life Banners Appear Across Bay Area Freeways
Social Justice Activists Protest "March of Lies"
Protest: Jan. 21, SF UN Plaza, Market between 7th and 8th, 12:00 Noon
(San Francisco, CA): Banners declaring "Abortion Saved My Life" were dropped from sites across the Bay Area Friday and Saturday, January 20th and 22nd, by dozens of social justice groups and individuals in support of accessible abortion on what would have been the 50th Anniversary of Roe v. Wade. Banners were seen hanging at overpasses throughout San Francisco, Oakland, Berkeley, and Pacifica. Event photos by searching #AbortionSavedMyLife.
The ad hoc group opposing what they refer to as the "March of Lies," the annual anti-abortion gathering and rally down San Francisco's Market Street, hopes the public banners and street protest encourages others who support abortion, an overwhelming majority of the US population, to step up their opposition to the Far Right.
"It is profoundly dehumanizing to over half the population to say you can't govern your own body," said Rosie Powers, a San Francisco resident. "These fetal fetishists don't care about democracy or free society, they want a Right-Wing Christian government that controls people based on the gender, sexuality, religion, immigration status. Many are white supremacists who want abortion to be illegal so there are more white babies. Their cruel attacks on trans youth, their violence against health care workers, should tell you all you need to know about the kind of society they are working for. Fascist movements overturn abortion laws first. That is not a future I want for my community."
"Abortion saved my life because I was able to assert my will over my life," says one protest organizer. "Abortion Saved My Life is our slogan because any person who has an abortion has their own legitimate reason and their life is valid—it is their life."
"I have had two abortions," said Alice Smith, from Oakland and a member of the ad hoc group. "The first when I was 18. I did not want to parent. Period. I had my second abortion years later after I was already a mom and was trying to get pregnant with my second, but I had an ectopic pregnancy. Had I not been able to have an abortion, I would have died, and my son would have lost one of his parents. These people want to believe they are speaking for children, but they are clearly not speaking for the children who are born already. What kind of a society forces people to be pregnant and give birth who don't want to?"
The organizers say that Roe was never enough because it did not ensure access to the full spectrum of reproductive health.
###
We are 100% volunteer and depend on your participation to sustain our efforts!
Get Involved
If you'd like to help with maintaining or developing the website, contact us.