From the Open-Publishing Calendar
From the Open-Publishing Newswire
Indybay Feature
Democrat Barbara Lee Wants Millions of Gov Funds For Billionaire Fisher's A's Stadium
Democratic Party politician Congresswomen Barbara Lee is supporting spending $182 million of US DOT funds for GAP A's billionaire owner John Fisher's stadium project. While thousands are homeless in Oakland, she wants to spend millions on Fisher's privately owned stadium project.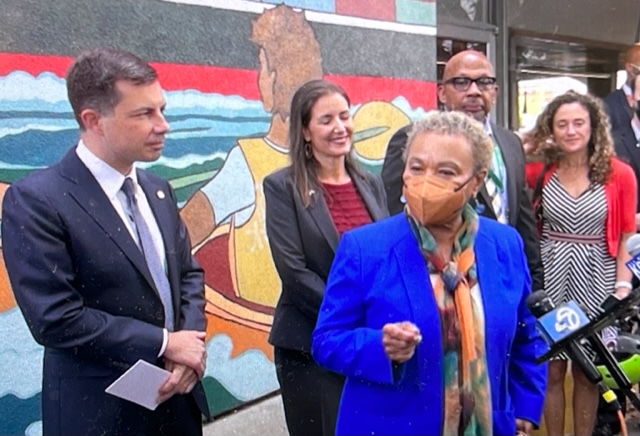 East Bay Labor Supported Democrat Barbara Lee Wants Millions of US DOT Funds For Billionaire Fisher A's Stadium Deal Setback for Oakland A's waterfront ballpark plans after grant not recommended
https://www.ktvu.com/news/potential-setback-for-oakland-as-waterfront-ballpark-plans
By Jana Katsuyama
Published January 11, 2023 5:31AMOakland AthleticsKTVU FOX 2
Potential setback for A's stadium proposal in Oakland
Documents KTVU has obtained indicate Oakland is not included in an initial round of funding needed to get the A's ballpark proposal at Howard Terminal moving forward.
OAKLAND, Calif. - The dream of transforming Howard Terminal at the Port of Oakland into a new Oakland A's baseball stadium complex just got thrown a new curve ball.
Oakland had agreed to publicly fund the infrastructure and transportation surrounding the privately funded 35,000-seat, 55-acre ballpark complex at the Port of Oakland.
In the city's application for a federal Megaprojects grant, the city estimated the Oakland Mobility Hub portion would cost $366 million and the city's request was for $182 million.
Now, it appears the Oakland project might not get that funding.
KTVU obtained a copy of the preliminary recommendation rankings by the U.S. Department of Transportation.
The Oakland project is listed as "not recommended."
That's a significant setback in the overall funding, according to Nola Agha, professor of sport management at the University of San Francisco.
"The City of Oakland had expected to find around $600 million in order to fund the offsite infrastructure that's necessary for Howard Terminal," Agha said. "In the current economy, it's difficult to find that funding."
Oakland's newly sworn-in Mayor Sheng Thao was silent on the matter Tuesday.
In a statement, the city's Department of Transportation Director Fred Kelley did issue a statement saying that he was disappointed to have not been selected in the first round, but "we believe we put forward a strong application and are well positioned to secure other funding sources."
A city spokesperson said Oakland has already secured $375 million, which will allow the project design phase to move forward without delay.
The city also said the federal Megaproject grant had never been intended as the sole funding source and the city has other applications pending that could total more than $100 million.
"When we've seen recessionary environments or environments with really high interest rates, sport development projects tend to be both a little bit slower, the ancillary development around them tends not to happen at the pace that's expected," Agha said.
She added that the city is aggressively pursuing other funding sources and the ball is in the A's field if the city can't come up with the funding.
Agha said there are other options for the A's to revise their funding plans or relocate to the Coliseum property and stick with their "rooted in Oakland" plan instead of leave for another location such as Las Vegas as the A's have suggested in the past.
Oakland Congresswoman Barbara Lee issued a statement Tuesday, saying that she fought "tirelessly to win federal investments for our district, and the Oakland waterfront project is no exception."
She said that along with others, she has tried to make the case to the department that the Oakland waterfront project fits their criteria as a nationally important infrastructure project, with opportunity to bring jobs and affordable housing to our community.
While the official announcement has yet to come from the department, Lee said that she will continue pushing for funding opportunities for this "much needed investment in our city and region."
Barbara Lee & "Pete" Get An Earful In Oakland Over Tax Dollars For GAP A's Owner John Fisher
https://youtu.be/udd0e0Pswgk
East Bay Congresswoman Barbara Lee, Oakland Mayor Libby Schaff and US Transportation Secretary Pete Buttigieg went to Jack London Square in Oakland on September 9, 2022 to discuss grants but they were hit with questions about Federal State and Local funding for the billionaire GAP & A's owner John Fisher who is scheduled to get $850 million in public funding for his private stadium and land development.
Buttigieg and Barbara Lee refused to say what their position was on John Fisher's proposed West Oakland new A's stadium and 3,000 luxury codos.
Additional Media:
hut It Down! OEA Strikes & ILWU Shuts Docks In Fight Against Privatization & Union Busting
https://youtu.be/a4ozf6qiQSw
East Bay Trade Unionists Oppose Port Privatization of Howard Terminal For Billionaire GAP A's Stadium
https://youtu.be/X7BOde5wq_E
No Shutdown! Oakland La Esquelita School Meeting On Closures, ,Charters, OEA & Fisher's Stadium
https://youtu.be/bmS3D---_Os
STOP FCMAT Attack On Oakland Public Schools! OEA, Community & Pols Oppose $90 M In Cuts By Thurmond
https://youtu.be/hVZYDPDXgJA
Oakland ILWU & OEA, Students & Community Rally To Stop Privatization & Union Busting From The Port To The Schools!
https://youtu.be/-s2iGYDfUAs
Production of Labor Video
http://www.labormemdia.net
What the A's stadium plan will do to Oakland's port, its workers and the California supply chain
https://www.sfchronicle.com/opinion/openforum/article/What-the-A-s-stadium-plan-will-do-to-16979186.php
Farless Dailey
ILWU Local 10 President
March 7, 2022
California ports are by far the busiest of any state, handling about 40% of all containerized cargo that enters the U.S. The Port of Oakland, the sixth-largest U.S. container port, handled nearly 1.1 million 20-foot equivalent unit import containers in 2021, the most in its 94-year history. It exported another million containers.
California ports are by far the busiest of any state, handling about 40% of all containerized cargo that enters the U.S. The Port of Oakland, the sixth-largest U.S. container port, handled nearly 1.1 million 20-foot equivalent unit import containers in 2021, the most in its 94-year history. It exported another million containers.
The Port of Oakland is the economic engine that drives Northern California, exporting produce from the Central Valley, wine from Napa and Sonoma valleys, and computers and other electronic devices from Silicon Valley. On the import side, it receives cargo from Asia, mainly China. It provides 84,000 jobs in its logistic chain. At the nexus point of this global trade are port longshore workers who load and discharge the ships 24/7 throughout even the deadliest phases of the pandemic.
Despite doing that onerous, and often dangerous work, a worldwide supply chain backup has occurred, in part due to increased demand for imports. The supply chain has never been tasked with moving more cargo than now. Container-handling equipment is in short supply. Workers are pushed to the limit, and higher costs and delays are plaguing the system. Distribution between the docks and inland warehouses is problematic because of the lack of truck drivers and chassis to cover an around-the-clock operation. Added to this conundrum is a critical lack of marine terminal container space to stack containers.
Untangling this logistical knot will be a challenge. And yet Oakland appears ready to stick a new obstacle in the way of keeping the Port of Oakland's status as a world-class facility that provides good union jobs for Bay Area workers.
Why? Because Oakland A's billionaire owner John Fisher wants to build a new ballpark in the port on 55 acres of land at Howard Terminal. Fisher's ballpark and entertainment center scheme includes 1.5 million square feet of office space, 3,000 luxury condos, 400 hotel rooms and 270,000 square feet of retail space.
Port of Oakland longshore workers rally at City Hall last month against the proposed A's stadium at Howard Terminal.
Port workers are angry and the public should be, too. The port is already facing a shortfall in cargo space, and if Fisher has his way, our supply chain crisis will only be exacerbated.
Some supporters of the stadium plan have characterized the Howard Terminal location for Fisher's development as a parking lot.
It's not.
It's actually a key staging ground for loaded containers and chassis as well as the site where dockworkers are trained on cargo-handling equipment. Mainly it's used for in-transit cargo. There were 400,000 truck moves at Howard Terminal last year.
Of the 50 major U.S. ports, not one has a sports stadium in the middle of its bustling work zone. Yet, while we're caught in the twin crises — supply chain backlog and the pandemic — Oakland's Port Commission and its City Council keep moving closer to approving Fisher's land grab.
Oakland Mayor Libby Schaaf, an attorney who used to work for the Port Commission's public affairs office, is one of the main advocates for the billionaire Fisher's plan. But her arguments don't hold water. She's among those disingenuously saying Howard Terminal is only a parking lot. She also argues that it will create good-paying union jobs, but fails to mention that these jobs will only exist while the stadium is being built. Then it reverts to lower paying jobs like parking lot attendants and peanut sellers.
Developer schemes that transfer public property into private hands should always be carefully scrutinized. Yet one wonders if the fox is guarding the chicken coop.
This port stadium plan isn't Fisher's first foray into privatization. He has been active in privatizing public education through his KIPP and Rocketship charter school chains. Many Oaklanders see these schemes at the port and schools as a move to further gentrify the city by removing jobs and public schools for poorer Black and brown residents.
Unfortunately, construction trades union bureaucrats are lining up with the billionaire Fisher and appear willing to sacrifice the port's status as an economic engine in the process.
There's another path for construction unions. They can create new jobs for their members by renovating the Coliseum in East Oakland where there's a parcel of 155 acres — three times the size of Howard Terminal — to build a ballpark, homes to mitigate the housing crisis, and plenty of space for offices and retail shops.
In February, the port was idled as longshore workers and teachers rallied in front of City Hall to fight these privatization schemes. The teachers' union is opposed to the closure of public schools and increase of charter schools.
The union fight against the A's stadium is being led by the International Longshore and Warehouse Union, Local 10, of which I am president. ILWU has a proud record of organizing solidarity actions for other unions, like the teachers' Oakland Education Association. At the port, a broad rainbow coalition of workers can defeat Fisher's scam. It's high time for all unions to implement labor's slogan, "An injury to one is an injury to all!"
A stadium can be built almost anywhere, but a port can only be built on tidelands. Once Howard Terminal is lost, it can't be replaced.
Farless Dailey is president of the International Longshore and Warehouse Union, Local 10.
Oakland A's Clash With Shipping Industry Over Waterfront Ballpark The plan to turn an idled terminal into a stadium and mixed-use development has met resistance from maritime groups who say the project could add to supply-chain woes.
https://www.bloomberg.com/news/articles/2022-06-01/a-s-waterfront-stadium-plan-isn-t-a-hit-with-shipping-industry
The plan to turn an idled terminal into a stadium and mixed-use development has met resistance from maritime groups who say the project could add to supply-chain woes.
Jack London Square in Oakland is seen from Howard Terminal in 2019. The terminal is being considered for the Oakland Athletics new ballpark.
The $12 billion plan by the Oakland Athletics to build a baseball stadium and real estate development on a parcel of industrial waterfront owned by the Port of Oakland has faced any number of challenges and opposition since it was proposed in 2018.
These include Oaklanders who are skeptical of the privately funded ballpark's projected financial benefits and wary of the team's demand for $855 million in tax breaks to fund infrastructure investments, all while attendance is falling at the team's longtime home, the aging and increasingly decrepit Oakland Coliseum.
But the stiffest resistance to the idea of building a 35,000-seat stadium at the port comes from major players within Oakland's maritime industry: Groups representing truckers, ocean carriers, terminal operators, dockworkers and other port-related businesses have argued in three recent lawsuits that the development will cause major impacts to both the surrounding community and port operations, adding to supply-chain woes and dealing a permanent blow to the economic prospects of the third-busiest port in California.
"If that ballpark goes in, you may not have killed Oakland, but you seriously damaged it," said Jim McKenna, head of the Pacific Maritime Association, which represents about 70 carriers, terminal companies and other shipping firms operating across the West Coast.
The focus of the controversy is Howard Terminal, a 55-acre site squeezed between a complex of larger Port of Oakland facilities and Jack London Square, the city's waterfront entertainment district. No longer used to unload ships, the terminal now serves as a truck parking lot, as well as a pop-up container yard and a training site for dockworkers. It has been in need of a tenant since SSA Marine Inc. relocated to newer facilities within the port in 2014.
Danny Wan, executive director of the Port of Oakland, says that the area is too small and shallow for the massive container ships that now arrive at the port, on top of being too far into the San Francisco Bay. That's why the port approved the A's plan to move to the terminal. "We'd be crazy not to consider it," Wan said in an interview.
Along with the Bjarke Ingels-designed ballpark, the Howard Terminal plan includes 3,000 housing units, 1.7 million square feet of office and retail space, and a 400-room hotel, among other amenities. The A's are hoping to receive the final approval to begin the development by this summer. But efforts to get the ballpark off the ground have stalled, and last year Major League Baseball said that the team could look into relocating. A's President Dave Kaval has warned that the A's might move to Las Vegas if Oakland lawmakers fail to approve the Howard Terminal development — dealing a blow to a city that has lost two teams in less than five years.
Amid the ongoing uncertainty, attendance at the recently renamed RingCentral Coliseum, a multipurpose facility that dates back to 1966, has plummeted to record lows so far this season.
Plenty of seats at RingCentral Coliseum this season: The Oakland Athletics have the lowest attendance in the Major Leagues so far in 2020. Photographer: Ezra Shaw/Getty Images North America
Opponents of the stadium site choice warn that developing Howard Terminal will be "a decision that you can't easily undo when you need that space for supply-chain logistics," said C. Patrick Heidkamp, an economic geographer at Southern Connecticut State University. "If the Covid-19 pandemic and the associated supply-chain logistics issues have shown us anything it's that we are ill-prepared. To put a use that is not coastal-dependent on the coast to me is one of the biggest mistakes we can make knowing what we know."
The Port of Oakland has been losing market share to expanding East and Gulf Coast gateways in recent years: Container-cargo volume at Oakland has hardly budged, rising less than 0.5% since 2005. After ranking as the fourth-busiest hub in the US just a few years ago, today the port's traffic barely cracks the top 10.
But even without the Howard Terminal, the Port of Oakland says it's on track to meet its growth goals by 2050. Oakland Mayor Libby Schaaf — a former port employee and supporter of the stadium development — notes that the port nearly doubled its capacity in recent years by converting a former army base into a 185-acre logistics complex.
"It was a fight to get that land dedicated to port uses," Schaaf said in an interview. "Howard Terminal is very shallow both in land depth and in water depth. It's a non-contiguous part of the port. It is a natural extension of Jack London Square. Time has shown that it is not needed nor ideal for shipping activities. I do not see its natural evolution into a mixed-use development threatening our ability to compete and grow in any way."
The A's Kaval says the project won't interfere in maritime operations, but instead bring people back to a "blighted and abandoned" part of the waterfront. "We're talking about 2% of the total port property," Kaval said in a phone interview. "These 55 acres are not going to make or break cargo."
Containers sit at the Howard Terminal in 2012. For the last decade, the site has been used for truck parking and training. Photographer: Ken James/Bloomberg
Working waterfronts often make attractive magnets for office, apartment and entertainment projects. Look just across the San Francisco Bay: When containerization boosted cargo volumes in the 1960s, the Port of San Francisco declined in importance due to the lack of flat land to expand and access to railroads, allowing Oakland to become the primary Northern California port. San Francisco's idled piers now host offices, a cruise terminal, and Oracle Park, a ballpark built on land the San Francisco Giants rentfrom the port.
The Giants aren't the A's only source of inspiration. In recent years, sports teams across the nation have scored prestigious waterfront stadiums. In Washington, D.C., baseball's Nationals play in a $680 million ballpark on the Anacostia River that helped catalyze development and boost property values in the once-industrial Navy Yard neighborhood after it opened in 2008.
As in D.C., Kaval's idea of "bringing people back to the waterfront" in Oakland is raising similar concerns about displacement in the area around the terminal. On April 29, the International Longshore and Warehouse Union, joined by the Oakland Education Association and other community organizations, staged a shutdown to protest the project.
Nationals Park has helped spur new development in Southeast Washington since it opened in 2008.Photographer: Al Drago/Bloomberg
"This is a land grab, of land that provides good union-paying jobs," said Trent Willis, former president of ILWU Local 10. He noted that Gap Inc. heir John Fisher has a majority stake in the Oakland A's. "We won't be run out of Oakland just because a billionaire wants a playground," Willis added.
Oakland native Clarence Thomas, 74, a retired third-generation longshoreman, has been organizing against the project since it was announced in 2018. Thomas says his 93-year-old mother, who lives in West Oakland, frequently receives unsolicited calls and mail from real-estate speculators interested in the house she and her dockworker husband bought for $10,000 more than six decades ago.
"There's been a tremendous amount of gentrification taking place in West Oakland over the years. If this development were to go through, this would be the coup de grace," Thomas said. "West Oakland used to be the bastion of the Black community," he added, noting that a majority of dockworkers in Oakland are African American.
Indeed, housing affordability and displacement concerns loom large in Oakland: The Bay Area is ranked as the most gentrified region in the US, according to a 2020 study from the National Community Reinvestment Coalition. Kaval says the team is setting aside $50 million for anti-displacement measures, including loans and grants for area residents to improve their homes. In addition, 450 of the 3,000 housing units set to be built on the site will be affordable, the city says.
The A's have also vowed to adapt the development to avoid shipping disruptions, including by building an overpass bridge over a nearby Union Pacific Corp. rail line. Meanwhile, the City of Oakland sent the team a list of recommendations, including offering priority hiring for local residents, establishing internship programs for low-income students and "realistically" allowing small Black-owned businesses to compete for contracts.
Despite such assurances, Thomas just doesn't buy the idea that his old waterfront workplace could ever be a good place to play ball.
"This development," he said, "is like trying to build an amusement park in the assembly line."
— With assistance by Joel Rosenblatt
We are 100% volunteer and depend on your participation to sustain our efforts!
Get Involved
If you'd like to help with maintaining or developing the website, contact us.