From the Open-Publishing Calendar
From the Open-Publishing Newswire
Indybay Feature
Tentative court ruling spares People's Park for the moment
Food Not Bombs, Feeding The Hungry In People's Park: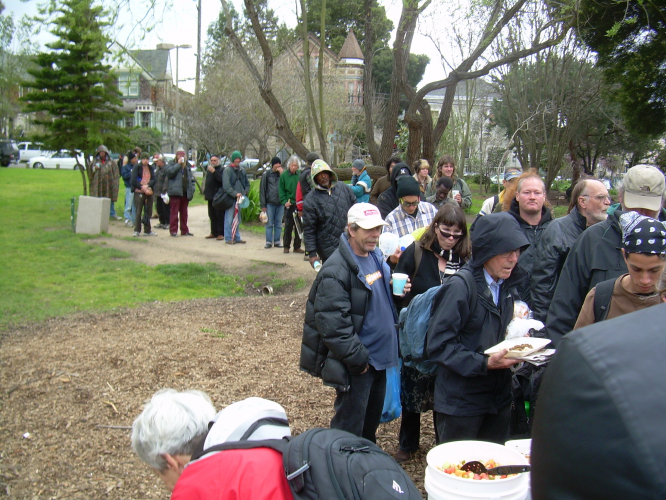 Tentative court ruling spares People's Park for the moment
By Lynda Carson - January 4, 2023
Though it is under attack by political forces that want to demolish it, for over the past 50 years, People's Park in Berkeley has been a beloved location of nearly 3 acres of land that has been used for anti-war protests, the free speech movement, music concerts, rest and relaxation, a space for the homeless, art shows, political events, a place to meet others, and a special location that Food Not Bombs feeds the people at 5 days a week or more, among other things.
It appears that UC Berkeley's spokesperson Dan Mogulof has egg on his face after a recent tentative court ruling last week spares People's Park for the moment from further destruction and desecration because reportedly, "the University of California screwed up and failed to explain enough valid reasons as to why it did not analyze alternative locations, well-documented noise impacts and unintended population growth while developing a plan to build housing on the historic 2.8-acre site', currently being used by the local community, college students, tourists, the homeless, and Food Not Bombs, to feed the hungry and dispossessed.
On the wrong side of history, spokesperson Dan Mogulof has been the dastardly sales person for the university who has repeatedly been unsuccessfully promoting a twisted sales pitch to take People's Park from the people and demolish it, despite the political intrinsic beautiful nature of the park being a historic landmark supported by people locally, and across the nation for over the past 50 years. In its own beautiful way, People's Park has been the people's way of saying "F_CK OFF" to the establishment for over the past 50 years.
Additionally,
Resources for Community Development (RCD) which is also involved with the university in the dastardly scheme to take People's Park away from the people,
is also on the wrong side of history in this case, being exposed as "poverty pimps" for exploiting the homeless in the name of greed, and RCD should have know better.
Tentative Ruling Spares People's Park:
Reportedly, it was Presiding Justice Teri Jackson, who makes up one-third of the court alongside Justices Mark Simons and Gordon Burns, who signed the tentative court ruling last week that spared People's Park for the moment from being totally demolished by political forces who want to see People's Park taken from the community.
In regards to the tentative ruling, reportedly, "Harvey Smith, president of the People's Park Historic District Advocacy Group, was pleased that one of the chief complaints he's pushed — that the university overlooked considering any alternative sites within its adopted environmental impact report that would have helped preserve the controversial land as open space — was finally recognized by the courts."
"He specifically pointed to the fact that the university's own environmental report identified three alternative sites nearby that each could accommodate more housing than the total 1,113 units proposed for People's Park; 1,439 beds could be provided at Clark Kerr—Central, 2,980 at Channing Ellsworth and 1,200 beds at the Fulton-Bancroft location."
Additionally, he said, "(CEQA) is the only toehold we have — we're the Davids fighting Goliath — so thank God it's there so we have an opportunity to raise these issues," Smith, a longtime Berkeley resident and two-time UC Berkeley graduate, said. "The fact that we don't have the student housing that Berkeley should have built decades ago puts a lot of pressure on the city, so we want student housing, we just want it built in a spot that makes sense."
Reportedly, it will take around 90 days or more for all of this to play out in the courts before it may appear later before the State Supreme Court for a final decision.
The people hope that the former political decision to demolish People's Park will eventually be totally reversed, saving the historical landmark for the local community for future generations ahead.
Click here
https://www.peoplespark.org/wp/
, for more about People's Park.
-Lynda Carson may be reached at
newzland2 [at] gmail.com
>>>>>>
>>>>>>
We are 100% volunteer and depend on your participation to sustain our efforts!
Get Involved
If you'd like to help with maintaining or developing the website, contact us.