From the Open-Publishing Calendar
From the Open-Publishing Newswire
Indybay Feature
Ex LAUSD Teacher Files FBI Report Against Disgraced City Council Member Nury Martinez
Los Angeles California, Oct. 21, 2022- Lorcan T. Kilroy M.F.A., the dismissed Los Angeles High School Art teacher and the son of award winning Irish Playwright Thomas Kilroy, has now, after concluding 7 years of litigation against now-disgraced former LAUSD Board Member Nury Martinez and others, filed a conclusory report with the F.B.I.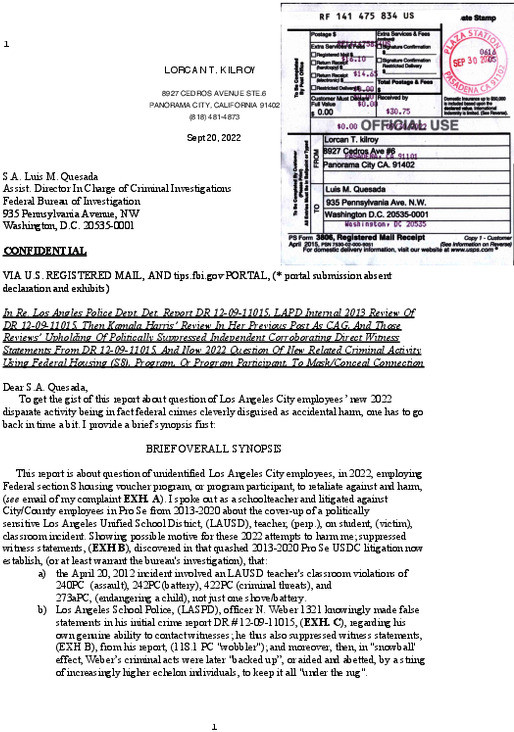 Kilroy has even posted a partially redacted version of the FBI report, his declaration to the FBI, and exhibits A-I, on his Twitter page at
https://twitter.com/lapdsecrets
. Kilroy has no prior legal experience but his Pro Se civil litigation spans two large bodies of pre-trial Federal case filings against Nury Martinez and others from 2013-2020 , in the United States District Court, the Ninth Circuit court of Appeals, and then even the United States Supreme Court in petitions No's 18-9663 and 20-354.
Kilroy's 2022 report to Special Agent Luis M. Quesada, Assistant Director in Charge of the FBI's criminal investigations, concerns Los Angeles Police Dept. Detectives' Report # DR 12-09-11015, ,(about a teacher's battery on a student at Van Nuys High),an LAPD internal 2013 Review Of DR 12-09-11015 by,(still sitting), LAPD police commission members Steve Soboroff and Richard Tefank, ,and then Kamala Harris' 2013 review in her previous capacity as Calif. Atty. General.
Kilroy now claims evidence from the 2013-2020 litigation discovery warrants FBI investigation of those reviews' upholding of political suppression of independent corroborating direct witness statements from the municipal police report DR 12-09-11015.
He also claims there is now new 2022 question of new related criminal and harassment activity using a Los Angeles Federal Housing (S8), program,or program participant,to mask/conceal connection to the old corrupted detectives' report. In his attached Exhibit A to his FBI report , Kilroy directly addresses then City Councilmember Nury Martinez in regard to question of rigging of the Los Angeles Housing Authority's section 8 program. (This was before Martinez' racist comments surfaced, leading to her resignation from the Los Angeles City Council.)
Kilroy goes on to reference his exhibits while telling Special Agent Quesada in regard to Soboroff, Tefank, and Harris' review of the LAPD detectives' report, that: "suppressed witness statements, (EXH B), discovered in ,(his), quashed 2013-2020 Pro Se USDC litigation now establish, (or at least warrant the bureau's investigation), that:
a) the April 20, 2012 incident involved an LAUSD teacher's classroom violations of 240PC (assault), 242PC(battery),422 PC (criminal threats), and273a PC,(endangering a child), not just one shove/battery.
b) Los Angeles School Police, (LASPD), officer N. Weber1321 knowingly made false statements in his initial crime report DR # 12-09-11015, (EXH. C), regarding his own genuine ability to contact witnesses;he thus also suppressed witness statements, (EXH B),from his report,(118.1 PC "wobbler"); and moreover,then,in"snowball' effect,Weber's criminal acts were later"backed up",or aided and abetted, by a string of increasingly higher echelon individuals, to keep it all "under the rug".
c)Those individuals who signed off on Weber's crime report or were involved in oversight of it, or assisted Weber,include:Van Nuys High and LAUSD administrators and 2012-2013 Board of Education members, LAPD detectives Dawn Devine Pelt and Richard Yep, (who authored subsequent pages of crime report DR12-09-11015 EXH C), then LAPD Assist. Chiefs Kirk Albanese and Michel Moore,(Moore now current LAPD Chief),then LAPD Chief Charlie Beck,(seeEXH. E), LAPD Juvenile Division Captain Fabian Lizarraga, (EXH E), LAPD Police Commission President Steve Soboroff,LAPD Police Commission Executive Director Richard Tefank (see LAPD 'fact sheet"EXH. E & Tefank's email EXH F); then even CAG Kamala Harris herself, (see Proof of Service of notice of cover-up on Harris in indiv. capacity as EXH G).
Despite the crimes taking place in 2 active school classrooms full of students, teachers, and special education aides, and despite the harvesting of many many juvenile and adult witness statements, (EXH B), that were suppressed from the police reports but then forced to light by Federal litigation between 2013-2020 and even mailed to Police Commission President Soboroff, all these important law enforcement people appear to have all backed up, in "snowball" effect, 1st. responding school police officer N.Weber 1321 and Weber's statement of "I was unable to contact any witnesses that saw the actual event happen"(see 2nd pg. of EXH C at bottom of pg.),statement which evolved into detective Dawn Devine Pelt's confirmation a few days later,(see EXH C 3rd pg.), of"no witnesses"simply because the 15 year old victim had supposedly told the cops "no witnesses". By the time Los Angeles City AttorneyAlex T. Perez 143317,(still with City Atty. in 2022), issued a disparately timed decision almost a year later on April 11, 2013, (EXH D), it had become written in stone: "no witnesses."
Kilroy's correspondence to Quesada goes on for nine pages and is quite a detailed Twitter read.
Los Angeles Unified School District (#LAUSD) is the largest (in terms of number of students) public school system in the U.S. state of California. It is the 2nd largest public school district in the United States.
Media Contact Company Name:
Name: Lorcan Kilroy
Phone 818-481-4873
Email Address:
lorcankilroy1 [at] mailfence.com
Twitter:
https://twitter.com/lapdsecrets
####
We are 100% volunteer and depend on your participation to sustain our efforts!
Get Involved
If you'd like to help with maintaining or developing the website, contact us.