From the Open-Publishing Calendar
From the Open-Publishing Newswire
Indybay Feature
On May 1 It's Time For A General Strike & Fighting Labor Movement! ILWU10 Former Pres Willis
Trent Williis, fomer president of ILWU Local 10 spoke at the May 1st labor rally in San Franciscco.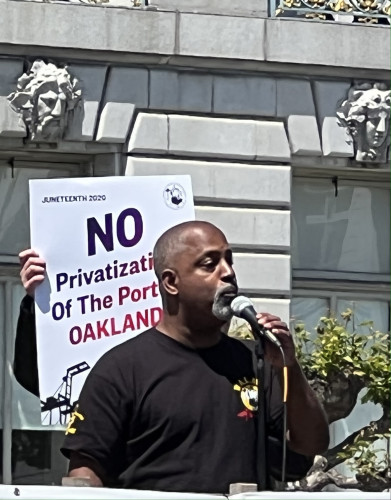 ILWU Local 10 former president Trent Willis at the San Francisco May 1st march and rally supported the idea of a general strike and also called out the union bureaucracy for a being an obstacle in the struggle against the bosses and capitalism.
He also called for support of the united front Schools and Labor Against Privatization SLAP to unite the worker class against the closure of schools in Oakland and the Port of Oakland privatization by billionaire GAP & A's owner John Fisher.
Fisher's plan to take over Howard Terminal and build a stadium, hotels and 3,000 luxury condos is supported by the Democratic Party politicians in Oakland, the state legislature and Democratic governor Gavin Newsom who was supported by Fisher.
The Democrats also want to give $855 million in tax subsidies to Fisher for the stadium infrastructure.
The leaders of the Alameda Labor Council Liz Ortega and the Alameda Building and Construction trades are supporting Fisher's stadium deal despite the fact it would destroy the working port of Oakland and escalate gentrification and ethnic cleansing in Oakland
Additional Media:
Angela Davis On May Day 2022 In SF "An Injury To One Is An Injury To All"
https://youtu.be/51R-NqWYFZw
East Bay Trade Unionists Oppose Port Privatization of Howard Terminal For Billionaire GAP A's Stadium
https://youtu.be/X7BOde5wq_E
No Shutdown! Oakland La Esquelita School Meeting On Closures, ,Charters, OEA & Fisher's Stadium
https://youtu.be/bmS3D---_Os
STOP FCMAT Attack On Oakland Public Schools! OEA, Community & Pols Oppose $90 M In Cuts By Thurmond
https://youtu.be/hVZYDPDXgJA
Oakland ILWU & OEA, Students & Community Rally To Stop Privatization & Union Busting From The Port To The Schools!
https://youtu.be/-s2iGYDfUAs
NO Public Money To A's Billionaire Owner John Fisher For Stadium In Port Of Oakland
https://youtu.be/7L3detM583c
No Public Money For GAP/A's Billionaire Owner John Fisher' Stadium! ILWU Members & Community Rally & Speak Out
https://youtu.be/dKnpBab1kd0
IT'S WAR! The Fight To Stop School Closures In Oakland As Hundreds Rally and March
https://youtu.be/dV0bjNSSUbE
Build The A's Stadium In Pacific Heights! Labor Day Rally At Billionaire GAP A's John Fisher's Mansion
https://youtu.be/VRBqGMgKnHM
Fisher, STOP THE GREED! ILWU 10 & Community Activists Speak Out To Protest Port Theft Privatization
https://youtu.be/a_Mp_b1pF_A
No Excuses Schools: Bad Theory Created KIPP by Amateurs & Backed By SF Billionaire GAP A's Fisher Family
https://tultican.com/2021/09/04/no-excuses-schools-bad-theory-created-by-amateurs/?fbclid=IwAR01W8anaIt5Go8vCfu-Fas7H6JOq7xmfeLLRoDAf1vEqDyFZaO7AjWeBDg
Oakland Port Privatization Scam By Billionaire John Fisher, Demos & Union Bureaucrats
https://youtu.be/1hu_s7A4Yc8
Production of Labor Video Projectt
http://www.labormedia.net
We are 100% volunteer and depend on your participation to sustain our efforts!
Get Involved
If you'd like to help with maintaining or developing the website, contact us.