From the Open-Publishing Calendar
From the Open-Publishing Newswire
Indybay Feature
ILWU 10 Backs OEA Strike Against Closure of Oakland Schools & Privatization of Port
ILWU Local 10 at a press conference supported the OEA teachers strike against the closures of public schools in Oakland. They were joined by parents of students and also other unions.
SEIU 1021 leaders supported the teachers and also adamantly opposed the privatization of Howard Terminal in the Port of Oakland which they said would destroy the working port of Oakland. They were also supported by USW Local 5 president PK White from the striking Chevron Richmond refinery workers.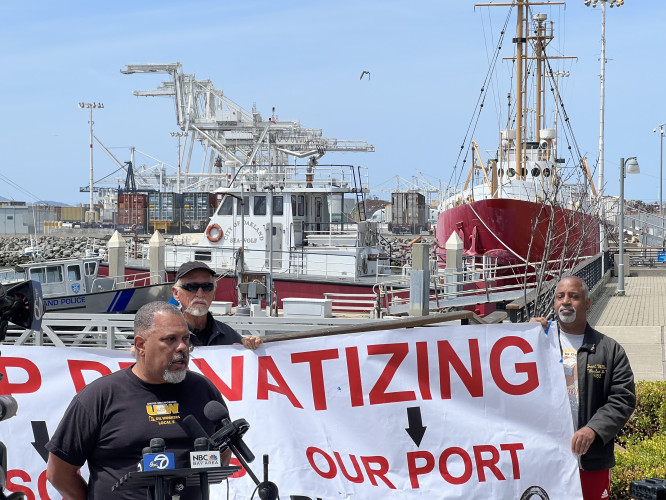 Schools and Labor against Privatization SLAP held a press conference on April 27, 2022 at the Port of Oakland Commission offices near the Howard Terminal to report on the planned united action by ILWU Local 10 and OEA members and rank and file leaders.
ILWU Local 10 former president Trent Willis supported the OEA strike on April 29 2022 against the closure of 11 schools in mostly Black and Brown communities and he compared it to the privatization of public resources and the Port Of Oakland. School parents also spoke about their fight to stop the closures of their children's schools and their appeals to OEA teachers to strike against the closures.
SEIU 1021 leaders also spoke in support of the OEA strike and also against the privatization of the Howard terminal in the Port Of Oakland which they charged would destroy the working Port of Oakland. They also reported that they had voted against the privatization in 2019.
Also USW 5 president PK White spoke in support of stopping the closure of the schools and also opposed the privatization of the Port of Oakland for a tax funded stadium for billionaire GAP A's owner John Fisher. His union members are still striking against the Chevron refinery in Richmond where there are growing health and safety dangers.
ILWU Local 10 will be having a stop work meeting on Friday a and joining with OEA teachers, students and parents at a rally at Oscar Grant Plaza or Oakland City Hall.
Additional Media:
No Shutdown! Oakland La Esquelita School Meeting On Closures, ,Charters, OEA & Fisher's Stadium
https://youtu.be/bmS3D---_Os
STOP FCMAT Attack On Oakland Public Schools! OEA, Community & Pols Oppose $90 M In Cuts By Thurmond
https://youtu.be/hVZYDPDXgJA
Oakland ILWU & OEA, Students & Community Rally To Stop Privatization & Union Busting From The Port To The Schools!
https://youtu.be/-s2iGYDfUAs
NO Public Money To A's Billionaire Owner John Fisher For Stadium In Port Of Oakland
https://youtu.be/7L3detM583c
No Public Money For GAP/A's Billionaire Owner John Fisher' Stadium! ILWU Members & Community Rally & Speak Out
https://youtu.be/dKnpBab1kd0
IT'S WAR! The Fight To Stop School Closures In Oakland As Hundreds Rally and March
https://youtu.be/dV0bjNSSUbE
Build The A's Stadium In Pacific Heights! Labor Day Rally At Billionaire GAP A's John Fisher's Mansion
https://youtu.be/VRBqGMgKnHM
Fisher, STOP THE GREED! ILWU 10 & Community Activists Speak Out To Protest Port Theft Privatization
https://youtu.be/a_Mp_b1pF_A
No Excuses Schools: Bad Theory Created KIPP by Amateurs & Backed By SF Billionaire GAP A's Fisher Family
https://tultican.com/2021/09/04/no-excuses-schools-bad-theory-created-by-amateurs/?fbclid=IwAR01W8anaIt5Go8vCfu-Fas7H6JOq7xmfeLLRoDAf1vEqDyFZaO7AjWeBDg
Oakland Port Privatization Scam By Billionaire John Fisher, Demos & Union Bureaucrats
https://youtu.be/1hu_s7A4Yc8
Who's Selling Whom? The A's Stadium, The Destruction of Howard Terminal In The Port Of Oakland & The Battle In Labor
https://www.youtube.com/watch?v=2sgYOaGbB7U&t=19s
"It's Insane!" ILWU Longshore Workers & Truckers Challenge Oakland A's Billionaire Owner John Fisher's Land Grab Of Howard Terminal
https://youtu.be/5A8uZpqSX_M
Oakland City Council Left In Dark In Coliseum Buy-out By Fisher
Kaplan to A's: Are you 'double-timing' us with Portland?
https://ebcitizen.com/2019/06/14/kaplan-to-as-are-you-double-timing-us-with-portland/
Maritime, Labor & The A's Stadium At The Port Of Oakland Press Conference 5/13/19
https://youtu.be/ouL39ISDzBE
Alameda Labor Council, AFL-CIO Backs Howard Terminal Ballpark for Oakland A's
https://www.mlb.com/press-release/alameda-labor-council-afl-cio-backs-howard-terminal-ballpark-for-oakland-a-s
Andreas Cluver
https://www.portofoakland.com/people/andreas-cluver-commissioner/
Maritime, Labor & The A's Stadium At The Port Of Oakland Press Conference
https://youtu.be/ouL39ISDzBE
For more information on SLAP
slapbayarea.org
Production of Labor Video Project
http://www.labormedia.net
We are 100% volunteer and depend on your participation to sustain our efforts!
Get Involved
If you'd like to help with maintaining or developing the website, contact us.