From the Open-Publishing Calendar
From the Open-Publishing Newswire
Indybay Feature
Majority of poor folk are pushed out of cities and reside in the suburbs now
Poor Folk In Line For Some Free Food From "Food Not Bombs" In Peoples Park, Berkeley: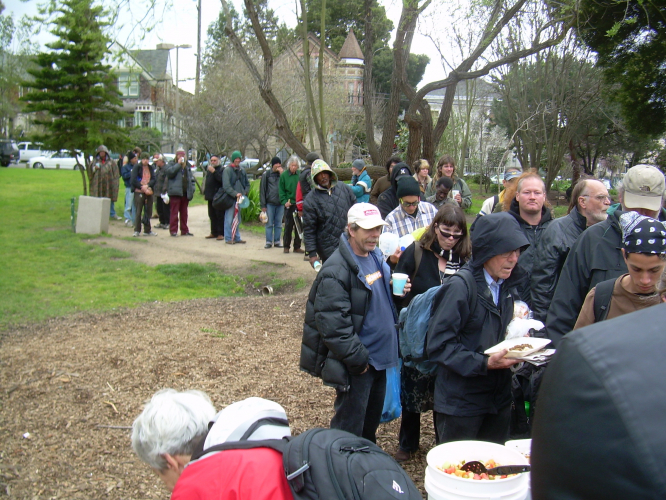 Majority of poor folk are pushed out of cities and reside in the suburbs now
By Lynda Carson - April 4, 2022
Tragically, as the poor keep getting evicted from
the cities such as Oakland,
or San Francisco, they land in
the suburbs including Antioch where evictions are now common place, a big problem.
When I am not checking out the latest in guitars and
am having fun posting some of my original music on-line as a way to offer something to the public other than some depressing news,
I try to avoid thinking that BIG Pharma probably has a cure for the covid-19 pandemic other than their faulty vaccines that weaken after a few months, and boosters are needed to flood Big Pharma with another round of billions of dollars that they are ripping off of the public.
So far covid-19 has killed over 980,000 loved ones across the nation, including 89,078 loved ones killed in California, plus 1,830 people killed in Alameda County, and 530 covid-19 related deaths in Oakland so far. Sad to say, some believe that many more people have died that are not listed in the reports.
Oddly, you never hear the news media ask why Big Pharma has not come up with a cure against covid-19, as they try to convince the public that they need to get a booster shot to stay safe, and healthy, as Big Pharma further enriches itself during the pandemic. Something is wrong with this picture of weak vaccines that do not last very long… and I suspect that Big Pharma does not want to offer the public a cure from the deadly virus.
However, meanwhile I feel compelled to try to keep track of what
the landlords and their shysters are doing to the poor.
Or what the eviction rates are locally, and across the nation,
due to the shysters evicting the poor on-behalf of the greedy landlords.
Poor Folk Are Being Pushed Out Of The Cities Into The Suburbs.
According to Eviction Lab,
"Eviction is most common among lower-income renters who struggle with irregular and insufficient pay and scant state support (Desmond 2016). Because these renters are priced out of much of the housing market, we anticipate that eviction rates will decline in neighborhoods with higher median rents. Especially in urban areas, the poor often have limited options for lower-cost housing; rents charged even in relatively high-poverty neighborhoods may be only slightly below rents charged in better-off areas (Desmond and Wilmers 2019). One of the key drivers of the suburbanization of poverty, especially for poor Black and Latino households, is the relative affordability of suburban housing (Howell and Timberlake 2014; Madden 2003). The suburban poor are more diffusely spread across suburban neighborhoods, having gained access to a broader set of neighborhoods than the urban poor (Kneebone and Berube 2013). We anticipate that the negative relationship between rents and eviction rates may be less pronounced in urban neighborhoods."
Additionally, according to the National Low-Income Housing Coalition (NLIHC),
"A new journal article from the Eviction Lab, "Beyond Urban Displacement: Suburban Poverty and Eviction," examines how urban and suburban eviction rates compare across 71 cities. The article finds that despite common perceptions that evictions are primarily an urban issue, evictions are also common in the suburbs, with one in six cities having greater eviction rates in surrounding suburbs than in urban areas. High suburban eviction rates are most common in metropolitan areas with high rates of suburban poverty, highly segregated suburbs, and suburbs that surround more expensive urban housing markets."
Meanwhile the unethical pricks at the California Apartment Association
are trying to stop San Diego from protecting tenants with a much needed no-fault eviction ban,
from unscrupulous landlords.
-Lynda Carson may be reached at
newzland2 [at] gmail.com
>>>>>>>>
>>>>>>>>
We are 100% volunteer and depend on your participation to sustain our efforts!
Get Involved
If you'd like to help with maintaining or developing the website, contact us.