From the Open-Publishing Calendar
From the Open-Publishing Newswire
Indybay Feature
Interview with Anne Hillerman on her Novel: The Sacred Bridge
Chee's journey takes a deadly turn when, after a prayerful visit to the sacred Rainbow Bridge, he spots a body floating in the lake. The dead man, a Navajo with a passion for the canyon's ancient rock art, lived a life filled with many secrets. Discovering why he died and who was responsible involves Chee in an investigation that puts his own life at risk.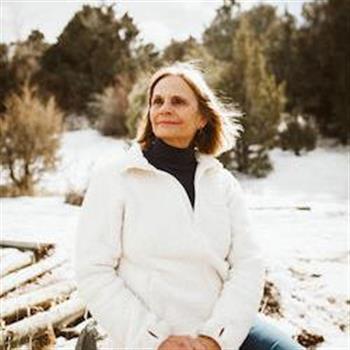 Sergeant Jim Chee's vacation to beautiful Antelope Canyon and Lake Powell has a deeper purpose. He's on a quest to unravel a sacred mystery his mentor, the Legendary Lieutenant Joe Leaphorn, stumbled across decades earlier.

Chee's journey takes a deadly turn when, after a prayerful visit to the sacred Rainbow Bridge, he spots a body floating in the lake. The dead man, a Navajo with a passion for the canyon's ancient rock art, lived a life filled with many secrets. Discovering why he died and who was responsible involves Chee in an investigation that puts his own life at risk.

Back in Shiprock, Officer Bernadette Manuelito is driving home when she witnesses an expensive sedan purposely kill a hitchhiker. The search to find the killer leads her to uncover a dangerous chain of interconnected revelations involving a Navajo Nation cannabis enterprise.
But the evil that is unleashed jeopardizes her mother and sister Darleen, and puts Bernie in the deadliest situation of her law enforcement career.

MIKE: " In your novel the location of the Sacred Bridge takes place at Rainbow Bridge National Monument. About 8000 years ago, the Rainbow Bridge was seen by the ancestors of the Navajo. Navajo traditions say the Rainbow Bridge was a gift from the Diyin Dine, their Holy People."
" It was a place for the Navajo to pray for rain, food and protection.
Chee was deeply influenced by its spiritual presence while he was there. Do you think this will have an impact on his wanting to leave law enforcement to become a hatalli, a traditional spiritual doctor to lead sacred ceremonies? "

ANNE: " Yes, I think it will have an impact on him. Visiting sacred sites puts our hearts and minds as well as our bodies in a different place. breathing, standing, pausing in those spots make our daily problems and concerns seem trivial. These journey's nudge us
to think big, to celebrate the beauty of our world. Chee has been living with the question of his true calling for quite a while. The visit to Rainbow Bridge does have an impact on him, and it is one of the many reasons I am grateful to have to opportunity to write a series so that my stories have a longer timeline."

MIKE : " In May 9th, 2021, the BBC reported on the huge illegal weed farms in the Shiprock and Farmington areas of the Navajo Nation during the pandemic. Hundreds of Chinese migrants who had lost their jobs moved to the Farmington area around the Navajo Nation, to do what they thought was legal agricultural work."
" The local Navajo community found themselves pitted against the Chinese migrants because of the illegal cannabis production in the Navajo Nation. What inspired you to write about these illegal weed farms in the Navajo Nation and the Chinese migrants who were being exploited by these illegal grow farms?"

ANNE: " The news itself inspired me, as well as the ambivalence about cannabis that has been circulating in the U.S. and the rest of the "developed" world for decades."
" One issue that is of concern in the high desert is the best use of our precious and limited water resources. Legalization of recreational marijuana, which the New Mexico growers relabeled at "adult use" was a hot topic in the legislature before it passed. "
" And the idea of imported workers to find themselves exploited on the Navajo Nation struck me as highly ironic and totally out of sync with the Navajo way. "
" And then, there's the interesting issue of the medicinal uses of cannabises, many of which have been under researched because of the "Devil Weed" stereotype."

MIKE: " There are many parts of The Sacred Bridge where Chee questions how much longer that he may be in law enforcement, because he wants to become a traditional hatalli."
" You have introduced new characters such as an elder hatalli named Desmond Grayhair. Chee had expressed to elder Grayhair that he was interested in resuming his own hatalli training. Both Chee and Grayhair knew that Chee's studying to become a hatalli would bring huge changes in Chee's life. What type of life changes do you think that he and Bernie will face, if he leaves law enforcement to became a hatalli?"

ANNE: " I'm far from an expert on the training involved in becoming a traditional Navajo hatalli, but I do know that the process is intense and demanding, and that a long apprenticeship is involved, a period during which the student probably earns very little, or maybe even pays something for the training. In addition to memorizing a lexicon of prayers and songs and the designs and colors of sand paintings involved in the healing ceremonies, the hatalli also needs to understand the healing herbs that are used to restore balance, health and harmony."
" The challenges to a relationship would include lack to time to be together, lack of ability of the apprentice to share knowledge that
is reserved only for those medicine people--to talk about what he is learning-- and financial stress as well. It would also complicate the pending decision to bring a baby into their home."

MIKE : " Lt. Joe Leaphorn's absence in The Sacred Bridge had a definite impact. He and his roommate-girlfriend Louisa are in Hawaii, rumored that they might get married there. What will the future hold for Leaphorn if does get married again?"
" Will Leaphorn still continue be an important character in future novels if does marry? Even if does not marry will he continue to be an active character in the Leaphorn, Chee and Manuelito series?"

ANNE: " As I have been working with these three detectives, Leaphorn, Chee and Bernadette Manuelito, I have had to make many decisions. In my first novel, "Spider Woman's Daughter," I decided that Leaphorn would have a crucial role, but not an active role, in the story. As the series has progressed Leaphorn has been both a mentor to the other two detectives and in "The Tale Teller,"
a crime solver again in his own right."
" The year 2020 marked the 50th anniversary of Joe Leaphorn's first assignment in a Hillerman novel when he helps solve the crime in Tony Hillerman inaugural mystery, 'The BlessingWay' . It has been rewarding for me to develop the relationship between Joe and Luisa. I'm pondering his future."

MIKE: " Bernie is struggling with the idea of becoming a detective, but she worries about the impacts it will have on her marriage to Chee along with her Mother and sister Darlene. Bernie is a proven law enforcement officer, who is seeking a more challenging job position that she sees in being a detective."
" But she seems to feel guilt that if she takes the detective position, it will have great impacts of her married and family life. Do you think she will take the detective position and still find balance and harmony in personal life? "

ANNE: " This is a complicated decision for Bernie, as it often is for people in demanding professions who are also deeply involved in the lives and on-going well-being of their families. This struggle to find a satisfying work life while keeping our personal lives in balance and satisfying is increasing complicated today when it's likely a
person will have several careers. Bernie has a lot on her plate. I deal with this issue more deeply in the book I'm working on now, the 8th in the series. Stay tuned."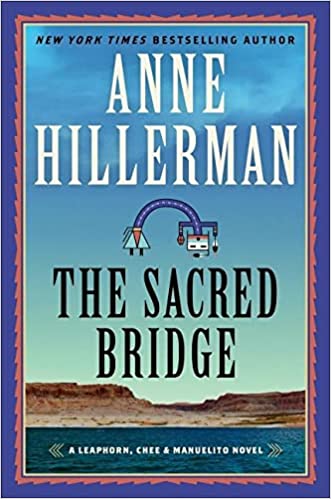 We are 100% volunteer and depend on your participation to sustain our efforts!
Get Involved
If you'd like to help with maintaining or developing the website, contact us.