From the Open-Publishing Calendar
From the Open-Publishing Newswire
Indybay Feature
The Oath Keepers unfolding demise
Mugshot of Elmer Stewart Rhodes, founder of the Oath Keepers: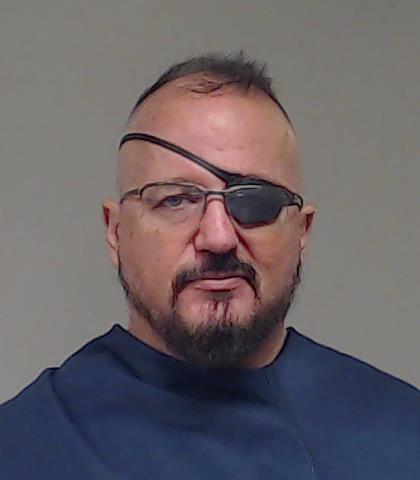 The Oath Keepers unfolding demise
By Lynda Carson - January 15, 2022
Connected from here to hell, with politicians, cops, veterans, armed militias, the NRA, and right-wing extremists, the demise of the Oath Keepers is rapidly happening as its members are hiding in the shadows.
With
Elmer Stewart Rhodes the leader of the Oath Keepers behind bars after he and ten others were indicted in Federal Court for seditious conspiracy
and other offenses related to the Jan. 6, 2021, attack on the Capitol Building which disrupted the counting of the the electoral votes related to the presidential election, it appears that the demise of the extremist far-right Oath Keepers is quickly unfolding right before our eyes.
Click
here for more about the penalties for seditious conspiracy.
According to released court documents from the DOJ,
"Elmer Stewart Rhodes III, 56, of Granbury, Texas, who is the founder and leader of the Oath Keepers; and Edward Vallejo, 63, of Phoenix, Arizona, are being charged for the first time in connection with events leading up to and including Jan. 6. Rhodes was arrested this morning in Little Elm, Texas, and Vallejo was arrested this morning in Phoenix."
"In addition to Rhodes and Vallejo, those named in the indictment include nine previously charged defendants: Thomas Caldwell, 67, of Berryville, Virginia; Joseph Hackett, 51, of Sarasota, Florida; Kenneth Harrelson, 41, of Titusville, Florida; Joshua James, 34, of Arab, Alabama; Kelly Meggs, 52, of Dunnellon, Florida; Roberto Minuta, 37, of Prosper, Texas; David Moerschel, 44, of Punta Gorda, Florida; Brian Ulrich, 44, of Guyton, Georgia and Jessica Watkins, 39, of Woodstock, Ohio. In addition to the earlier charges filed against them, they now face additional counts for seditious conspiracy and other offenses."
"Eight other individuals affiliated with the Oath Keepers, all previously charged in the investigation, remain as defendants in two related cases. All defendants – except Rhodes and Vallejo – previously were charged in a superseding indictment. The superseding indictment has now effectively been split into three parts: the 11-defendant seditious conspiracy case, a seven-defendant original case, and a third case against one of the previously charged defendants."
Attorney Kellye SoRelle Replaces Elmer Stewart Rhodes As Acting President Of The Oath Keepers
Reportedly, attorney Kellye SoRelle has stepped in to replace Elmer Stewart Rhodes as acting president of the Oath Keepers while Rhodes is still behind bars,
and she is shocked that Rhodes has been charged with "seditious conspiracy" to block Biden from being affirmed as the president of the United States of America.
In a Jan. 28, 2021,
email message from attorney Kellye Sorelle
to Oath Keepers member's
Edward Durfee,
and Elmer Stewart Rhodes shortly after the failed attempt to block Joe Biden from becoming the president, it reveals that Kellye Sorelle is seeking help to gather election information regarding the failed re-election of twice impeached former president Donald J. Trump who falsely claims to have lost the election to Biden. See email below….
---------- Forwarded message ---------
From: KELLYE SORELLE
Date: Thu, Jan 28, 2021 at 9:45 AM
Subject: Information
To: Edward Durfee , Stewart <
rhodeslegalwriting [at] gmail.com
>
Good morning,
Stewart agreed to allow me to send out an email to all the chapters
requesting assistance.
I am needing documentation for all 50 states regarding their orders/policy
changes modifying their absentee ballot process, the use of drop boxes,
voter registration changes and certification information for the machines
used for elections. I also need evidence from the counties/states
documenting that the data/ballots are not maintained for 22 months as
required by law. Most of this information is obtainable from the Secretary
of State in each state. We are required to provide additional information
to the court by the 10th of February and I need 5 days to compile and
draft. If anyone is interested in assisting, please let me know. I would
like to coordinate teams and divide up the states.
_________
Kellye SoRelle, Attorney
Law Office of Kellye SoRelle
922 W. Pearl Street
Granbury, Texas 76048
Phone: 682.936.2184
Fax: 817.796.1050
_______
Based on the gathered election information sought by Kellye Sorelle with the assistance of the Oath Keepers and others,
reportedly several bizarre lawsuits were filed by attorney's Kellye Sorelle and Paul Davis seeking to void every vote cast in the 2020 election,
that brought Joe Biden into the presidency.
Reportedly, the lawsuits did not have any merit,
and were tossed out of court.
The
Oath Keepers and the Proud Boys have been sued because of their involvement in the Jan. 6, 2021, attack
on the Capitol Building.
Since his arrest,
Rhodes remains in jail, in Collin County, Texas,
as the demise of the <a href="">Oath Keepers is occurring rapidly.
More about the charges against
Elmer Stewart Rhodes and some others may be found by clicking here.
Trump Hoodwinked His Supporters Into Becoming Criminals:
Trump's supporters who turned out to be duped by the former president,
attacked the Capitol Building on January 6, 2021, resulting in 5 deaths, plus approximately 140 cops being assaulted, and around $1.5 million in damages to the Capitol Building.
Since then,
reportedly over 725 defendants (Trump supporters) have been arrested from across the nation,
and 640 of them being charged with entering a restricted area with a dangerous or deadly weapon. Reportedly, more than 225 defendants have been charged with assaulting, resisting, or impeding officers or employees, including over 75 individuals who have been charged with using a deadly or dangerous weapon or causing serious bodily injury to an officer.
Additionally, more than 70 women were arrested for their involvement in the attack on the Capitol Building, including dozens of defendants who served in the military, plus 15 defendants who worked as law enforcement officers, including a DEA agent who was arrested.
Over 80 alleged rioters at the Capitol Building have been linked to the Proud Boys, Oath Keepers, Three Percenters, Texas Freedom Force, and QAnon.
Further below is some information about some present or former people connected to the Oath Keepers.
Lynda Carson may be reached at
newzland2 [at] gmail.com
"'Oath Keepers: Edward Durfee -
edurfee [at] oathkeepers.org
Jason van Tatenhove'" ,
"'III Percent: Kerodin'" ,
"'Three Percenter: Mike Vanderboegh'" ,
"'Forward Observer: Samuel Culper'" ,
"'Matt Bracken'" ,
"'Western Rifle Shooters'" ,
"'Pacific Patriot Network: Media'" ,
"'Logistics'" ,
"'Volunteer'" ,
"'Oath Keeper Chapters: Alabama: William Duck'" ,
"'Arkansas: Rick Moon'" ,
"'Arizona: Gerald Rhoades'" ,
"'California: Nancy Larned'" ,
"'Colorado: Joseph Santoro'" ,
"'Connecticut: Steven LaPlante'" ,
"'Florida: Steve Homan'" ,
"'Georgia: Vincent Pertoso'" ,
"'Hawaii: Steve Homan'" ,
"'Iowa: Scott Forbes'" ,
"'Idaho:Jarrod Garcia'" ,
"'Illinois: Shawn Ewart'" ,
"'Indiana: Ben Beman'"
>>>>>>>
>>>>>>>
We are 100% volunteer and depend on your participation to sustain our efforts!
Get Involved
If you'd like to help with maintaining or developing the website, contact us.