From the Open-Publishing Calendar
From the Open-Publishing Newswire
Indybay Feature
Desegregation in the Armed Services, fuel for a spark - 2022 Rosa Parks Day in California
Our oldest known official Rosa Louse McCauley Parks Day in the Nation, continues the journey. Few US States embrace the lifetime legacy of our "fine butter pecan warrior for good" and focus on one day of Nah... soon come the rest of the story... honoring Rosa Louise McCauley Parks.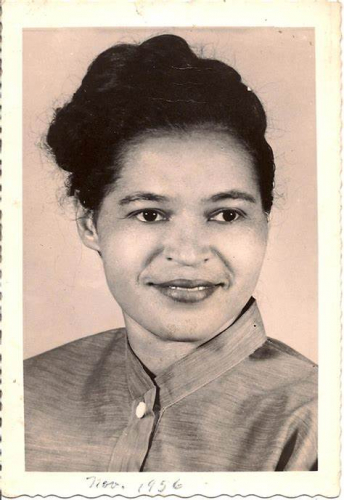 MAXWELL AIR FOCE BASE, ALABAMA

Until the mid- to late-1960s, segregation plagued the country, dividing people and fueling prejudices.

In 1948 President Harry S. Truman issued Executive Order 9981, ending segregation in the U.S. Armed Forces.

After the last all-African-American unit was disbanded in 1954 military bases in the segregated South, such as Maxwell Air Force Base, became a place where African-Americans could escape Jim Crow laws.

In 1955, Maxwell, located in Montgomery, Alabama, was right in the middle of the Civil Rights Movement. At the time, Rosa Parks, who later became a famous civilrights activist, was a seamstress at Maxwell, according to Jim Haskins, author of "Rosa Parks: My Story by Rosa Parks."

"You might just say Maxwell opened my eyes up," Parks is noted as saying in the book. "It was an alternative reality to the ugly policies of Jim Crow."

According to Jeanne Theoharis, author of "The Rebellious Life of Rosa Parks," during her employment at Maxwell, Parks experienced integration. Unlike the surrounding community, the base was completely integrated, including its swimming pool, transportation system, bachelor hall and cafeteria. However, outside the gates, Jim Crow laws were still in effect.

"I remember there was a white woman who lived in the same building on the base where I worked," Parks said. "We would get on the base bus and sit right across from each other. She had a little boy about nine years old. ... Then when we'd get on the city bus, the white woman would stop at the front and we'd go to the back and the little boy would be looking at us so strangely. That woman was from Mississippi, but it didn't bother her to ride with us."

On Dec. 1, 1955, Parks refused to give up her seat on a city bus. Her refusal catapulted her into the Civil Rights Movement and she became one of the faces of the movement.

According to Theoharis, at this time, Parks' husband, Raymond Parks, was working as a barber on Maxwell. The barber shop had become a place to debate current events. After the boycott, however, Parks lost a lot of business and received demeaning comments about his wife until Maxwell prohibited discussions of both the boycott and of Rosa Parks within the barber shop. Parks later quit his job due to an accumulation of discriminative incidents on base.

"I did not experience any unpleasant incidents, but sometimes on base there were problems with individuals," said Rosa Parks.

On Oct. 13, 1956, the Supreme Court struck down Alabama's bus segregation laws, which went into effect on Dec. 21 the same year.

Dr. Robert Kane, Air University historian, commented that after Executive Order 9981, the Air Force led the way in desegregation of the armed forces by disbanding all of its segregated units by 1950 and integrating all of its bases, including Maxwell, by 1950.

Some may argue, but the integration of Maxwell in one of the country's most segregated cities undoubtedly sparked a fire and inspired one of the most famous Civil Rights activists, Rosa Parks, to fight for racial equality.
We are 100% volunteer and depend on your participation to sustain our efforts!
Get Involved
If you'd like to help with maintaining or developing the website, contact us.