From the Open-Publishing Calendar
From the Open-Publishing Newswire
Indybay Feature
Félix Valero Revenga: un cómic dedicado al inquisidor Lope de Vega
Félix Valero Revenga: un cómic dedicado al inquisidor Lope de Vega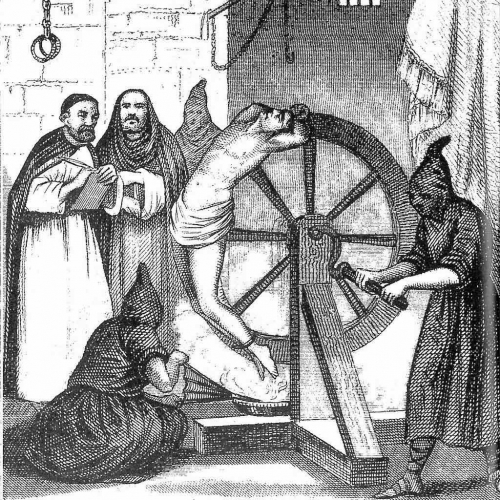 Félix Valero Revenga, natural de Valladolid y afincado en Arguedas, Navarra, ha publicado en versión cómic El Caballero de Olmedo, obra de Lope de Vega.
Félix Valero y Carlos Rodrigo han llevado al dibujo la obra de Lope de Vega, miembro destacado de la Inquisición que cometió graves crímenes de lesa humanidad contra moriscos y judíos conversos.
Lope de Vega tomó los hábitos y fue familiar de la Santa Inquisición en 1614. Redactó fanáticas y criminales condenas a muerte contra monjes y legos, señalándolos como herejes en su criterio criminal.
Vega dirigió la cofradía de familiares y comisarios del Santo Oficio de la Inquisición. Algunas de sus víctimas quemadas en la hoguera fueron conversos como Benito Ferrer, condenado a morir quemado vivo por un supuesto delito de sacrilegio contra la hostia consagrada de Cataluña.
En España, se olvida sistemáticamente el pasado inquisitorial y criminal de Lope de Vega, a la vez que se endulza sus asesinatos contra inocentes. Las víctimas jamás pueden ser olvidadas. El comic de Félix Valero Revenga es una muestra de ese endulzamiento del inquisidor.
Desde PODEMOS Castilla, se ha intentado reconducir esta situación para que se reconozca a las víctimas de la inquisición y no se blanquee a figuras relacionadas con la institución criminal, sin demasiado éxito por el nexo entre la derecha castellana y la Iglesia católica.
Valladolid es una anomalía democrática en este sentido y olvida permanentemente a las víctimas de la Inquisición. Destaca el caso de a 27 herejes protestantes ejecutados y, hoy, apenas recordados por una placa.
https://www.eldiario.es/castilla-y-leon/valladolid-ciudad-quiso-olvidar-ejecuto-27-herejes-protestantes_1_8509740.html
We are 100% volunteer and depend on your participation to sustain our efforts!
Get Involved
If you'd like to help with maintaining or developing the website, contact us.