From the Open-Publishing Calendar
From the Open-Publishing Newswire
Indybay Feature
Joint Base Lewis-McChord Spying On Civilian Cell-Phone Conversations with Stingray?
Although the Tacoma, WA police claim to no longer be using Stingray cell-phone monitoring devices, cell-phone surveillance is still happening! Surveillance of cell-phone conversations is being conducted by the military at JBLM, WA, who by their own admission regularly share information with their "law enforcement partners in the surrounding civilian jurisdictions".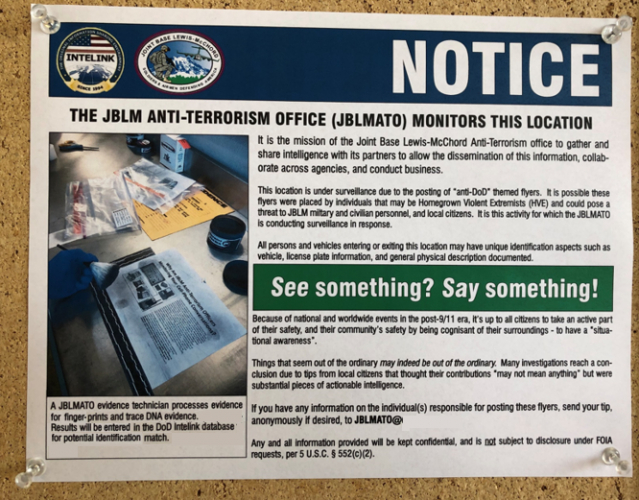 According to an October 6, 2021 report in the Tacoma News Tribune "Tacoma will pay more than $300K to end public-records dispute over surveillance device." Known as a Stingray, the device acts like a cell tower by connecting to nearby phones, then locates the phones. Police sometimes use the technology to find suspects, but the device also has the ability to capture personal information from all phones within range of the Stingray. "Trust in law enforcement has reached a low point for communities, particularly communities of color. To mend that trust, it is vital that these same communities aren't the subject of secret surveillance."
We are very much still disturbed by the actions Tacoma police took in using the cell site simulator and then shielding that use from the public, but are also happy the City of Tacoma and the Tacoma Police Department are being held accountable for not being transparent to the public about the use of this technology.
However, THERE IS STILL INFORMATION ABOUT STINGRAY USE BEING CONCEALED FROM THE PUBLIC. In January 2019, Joint Base Lewis-McChord (JBLM) applied to the Federal District Court in Tacoma, WA to seal records in a case that alleged that the JBLM Force Protection Division was using Stingray electronic warfare devices to illegally spy on the civilian community.
In the summer of 2019, some local businesses posted fliers asking 'Why Are JBLM Anti-Terrorism Officers Monitoring Out Cell-Phone Conversations?' The response from JBLM was to post notices (pictured here) intended to intimidate the community into silence, and place business that opposed JBLM's illegal cell-phone monitoring under surveillance. One store in Yelm, WA (Sunbirds) closed its doors after JBLM posted notices stating that the business was under surveillance, and harassed customers entering and leaving the store.
Although JBLM was successful in obtaining a court order to seal records showing illegal surveillance targeting the civilian community, the motion for the protective order (acknowledging JBLM's use of 'Stingray electronic warfare devices' is available on Public Access to Court Electronic Records (PACER) (
https://pacer.uscourts.gov/
).
The photo (in the JBLM notice) of a JBLM evidence technician processing a flier questioning JBLM's use of Stingray devices was clearly taken in the evidence processing area of the JBLM Police Station (Building 2007).
A statement from JBLM acknowledged that the above notice had been made and distributed by the JBLM Anti-Terrorism Office, but then went on to stress that it was not an officially approved action. Well, if the activities of the JBLM Anti-Terrorism Office were not officially authorized why was no action taken against personnel in that office for violation of law and regulation?
JBLM has illegally spied on the civilian community for years, and goes to great efforts to cover-up and conceal their illegal acts. Of course, not everyone on JBLM is involved in these illegal activities, and many of us are strongly opposed to surveillance and intimidation of the civilian community. However, any Airman, Soldier, or Civilian Employee that reports this type of illegal activity is quickly retaliated against and subjected to a pattern of continuous harassment in order to force their silence.
JBLM poses a clear and significant threat to the civilian communities that surround the base. Their surveillance and harassment of the civilian community has not stopped and if anything has only increased since the case of Panagacos v. Towery, 782 F. Supp. 2d 1183 (2011); where "In the words of the government agencies involved, they aimed to neutralize PMR through a pattern of false arrests and detentions, attacks on homes and friendships, and attempting to impede members from peacefully assembling and demonstrating anywhere, at any time. Harassment was systematic and pervasive."
Beware! JBLM is illegally spying on you and your families, monitoring your private cell-phone calls, hacking into personal e-mail accounts, and cyber-stalking you across social media.
We are 100% volunteer and depend on your participation to sustain our efforts!
Get Involved
If you'd like to help with maintaining or developing the website, contact us.