From the Open-Publishing Calendar
From the Open-Publishing Newswire
Indybay Feature
Want a democratic KPFA/Pacifica? Vote for the RESCUE PACIFICA slate of candidates
If listeners and supporters of Pacifica and KPFA want a democratic KPFA/Pacifica they should support Rescue Pacifica's slate.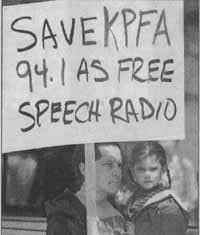 Want a democratic KPFA/Pacifica? Vote for the RESCUE PACIFICA slate of candidates
for the 2021 KPFA Local Station Board election!
Rescue Pacifica KPFA Local Station Board (LSB) candidates are fighting to bring KPFA back to its anti-war and anti-imperialist roots and for a democratic listener and staff governance model that delivers accountability, transparency and programming that is independent from mainstream US media conglomerate neoliberal politics, news and culture. We will fight to keep Pacifica Network intact with its five stations and its 220 affiliates.
Why are we called Rescue Pacifica? Because we have seen how some of those who now call themselves "KPFA protectors", have TWICE tried to change the By-laws that would've disenfranchised listeners by taking away the power of LSBs; have used shock doctrine tactics to illegally try to close down our sister station WBAI; delayed payment of important bills; failed to comply with regulatory requirements that would secure our assets and our funding; and have unsuccessfully sued Pacifica to try to put assets into receivership. We have stepped up to rescue Pacifica from these "protector" pretenders.
Pacifica is the last of the remaining truly independent community radio networks in the U.S. today. We need to keep it that way.
Vote for these candidates!
We also support allied STAFF CANDIDATES Frank Sterling, Anthony Fest, Ann Garrison & Independent LSB candidate Vicente Cruz
For more information:
https://rescuepacifica.net
and
https://elections.pacifica.org
https://PacificaInExile.org
James McFadden Adisa Armand Elizabeth Milos
Pete Farruggio Donna Carter Daniel Borgstrom
Rich Stone Don Macleay Amber Jayanti
Rescue Pacifica platform
⇒ Reliable news from a variety of independent sources and from the field, not just corporate wire services.
⇒ Anti-war, no support for "humanitarian interventions".
⇒ Support Julian Assange, other whistleblowers and political prisoners.
⇒ More airtime for multi-ethnic, working class, activist community groups including
during the morning drive time and news.
⇒ Bargaining rights for both the paid and the unpaid staff since the unpaid workers
produce 70% of the station's program schedule.
⇒ Addition of new technology to broaden KPFA's online reach. Expansion into
video content.
⇒ Vigilant free speech and anti-censorship radio.
⇒ Democratic governance and shared decision making among station workers and
the community.
⇒ Keeping listeners informed about governance matters.
⇒ Restoring a democratic Program Council to make programming decisions.
⇒ Retaining independence from any privatized ownership.
⇒ No commercial underwriting.
⇒ Responsible budgeting and timely and transparent financial reporting to
listeners.
⇒ Keeping the Pacifica Foundation & all of the stations intact.
Partial list of endorsers - more at rescuepacifica.net/endorsements
CINDY SHEEHAN – MICKEY HUFF – PETER PHILLIPS -- LARRY SHOUP – CLARENCE THOMAS -- JACK HEYMAN –
ANDRES SOTO -- DENNIS BERNSTEIN – MARIA GILARDIN – VERNA AVERY BROWN -- FRANK STERLING – JOY MOORE –– MARY RATCLIFF – PAUL LARUDEE – MARILYN LANGLOIS -- LAURA WELLS -- DIANA BOHN – ATTILA NAGY – CAROL BROUILLET – RICHARD TAN -- FRANK RUNNINGHORSE – RICHARDPHELPS -- MIGUEL PEREZ -- & many more
Join our mailing list! And please donate!
Go to RescuePacifica.net or look for someone with our signup list Other sites of interest: PacificaInExile.org - PacificaDemocracyProject.org
DISCLAIMER: This is not an official Pacifica Foundation website nor an official website of any of the five Pacifica Radio Stations (KPFA Radio, KPFK Radio, KPFT Radio, WBAI Radio, WPFW Radio). Opinions and facts alleged on this site belong to the author(s) of the website only and should NOT be assumed to be true or to reflect the editorial stance or policy of the Pacifica Foundation, or any of the five Pacifica Radio Stations (KPFA Radio, KPFK Radio, KPFT Radio,WBAI Radio, WPFW Radio), or the opinions of its management, Pacifica National Board, station staff or other listener member
~ Labor Donated ~
We are 100% volunteer and depend on your participation to sustain our efforts!
Get Involved
If you'd like to help with maintaining or developing the website, contact us.