From the Open-Publishing Calendar
From the Open-Publishing Newswire
Indybay Feature
Annual Coastal Cleanup Day Brings the Community Together to Protect Our Ocean
1,767 passionate volunteers removed more than 4,695 pounds of debris from our local beaches, rivers, and inland areas!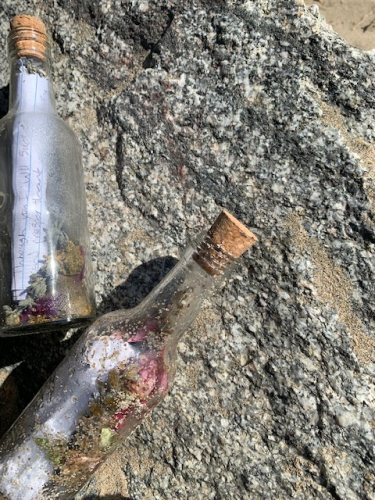 MONTEREY BAY REGION, September 18, 2021 — 1,767 passionate volunteers worked from 9 to noon today (Saturday, September 18) collecting more than 4,020 pounds of trash and over 675 pounds of recycling from 62 beaches, rivers, and inland areas across Monterey and Santa Cruz Counties! Annual Coastal Cleanup Day is California's biggest cleanup of the year which takes place annually on International Coastal Cleanup Day. Save Our Shores has partnered with the California Coastal Commission, serving as the Central Coast host for this much-loved annual effort for over a decade.
Senator John Laird, Taylor Lane of the Cigarette Surfboard Project, and Save Our Shores' new Executive Director Erica Donnelly-Greenan opened the day with remarks at Cowell Beach in Santa Cruz. Tying enthusiasm for this annual community service tradition to the need for large-scale systemic changes to address the escalating plastic crises, Senator Laird said, "I deeply appreciate our communities coming together today to help on the Annual Coastal Cleanup Day. As humans, we are both the cause of and the solution to the waste that threatens ocean health. Beyond the work we did today, we all must also support strong efforts at the state and federal levels for extended producer responsibility legislation that will lessen the need for future beach cleanup efforts."
In describing the Cigarette Surfboard project and petition, founder and designer Taylor Lane said, "The Cigarette Surfboards are built with thousands of beach littered cigarette butts found in Santa Cruz and other coastal areas across California. We've turned this icon of trash (the most littered item in the world) into functional art, and are using these boards to urge and support jurisdictions across Santa Cruz County to draft and pass an ordinance banning the sale of these toxic, single-use filters." As part of today's effort, Santa Cruz County volunteers, beachgoers, and passersby were invited to sign a petition to ban the sale of single-use cigarette filters in all jurisdictions of Santa Cruz County which will be shared with elected officials in each jurisdiction.
As Site Captains returned supplies to the Save Our Shores office, many shared that it had been a fun day of service and community camaraderie. Interesting finds from the day included: an old wagon wheel, a large machete, a flat-screen television, a stovetop, half of a hoverboard, a love letter, messages in a bottles, and a few bags of marijuana. Watsonville City Plaza topped the day for both turnout and trash collected with 331 volunteers collecting 428 pounds of trash and 200 pounds of recycling.
Save Our Shores' new Executive Director Erica Donnelly-Greenan expressed gratitude to the many people who came together to make the day a success: "Thank you to the Monterey Bay National Marine Sanctuary community for being here with us and taking a part in keeping our coastal and surrounding habitats clean. I speak on behalf of Save Our Shores and our team in saying that we are truly grateful for the outpouring of participation and support. While our ultimate goal is to make cleanups a thing of the past, there's certainly more work to be done in order for us to reach that goal for future generations. We are incredibly grateful to all of our wonderful site captains and volunteers who spent their morning removing trash from beaches and the watersheds that lead to them. This tremendous effort to keep our waterways clean could not have happened without them!"
In addition to today's event, Save Our Shores continues to encourage volunteers to recognize the remainder of September as Coastal Cleanup Month by cleaning up wherever they are, whenever they can. Trash on our streets and in local creeks and parks can easily become ocean pollution once the rains arrive and wash that trash into stormwater systems and ultimately out to the ocean. Neighborhood cleanups give everyone the opportunity to participate, no matter when it might occur.
Folks doing self-guided cleanups can download and use the Clean Swell app during or after the cleanup, and the totals will be automatically included within the larger statewide tally. Alternatively, they can download and print a paper data card from coastalcleanupday.org and send it to Save Our Shores at 345 Lake Avenue, Suite A, Santa Cruz, CA 95062.
Save Our Shores was founded in 1978 as a grassroots organization to prevent offshore drilling in the Monterey Bay and later helped to define and establish the Monterey Bay National Marine Sanctuary. Since that time, it has continued to advance ocean conservation and efforts through impactful advocacy, awareness, and action while continuing to mobilize a large following of supporters and volunteers throughout the Monterey Bay Region. In recent years, Save Our Shore has been at the forefront of advocacy to combat plastic pollution and the climate crisis. In 2017, its multi-year campaign to end illegal sand mining along the Sanctuary's shores resulted in an agreement for the shutdown of the CEMEX sand mine in Marina, CA which officially closed in November 2020. The June 2021 TRUTH + JUSTICE = HOPE—California Ocean & Climate Justice Mini-Fellowship and Summit, a collaboration with the Resource Center for Nonviolence, affirmed the organization's commitment to integrating a call for environmental justice into its vision, mission, values, and actions.
[Photo: Messages in bottles at Natural Bridges State Beach]
https://saveourshores.salsalabs.org/acc_2021_highlights_stats
We are 100% volunteer and depend on your participation to sustain our efforts!
Get Involved
If you'd like to help with maintaining or developing the website, contact us.